dhepune.gov.in Physics Mathematics Scholarship Renewal Student List 2018-19 : DHE Pune
Want to comment on this post?

Go to bottom of this page.
Organisation : Directorate of Higher Education, DHE Pune
Announcement : Physics Mathematics Scholarship Renewal Student List 2018-19
Applicable State : Maharashtra
Website : https://www.dhepune.gov.in/index.php/
DHE Pune Physics Mathematics Scholarship
Scholarship to Meritorious students possessing Mathematics /Physics. Eligible Student List Renewal -2018-19
DHE Pune Scholarship Renewal 2018-19 :
1. Open Merit Scholarship Eligible Students List

2. Eklavya Scholarship Renewal Eligible Students List

3. State Minority Scholarship Eligible Student List

4. Vidyaniketan Scholarship Renewal Students List

5. Daxshina Adhichatra Scholarship Renewal List
Overview
** Sanction Set-100 (Maths 50 and Physics 50)
** Students admitted for science graduation and having maths or physics as a main subject are eligible to apply this scholarship.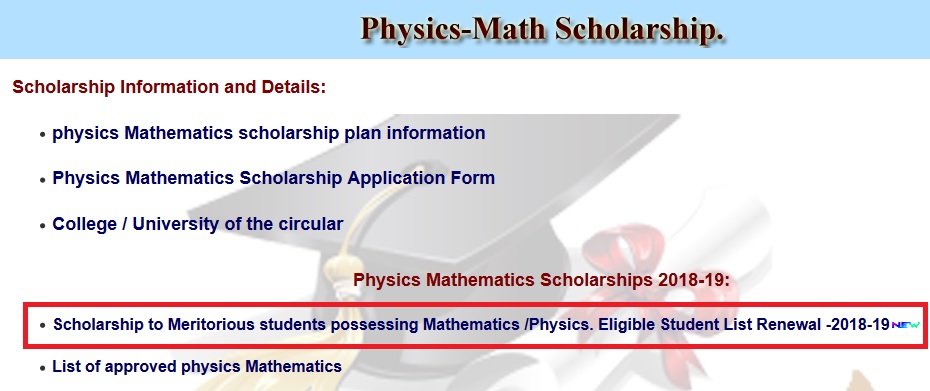 ** For Fresh – Candidate must secure 60 Percentage in 12th standard.
** He is not awarded any other scholarship of State & Central Government.
** Candidate must be resident of Maharashtra State.
** New sanction process done through DHE office and Renewal sanction process done through joint director office of concern colleges. Selection of Candidates Is on Merit basis
Documents Required
** Previous year Mark sheet.
** Domicile Certificate
** College Bonafide Certificate.
Physics-Math Scholarship Renewal List 2018-19 :
https://www.scholarships.net.in/uploads/pdf2018/31127-PM.pdf
Eligible Student List
Some of the eligible student details are listed below. Kindly refer the "Physics-Math Scholarship Renewal List 2018-19" PDF links uploaded above for full list
| | | |
| --- | --- | --- |
| Application ID | Student Name | Full name of the Institute |
| DHEMTH2017001 | Shelar Apurva Pandurang | S.S.& L.Patkar Varde College, Mumbai-62 |
| DHEMTH2017002 | Nikam Rishap Sanjay | Karveer Bhahurao patil College, Islampur ,Sangli |
| DHEMTH2017003 | Shinde Sanjivani Ashok | Marathwada Mitra Mandal College of Engineering , Karvenagar, Pune |
| DHEMTH2017004 | Jadhav Ajit Akaram | Shripatrao Chougule Arts& Science College, Panhala, Kolhapur |
| DHEMTH2017005 | Patil Omkar Udaysing | Shripatrao Chougule Arts& Science College, Panhala, Kolhapur |
| DHEMTH2017006 | Shinde Smita Mohan | Swa.Sawarkar Mahavidyalaya |
| DHEMTH2017007 | Sanap Ragini Nanasaheb | Swa.Sawarkar Mahavidyalaya |
| DHEMTH2017008 | Mahapatra Sheetal Praful | S.S.& L.Patkar Varde College, Mumbai-62 |
| DHEMTH2017009 | Patil Amit Krishnat | Karveer Bhahurao patil College, Islampur ,Sangli |
| DHEMTH2017010 | Chavan Pratiksha Bhimrao | Shripatrao Chougule Arts& Science College, Panhala, Kolhapur |
| DHEMTH2017011 | Patil Rajvardhan Bhimrao | Shripatrao Chougule Arts& Science College, Panhala, Kolhapur |
| DHEMTH2017012 | Lad Ganesh Vilas | Kelkar College of Arts Commerce, Devgad, Sindhudurg |
| DHEMTH2017013 | Ansari Sana Abbas | Government of Maharashtra Ismail Yusuf College, Arts, Sci, Comm, Mumbai-60 |
| DHEMTH2017014 | Parmar Pratik Kantilal | Government of Maharashtra Ismail Yusuf College, Arts, Sci, Comm, Mumbai-60 |
| DHEMTH2017015 | Thorat Jyoti Bapu | Government of Maharashtra Ismail Yusuf College, Arts, Sci, Comm, Mumbai-60 |
| DHEMTH2017016 | Prasad Rohit Sunil | Government of Maharashtra Ismail Yusuf College, Arts, Sci, Comm, Mumbai-60 |
| | | |
| --- | --- | --- |
| DHEMTH2017017 | Ku.Munguskar Dhanashri Nanaso | Shankrao Mohite Mahavidyalaya,akluj |
| DHEMTH2017018 | Shri Abdul Juber | Biyanie Education Camps, Amravati |
| DHEMTH2017019 | Garode Pratiksha Manoj | Biyanie Education Camps, Amravati |
| DHEMTH2017020 | Almsh sani mhd alim | Biyanie Education Camps, Amravati |
| DHEMTH2017021 | syyed mohasin syyed ajij | Biyanie Education Camps, Amravati |
| DHEMTH2017022 | Ballal Neha Ravindra | Biyanie Education Camps, Amravati |
| DHEMTH2017023 | kale namrata chanrdrakant | Biyanie Education Camps, Amravati |
| DHEMTH2017024 | ingole vishanvi pradiprao | Biyanie Education Camps, Amravati |
| DHEMTH2017025 | darokar pooja vitthalrao | Biyanie Education Camps, Amravati |
| DHEMTH2017026 | Yadav Priyanka Kamlesh | Chikitsak Samuha's S.S.& L.Patkar Varde College, Mumbai-62 |
| DHEMTH2017027 | Hingora Mohd.Huzaifa Mohd.Ashraf | Chikitsak Samuha's S.S.& L.Patkar Varde College, Mumbai-62 |
| DHEMTH2017028 | Fernades Jacquelin Basil | Chikitsak Samuha's S.S.& L.Patkar Varde College, Mumbai-62 |
| DHEMTH2017029 | Kahar Dineshkumar Dilipkumar | Chikitsak Samuha's S.S.& L.Patkar Varde College, Mumbai-62 |
| DHEMTH2017030 | Khan Nasreen Banu Altab | Chikitsak Samuha's S.S.& L.Patkar Varde College, Mumbai-62 |
| DHEMTH2017031 | Shirvatkar Yadnesh Shivanand | Chikitsak Samuha's S.S.& L.Patkar Varde College, Mumbai-62 |
| DHEMTH2017032 | Ranjane Pooja Raju | D.G.Ruparel College of Arts,Science & Comm, Mumbai. |
| DHEMTH2017033 | Shilwant Sushmita Rajkumar | D.G.Ruparel College of Arts,Science & Comm, Mumbai. |