IIT Jodhpur Post Doctoral Fellowship 2018 : iitj.ac.in
Organization : Indian Institute of Technology Jodhpur
Fellowship Name : Post Doctoral Fellowships 2018
Applicable For : PhD holders
Applicable State/UTs : All Over India
Application Deadline : 31-Dec-2018
Website : http://iitj.ac.in/PDFs/index.php?id=pdf_positions
You can now ask your question on this scholarship.
Ask here
(OR) Go to the bottom of this page for comments.
IIT Jodhpur Post Doctoral Fellowship
Indian Institute of Technology Jodhpur invites applications for temporary Research Positions in various disciplinary and inter-disciplinary areas of interest to the Institute.
Related : IUSSTF Building Energy Efficiency Higher & Advanced Network BHAVAN Fellowship 2019 : www.scholarships.net.in/30435.html
Who Can Apply?
** The applicant must be holding a Ph.D. degree in the relevant field.
** The applicant must have demonstrated a good academic record throughout his/her academic career.

** The applicant must have scored at least first class throughout class 10 to Ph.D.
** The applicant must be less than 35 years in age.
** The applicant can apply for the fellowship within five years of receiving his/her Ph.D. degree.
Note : The women candidates and candidates of the reserved category will receive an age relaxation of 5 years.
How to Apply?
Just follow the below steps to apply for the Post Doctoral Fellowships 2018.
Steps :
Step 1 : Visit the official website of Indian Institute of Technology Jodhpur provided above.
Step 2 : Then click on the "Online Application Form" link.
Step 3 : Fill in all the details and register.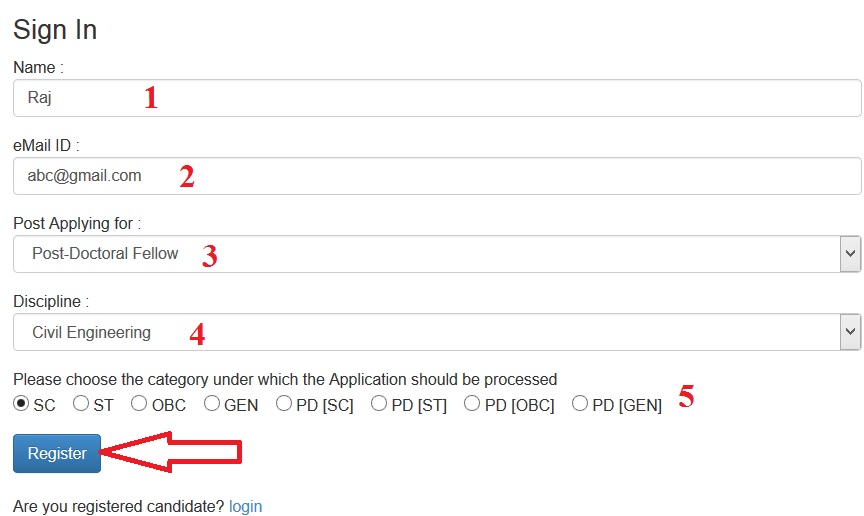 Step 4 : Now sign in using the registered email ID and password sent to applicant's email.
Step 5 : Fill in all the details carefully and upload the applicant's sign & passport size photo
Step 6 : Submit the application form.
Step 7 : Send the PDF of the completed application along with the self-attested necessary documents at the address mentioned below
Officer-in-charge (Recruitment)
Indian Institute of Technology Jodhpur
Old Residency Road, Ratanada
Jodhpur – 342 011
Rajasthan, India.
Note : The envelope carrying the application form and documents should be super-scribed as 'Application for Post-Doctoral Fellowship'.
Fellowship Grant
Post-Doctoral Fellow shall be paid a fellowship amount of Rs. 40,000/- per month. If available, suitable on-campus accommodation may be provided as per IIT Jodhpur norms. Alternatively, each fellow shall be paid House Rent Allowance of Rs. 8,000 per month
Other Benefits
(a) Contingency Grant :
A contingency grant of Rs.1,00,000 per annum will be provided to the Post-Doctoral Fellow towards for research equipment, consumable and contingency.
(b) Medical benefits/Insurance :
Outpatient Medical benefits and limited Insurance will be provided for coverage
Selection Criteria
The selection of fellows is based on the need in certain areas within the listed disciplines. The shortlisted candidates will be called for interview and give presentation if they are in India.
Candidates who are outside of India may give their interview and presentation through Video Conferencing/Web-based application.
Terms & Conditions :
https://www.scholarships.net.in/uploads/pdf2018/30983-GL.pdf
Terms & Conditions
** Applications for the fellowship will be screened for the interview every three months.
** Candidates with exceptional achievements can be given relaxation in age and qualifications.
** Employed applicants working in government and semi-government organisations, public sector enterprises, autonomous organisations, university and educational institutes, must send their application through their employers.