HIAL HILLs Fellowship 2019 : Himalayan Institute of Live Learnings
Organization : Himalayan Institute Of Alternatives, Ladakh
Fellowship Name : HILLs Fellowship 2019 Himalayan Institute of Live Learnings
Applicable For : Graduates
Applicable Country : India
Application Deadline : 31st January 2019 (Date is Extended)
Website : https://hial.edu.in/
You can now ask your question on this scholarship.
Ask here
(OR) Go to the bottom of this page for comments.
HIAL HILLs Fellowship
Himalayan Institute Of Alternatives, Ladakh invites applications for HILLs (Himalayan Institute of Live Learnings) Fellowship 2019
Related : CSIR Council of Scientific & Industrial Research JRF GATE Fellowship : www.scholarships.net.in/30729.html
The HILLs Fellowship is a 11 month program that aims to empower the youth from mountain communities, particularly from the Hindukush- Himalayas (Afghanistan, Pakistan, India, Nepal, Bhutan, Burma, Bangladesh & China) with environmentally sustainable solutions relevant specifically to those living in mountainous regions.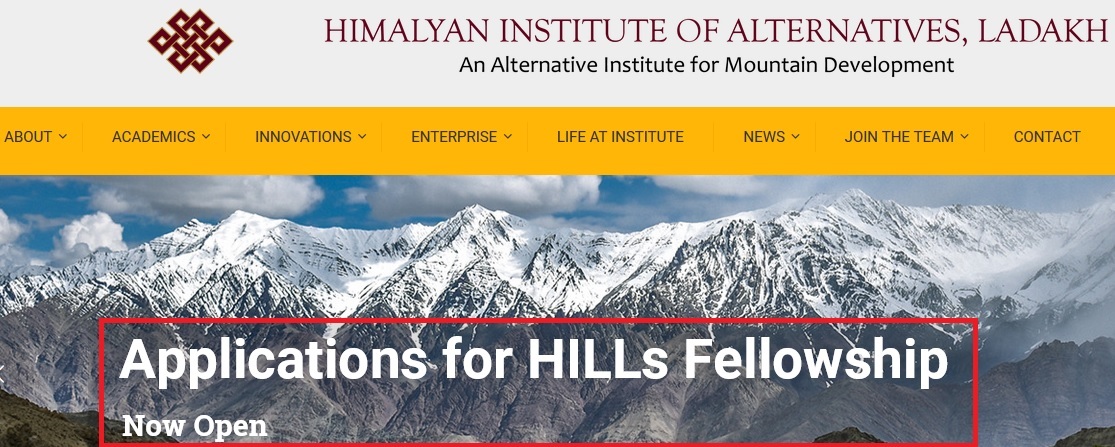 Who Can Apply?
The HILLs Fellowship is open to graduates of all ages and all streams. (10th Mathematics required, 12th Mathematics preferred)
How to Apply?
Just follow the below steps to apply for the HILLs Fellowship 2019.
Steps :
Step 1 : Go to the official website of HIAL through the URL provided above
Step 2 : Then select the Academics -> Programs of Study -> HILLs Fellowship
Step 3 : Next select Admission under HILLs Fellowship and click "Apply Now" link in the drop down list.
Step 4 : Fill the required details to apply for the HILLs Fellowship 2019.

Note :
The HILLs Fellowship applicants are evaluated on a combination of curiosity, passion, grit and the need to explore beyond the prescribed curriculum
Selection Criteria & Process
Stage 1 : Screening of application form for eligibility.
In Stage 1 the applicants will be evaluated on the application form for eligibility.
Stage 2 : Screening of Statement of Purpose and big idea (submitted in application form*)
Then, the qualified applicant's *Application form will be revisited to evaluate the submitted Statement of Purpose and the Big Idea.
Stage 3 : Skype interview
The qualified applicants will be called for a Skype interview in Stage 3.
Stage 4 : 6 day camp in Leh
In Stage 4, the short-listed applicants will be called for a 6 day camp to Leh where they will participate in several group and individual activities. Through this camp the applicant and the organisation will select each other.
Cost & Scholarship
1. Total program fee (Tuition, Boarding & Lodging) – Rs. 2,50,000 /- Students will pay only Rs. 60,000 /- for both the years towards Boarding & Lodging (Rs. 5000 /- per month).
Notification :
https://www.scholarships.net.in/uploads/pdf2018/30976-Advt.pdf
2. The balance of Rs. 1,90,000/- will be subsidised by the Institute as follows :
** The students will pay Rs. 1,90,000 (100% interest free loan facilities will be facilitated by HIAL for the students) at the beginning of the program.
** This amount of Rs. 1,90,000/- or more can be earned back by them as internship stipend in the 11 months of the program based on their merit and skill in works.
Timeline
** January 14, 2019 – HILLs Fellowship Application Deadline
** January 15-21, 2019 – Video interview
** January 22, 2019 – Candidates announced for the HILLs Fellowship Camp
** March 11-16, 2019 – 6 day camp in Leh*
** March 25, 2019 – Candidates announced for HILLs Fellowship
** April 22, 2019 – HILLs Fellowship starts
Helpdesk
For further queries
Visit : HIAL , c/o SECMOL , Housing Colony, Leh – 194101
Write to : study [AT] hial.edu.in
Contact : Roshni Dsouza – 01982-253012