mhrd.gov.in CommonWealth Scholarship 2019 : Ministry of Human Resource Development
Organisation : Ministry of Human Resource Development
Scholarship Name : CommonWealth Scholarship in United Kingdom 2019
Applicable For : Pursuing Master's & Doctoral Degree Programme in UK
Applicable State/UTs : All India
Application Deadline : 17th January, 2019 (Date is Extended)
Website : http://mhrd.gov.in/scholarships
You can now ask your question on this scholarship.
Ask here
(OR) Go to the bottom of this page for comments.
MHRD CommonWealth Scholarship
Online application is invited from Indian national for '2019 COMMONWEALTH SCHOLARSHIP TENABLE IN THE UNITED KINGDOM' for pursuing Master's & Doctoral degree programme commencing from September/October 2019.
Related : MHRD Israel Government Scholarship 2019-20 : www.scholarships.net.in/30104.html
The Scholarships are offered by the Commonwealth Scholarship Commission (CSC), UK for the following Scholarships only
** Commonwealth Master's Scholarships (for low and middle income Commonwealth countries)
** Commonwealth PhD Scholarships (for low and middle income Commonwealth countries)
Who Can Apply?
(i) The candidates who have received the offer of admission, from any of the university listed with the Commonwealth Scholarship Commission are only eligible to apply.
(ii) The applicant must be a permanent resident in India.
(iii) The applicant must be available to start his/her academic studies in the UK by the start of the UK academic year in September/October 2019
(iv) The applicant must NOT be registered for a PhD, or an MPhil leading to a PhD, at a UK university or India university or elsewhere before September/October 2019
(v) The applicant must not be able to afford to study in the UK without this scholarship.
(vi) Candidates who have already been abroad for studies/training/ specialization either on scholarships or on their own, for a period exceeding six months are eligible to apply, if they have been in India for at least two consecutive years as on 10th January, 2019 after returning from abroad.
Notification :
https://www.scholarships.net.in/uploads/pdf2018/30628-Advt.pdf
Number Of Nomination :
52 nominations would to be made, out of which 13 nominations would be for PhD.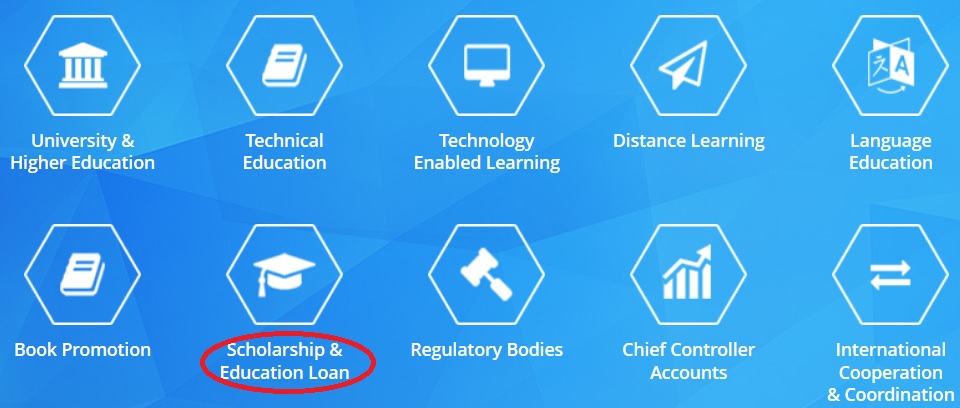 How to Apply?
Just follow the below steps to apply for the CommonWealth Scholarship in United Kingdom 2019.
Steps :
Step 1 : Candidates are required to apply online at the following portals
** Ministry of Human Resource Development portal by 17th January, 2019.
Online Application : http://proposal.sakshat.ac.in/scholarship/

EAS: https://fs29.formsite.com/m3nCYq/form62/form_login.html
** Commonwealth Scholarship Commission's Electronic Application System (EAS) by 19.12.2018 by 16:00 (GMT)
Step 2 : Then student click on the Online Application link in the home page.
Step 3 : Fill the application form with the following details
** Select the Scholarship Scheme
** Enter Your Personal Details
** Enter Your Academic details
** Enter Other Details
** Upload the supporting documents
Step 4 : Finally click on the Validate & Submit button
Note :
** It is compulsory for the applicant to apply on both the portals before their cut-off dates, failing which would make his/her candidature ineligible.
** Sometimes the link does not open after click or after copying to the address bar. You are required to type the link in the address bar to go to the link.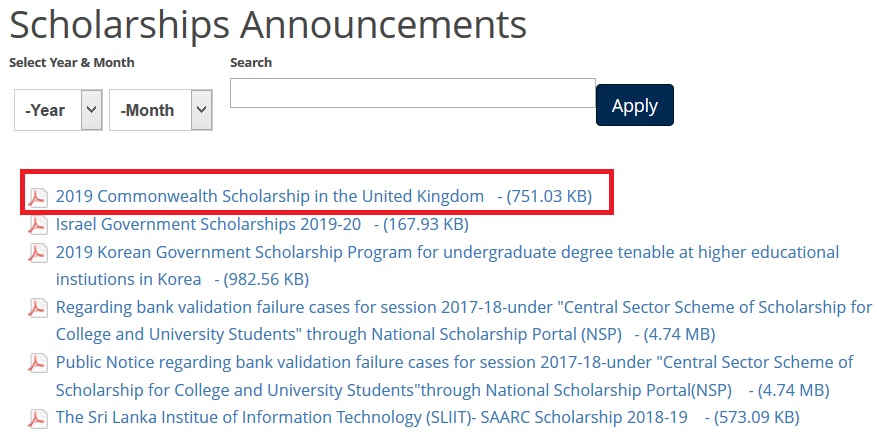 Documents Required
Scanned copy of the following documents are required while applying to the Ministry of Human Resource Development online portal:
i) Marks sheet and certificate for Secondary Examination
ii) Marks sheet and certificate for Higher Secondary Examination
iii) Transcript in respect of the candidate's higher qualification(s)
iv) Bachelor's/Master's degree
General Instructions
1. Candidates who do not possess the eligibility criteria need not apply.
2. Canvassing in any form will be a disqualification.
3. It is very important that applicants who are in employment to which they wish to return after completion of their studies in UK should have an assurance from their organization that on the final selection by the CSC, they will be granted sufficient leave to complete the study.
In general, a candidate undertaking research for a Ph.D. can be expected to need 36/48 months' study in the United Kingdom even though in the first instance, the award will only be offered for one or two years.