UGC National Fellowship For OBC Candidate 2018-19
You can now ask your doubts / questions.
Please go to the the bottom of this page for comments section.
Organization : University Grants Commission (UGC)
Scholarship Name : National Fellowship For OBC Candidate 2018-19
Applicable For : OBC Students
Applicable State/UTs : All Over India
Application Last Date : 24/12/2018
Website/Apply Online : https://www.ugc.ac.in/nfobc/
UGC National Fellowship For OBC
University Grants Commission invites applications for National Fellowship For OBC Candidate for the year 2018-19
Related / Similar Scholarship :
UGC NFOBC Guidelines 2019-20
Objective
The objective of this award is to provide fellowships in the form of financial assistance to unemployed students belonging to OBC to pursue higher studies leading to M.Phil and Ph.D degrees (full-time) in Sciences, Humanities and Social Sciences and Engineering & Technology, in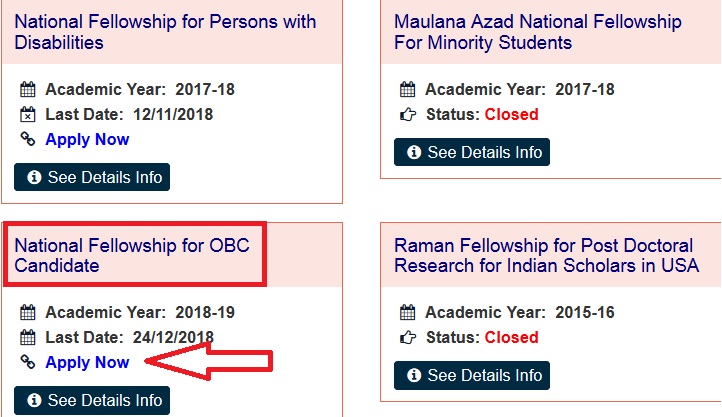 ** Universities/Institutions/ Colleges approved under Section 2(f) and 12(B) of the UGC Act
** Deemed to be Universities included under Section 3 of the UGC Act, 1956 and eligible to receive grants-in-aid from UGC.
** Universities/Institutions/College funded by Central/State Government.
** Institutes of National Importance.
Who Can Apply?
1. The candidate should belong to OBC and should have passed the Post Graduate examination and annual income of the beneficiary/parents or guardian of the beneficiary should not exceed Rs. 6.00 lakh per annum from all sources.
2. The candidate who is already registered for M.Phil./Ph.D. will be eligible for the consideration for award of fellowship under cited scheme.
3. Transgender candidates are eligible to apply under the scheme. The reservation shall be followed as per Government of India norms.
How to Apply?
Just follow the below steps to apply for the National Fellowship For OBC Candidate 2018-19.
Steps :
Step 1 : Go to the official website of University Grants Commission through the URL provided above.
Step 2 : Read the instruction carefully and Click on the "Apply Now" button in the menu bar.

Step 3 : Fill the application with the required fields and click on the Submit button
Step 4 : Selection will be made on the basis of merit of the candidates. However, the actual payment of fellowship will be made directly to awardee through e-payment under DBT with effect from 1st April of selection/financial year (or) from date of joining the fellowship, whichever is later.
Amount Of Fellowship
The candidate would be eligible for following financial assistance
Fellowship in Sciences, Humanities, and Social Sciences
@Rs.25000/-p.m. for initial two years
@Rs.28000/-p.m. for remaining tenure
JRF
SRF
Contingency A
@Rs.10000/-p.a. for initial two years
@Rs.20500/-p.a. for remaining tenure
Humanities &
Social Sciences
Contingency B
@Rs.12000/-p.a. for initial two years
@Rs.25000/-p.a. for remaining tenure
Sciences, Engg.
& Technology
Escorts/Reader assistance
@ Rs. 2000/- p.m. in cases of physically
handicapped & blind candidates
All Subjects
HRA
As per rules of the University/ Institutions
All Subjects
Last Date
Last date to complete the online application for National Fellowship For OBC Candidate is 24th December 2018