chdeducation.gov.in Post Matric Scholarship For SC Students 2018-19 : Chandigarh Education
Organisation : Chandigarh Administration Education Department
Scholarship Name : Post Matric Scholarship For SC 2018-19
Applicable For : SC Students
Applicable State : Chandigarh
Application Deadline : 19-02-2019 (Date is Extended)
Website : http://chdeducation.gov.in/?q=node/369
You can now ask your question on this scholarship.
Ask here
(OR) Go to the bottom of this page for comments.
CHD Education Post Matric Scholarship For SC
Chandigarh Administration Education Department invites applications for Post Matric Scholarship For SC students for the year 2018-19.
Related : Chandigarh Education Post Matric Scholarship For Minority Students 2018-19 : www.scholarships.net.in/26778.html
Who Can Apply?
** The scholarships are open to nationals of India.
** Scholarship will be paid to the students whose parents/guardians income from all sources not exceed Rs. 2,50,000/- per annum.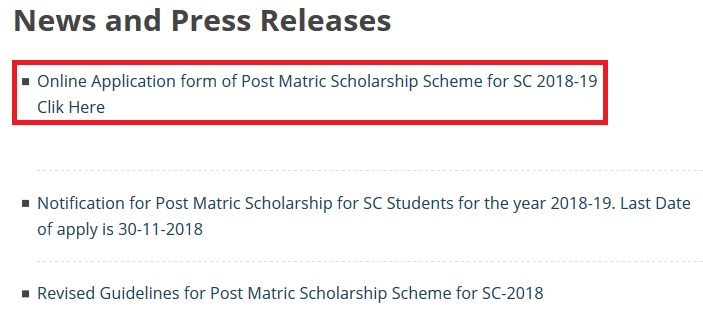 ** Students pursuing post graduate courses in medicine will be eligible if they are not allowed to practice during the period of their course.
** Students who pursue their studies through correspondence courses are also eligible
** Employed Students whose income combined with the income of their parents/guardians does not exceed the maximum prescribed income ceiling are made eligible for post matric scholarships to the extent of reimbursement of all compulsory payable non refundable fees.
** All children of the same parents/guardians will be entitled to receive benefits of the scheme.

How to Apply?
Eligible students are to apply online at National Scholarship Portal. Just follow the below steps to apply for the Post Matric Scholarship For SC Students 2018-19.
Apply Online : https://scholarships.gov.in/
Steps :
Step 1 : Go to the official website of National Scholarship Portal
Step 2 : For Fresh Registration students click on the New Registration link in the home page and Fill the required details to complete your Registration.


Step 3 : For Renewal case, Students Click the Login link and enter your Application Id, Password, Captcha image for Login. Then complete your renewal process.
Note :
** Applicants are advised to take print-outs of the duly filled-in application forms, through National Scholarship web portal and to submit the same along with all supporting documents in their respective institutes.
** It will be necessary for the applicants to provide Aadhaar number/Aadhaar Enrolment ID while applying for the scholarship.
Documents Required
a. one copy of the application for scholarship in the prescribed form (separate application forms as have been prescribed for 'fresh' and 'renewal' scholarship by concerned States/UTs).
b. One copy of the passport size photograph with signatures of the student thereon (for fresh scholarship).
c. One attested copy of certificates, diploma, degree etc. in respect of all examinations passed.
d. A certificate (in original) of Caste duly signed by an authorised Revenue Officer not below the rank of Tehsildar.
e. An income declaration by the self-employed parents/guardians, stating definite income from all sources by way of an affidavit on non-judicial stamp paper, Employed parents/guardians are required to obtain income certificate from their employer and for any additional income from other sources, they would furnish declaration by way of an affidavit on non-judicial stamp paper.
f. A receipt in acknowledgement of the scholarship in the previous year on the form attached to the application only duly counter-signed by the Head of the Institution concerned, if the application was in receipt of a scholarship under this scheme in the preceding year.
Notification :
https://www.scholarships.net.in/uploads/pdf2018/30496-Advt.pdf
Important Dates
1. Submission of Online applications by students – 18th October 2018 to 19th February 2019