Vidya Lakshmi Education Loan & Scholarship Scheme
Organisation : Department of Financial Services, (Ministry of Finance) , Department of Higher Education (Ministry of Human Resource Development) and Indian Banks' Association (IBA)
Announcement : Vidya Lakshmi Education Loan & Scholarship Scheme
Home Page : https://www.vidyalakshmi.co.in/Students/
You can now ask your question on this scholarship.
Ask here
(OR) Go to the bottom of this page for comments.
Vidya Lakshmi Education Loan
Vidya Lakshmi is a first of its kind portal for students seeking Education Loan.
Related / Similar Scholarship :
Vidya Lakshmi Loan Search
This portal has been developed under the guidance of Department of Financial Services, (Ministry of Finance) , Department of Higher Education (Ministry of Human Resource Development) and Indian Banks' Association (IBA).

Students can view, apply and track the education loan applications to banks anytime, anywhere by accessing the portal. The portal also provides linkages to National Scholarship Portal.
How to Apply
3 Easy Steps:
Process for submission of loan application
i) Register
ii) Fill Up Single Form
iii) Apply to Multiple Banks
Create an Account
Please enter the following details for Registration,
1. Select your Title [Mr/Mrs/Miss]
2. Enter your First Name [Uthaya]
3. Enter Your Middle Name [Santhana]
4. Enter Your Last Name [Rubika]
5. Enter Your Mobile Number [9876543210]
6. Enter Your Email Id [abc@gmail.com]
7. Enter Your Password
8. Confirm Your Password
9. Enter the Captcha Image
10. Agree the Terms & Conditions and Click Submit button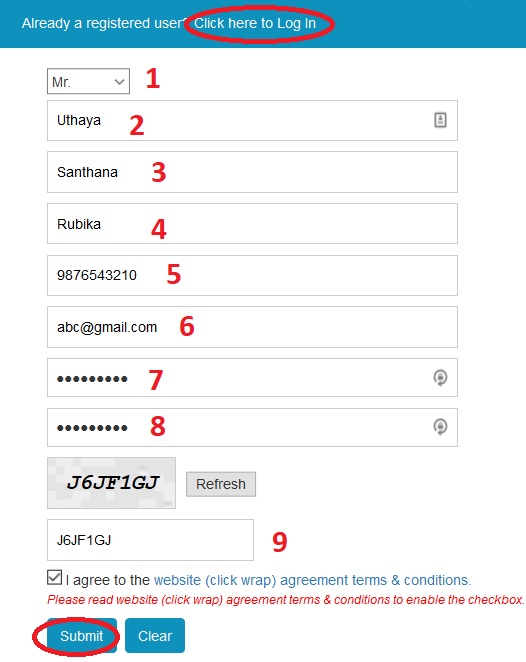 Frequently Asked Questions
1. What are the features of Vidya Lakshmi Portal?
Vidya Lakshmi Portal provides single window for Students to access information and make application for Educational Loans provided by Banks and Govt Scholarships. It has the following features:
i). Information about Educational Loan Schemes of Banks
ii). Common Educational Loan Application Form for Students
iii). Apply to multiple Banks for Educational Loans
iv). Facility for Banks to download Students? Loan? Applications
v). Facility for Banks to upload loan processing status
vi). Facility for Students to email grievances/queries relating to Educational Loans to Banks
vii). Linkage to National Scholarship Portal for information and application for Govt Scholarships
2. How can I apply for Educational loan through Vidya Lakshmi?
The applicant must register and login to Vidya Lakshmi portal and then fill-up the Common Education Loan Application Form (CELAF) by providing all the necessary details. After filling the form, the applicant can search for Educational Loan and APPLY as per his/her needs, eligibility and convenience.
Alternatively, the applicant can also search for Educational Loan after login and apply for the suitable Educational Loan by filling the CELAF.
3. What is Common Educational Loan Application Form (CELAF)?
The Common Educational Loan Application Form is the single form which students can fill to apply for Educational Loan to multiple banks / schemes. CELAF is the application form prescribed by Indian Banks Association (IBA) and accepted by all banks. This form is provided on Vidya Lakshmi portal to apply for Educational loan.
4. What is Sign up?
Students are required to complete ?Sign up? process to register on Vidya Lakshmi portal. Only Students who have completed ?Sign up? / ?Registration? process can apply for educational loan through Vidya Lakshmi portal.
5. What if I forget password of my Login ID?
You can click on ?Forgot password? option provided on the Login page of Vidya Lakshmi portal and you will be asked to provide your registered e-mail address. Vidya Lakshmi portal will send a system generated password through an e-mail.
6. How will I know once Education Loan is approved?
The Bank will update the status of the application on Vidya Lakshmi portal. Students can view the status of the application on the applicant?s dashboard on the portal.
7. Why is my loan application rejected?
You may not be eligible as per the norms laid down by the selected banks. Please contact? the selected banks for more details.
8. What is 'On hold' status of Loan application?
The Bank will mark the loan application status to 'On hold' when the bank requires some further information or documents to be submitted by the student. The requirement will be indicated in the Remarks column and Student can check the same in the dashboard.
9. How is the money/educational loan disbursed?
Approved Educational Loan of an applicant will be disbursed directly by the bank outside the Vidya Lakshmi Portal. To know more, contact the bank you have selected.
10. Which are the banks I can apply for Educational loan through Vidya Lakshmi portal?
To view the list of registered banks on Vidya Lakshmi, click here.
11. How many applications for Educational Loan can be submitted by a student?
A student can apply to a maximum of three Banks through Vidya Lakshmi portal using CELAF.
12. What is rate of interest for the Educational loan?
The interest rate varies from bank to bank and scheme to scheme. Therefore, the applicant/student is requested to check the same on Loan Search page.