LPUNEST National Entrance & Scholarship Test 2019 : nest.lpu.in
You can ask questions or answer questions about this scholarship.
Please go to the bottom of this page.
Organisation : Lovely Professional University
Scholarship Name : LPU NEST 2019 National Entrance & Scholarship Test
Applicable For : Indian Nationals
Application Last Date : 20th January 2019
Website : https://nest.lpu.in/main.aspx
LPU NEST National Entrance & Scholarship Test
LPUNEST is National Entrance and Scholarship Test for admission to various programmes in Lovely Professional University.
LPUNEST for :
** B.Tech.
** MBA
** Design (AFTER 12TH)
** LAW
** Hotel Management
** Agriculture
** Applied Medical Sciences
** Ph.D.
Who Can Apply?
** Only Indian Nationals are eligible to apply for LPUNEST
** Applicants should have either completed or shall be appearing in 2019, in final examination of 10+2 from Central Board of Secondary Education (CBSE, New Delhi) or The Council for Indian School Certificate Examination (CISCE, New Delhi) or State Board or any other Council, Institution, college etc. declared recognised by Council of Boards of School Education (COBSE), New Delhi or any other concerned apex body as applicable.
How to Apply?
Just follow the below steps to apply for the LPUNEST 2019.
Online Application
Steps :
Step 1 : Go to the official website of Lovely Professional University through the URL provided above.
Step 2 : Then select the programme and read the instructions carefully before you are applying.


Step 3 : After that, click on the "Apply Now/Login" button in the right top corner of the page.

Step 4 : If you are already registered user then login with your user name and password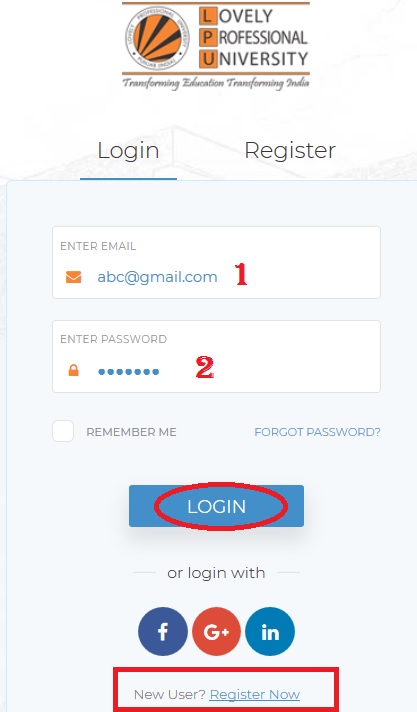 Step 5 : New user please register your account by clicking "Register Now" button in the login page
Step 6 : Fill the registration form with the required fields and click on "Register Now" button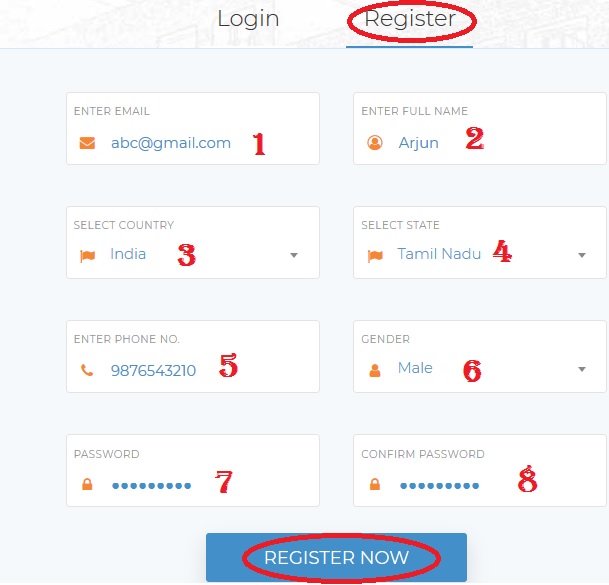 Step 7 : After register your account OTP will be sent to your registered mobile no. Enter the OTP number to proceed with the application.
Step 8 : Fill the remaining details to complete the application process.
Offline Application
Applicant may obtain LPUNEST-2019 Kit from University Campus/ Camp Offices or any other prescribed place by paying cash of Rs. 700 (for both boys and girls).
Manual :
Fill the full application form after reading all the instructions in LPUNEST booklet.
Semi-Online Application :
In case applicant does not want to send the hard copy of purchased application form
** Fill the application form at www.lpu.in
** When asked whether LPUNEST Kit already purchased or not, Click "Yes" if you have purchased the LPUNEST Kit. Fill the OMR sheet No. and Unique OMR code, in the given space.
** Submit and save the copy of complete application form for your reference.
All our correspondence including centre booking and issue of e-hall ticket/ Appointment Letter/ Admit Card details will be through email only.
Important Dates
Online Counselling
Schedule-I

Schedule-II

Online Registration Starts on
1st week of October 2018
21st January 2019
Dates of Entrance Examination #
21st January – 5th February 2019
5th April – 30th April 2019
Last date of submission of Application for LPUNEST (B.Tech.)
20th January 2019*
31st March 2019
Slot Booking for Online Examination
1st week of December 2018
1st week of March 2019
Display of Result
10th February 2019
4th May 2019
Online counselling and Seat Allocation
4th May onwards
Seat Allotment
Details of Rounds and Dates of Online Counselling and Seat Allocation
Rounds of Counselling
Filling of Online Preference
Result of Allotment
Date of Admission (subject to availability of seats) (scholarship subject to prevalence of scholarship scheme)
Round I
4th – 9th May 2019
10th May 2019
10th – 16th May 2019
Round II
N.A.
17th May 2019
17th – 20th May 2019
Round III
17th – 20th May 2019
21st May 2019
21st – 31st May 2019