Lakshya GPAT Talent Hunt Scholarship Exam 2019 : gdconlinetest.in
Organisation : GPAT Discussion Center
Scholarship Name : Lakshya GPAT 2019 Talent Hunt Scholarship Exam
Applicable For : B. Pharm Final Year Students
Application Deadline : 15th January 2019
Website : http://gdconlinetest.in/
You can now ask your question on this scholarship.
Ask here
(OR) Go to the bottom of this page for comments.
GPAT Talent Hunt Scholarship Exam
In order to encourage and support meritorious students in their preparation of GPAT 2019. GDC provides students an opportunity to get upto 100% scholarship in Lakshya GPAT-2019 Online test Series.
Related : FIITJEE FTRE Talent Reward Exam 2018 : www.scholarships.net.in/30164.html
Who Can Apply?
** This Scholarships is for B. Pharm final year students only
** The student who has been able to secure 1st position in B.Pharm up to 6th semester(marks calculated by average of 1st to 6th semester total marks) during their course shall be considered eligible for this scholarship, and it will be applicable to each institution in particular.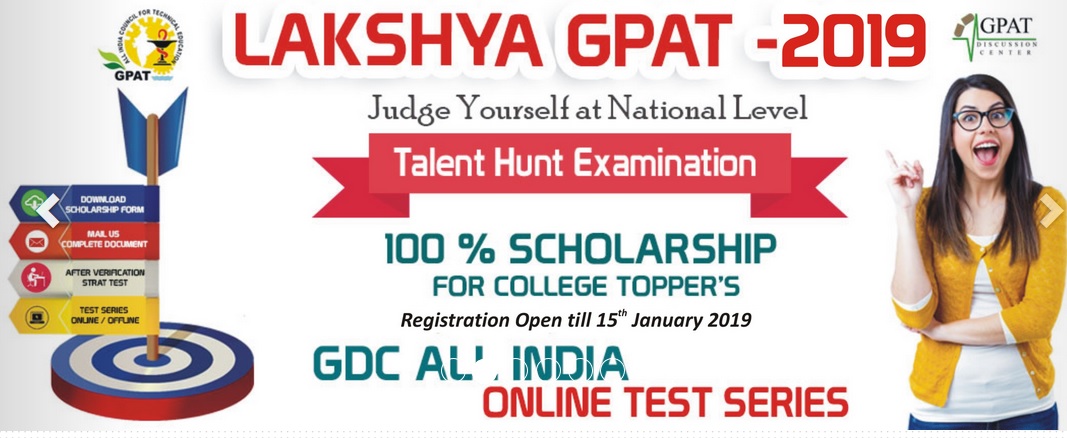 ** The scholarship is limited to only one student from each and every institution.
** In case of collision of B.Pharm marks between two students, Score of 12 standard will be considered to be final.
How to Apply?
Just follow the below steps to apply for the Lakshya GPAT 2019.
Steps :
Step 1 : Go to the official website of GPAT Discussion Center provided above.
Step 2 : Download the application form from the official website or you can directly download it from the below mentioned link.
Download Application Form :
https://www.scholarships.net.in/uploads/pdf2018/30236-Form.pdf
Step 3 : Registration form must be verified by the Head of the Institution.
Step 4 : Send the completely filled and approved application form with scanned passport size of photograph to us at gdcgpat037 [AT] gmail.com
Features of Scholarship
** GPAT-2019 Online Test Series is designed to provide the real time exam experience to the aspirants.
** Topic wise, Subject wise and Full Syllabus tests are designed for thorough coverage of the entire syllabus in a systematic way.
** Most importantly, these tests are designed as per revised syllabus of GPAT- 2019 .

** The test papers are developed considering previous exam papers and the standard of the questions will be matching the actual examination in all the aspects, helping students to rectify their Weakness and excel in competitive exams.
** Total test 100 (with explanation)
** Total Questions – 10,750
Guidelines
** Ensure all the particulars of the application are correct and completely filled before submission. No claims shall be entertained in case of incomplete or non-attested application.
** The applicant will receive login id and password online subjected to acceptance of request as per the criteria of the scheme and will informed within 48 hours after receiving of complete form.
** Student can fill the form up to 15th January, 2019.
** All offers made initially shall be 'Provisional'. This shall be confirmed based on the verification of original documents by the GDC authorities.
** GDC reserves the right to change the rules & regulations from time to time in its sole and absolute Discretion. If any such change is made, the latest amended rule/regulation would be applicable
Last Date
The application of this scheme will only be accepted before 15th January 2019