mhrd.gov.in Israel Government Scholarship 2019-20 : Ministry of Human Resource Development
Organisation : Ministry of Human Resource Development
Scholarship Name : Israel Government Scholarships 2019-20
Applicable For : Master Degree Holders
Application Deadline : 31-12-2018 (Date Extended)
Website : http://mhrd.gov.in/
You can now ask your question on this scholarship.
Ask here
(OR) Go to the bottom of this page for comments.
MHRD Israel Government Scholarship
Online applications are invited from Indian nationals through MHRD's website for the award of scholarship offered by Government of Israel for 08 months research/ specialization under Israel Government Scholarship for the year 2019-20.
Related : MHRD Central Sector Scheme For College & University Students 2018-19 : www.scholarships.net.in/25518.html
The scholarship is granted only for study in universities and programs approved by the Israeli Council for Higher Education.
Applicable Subjects
Applications are invited in the following subjects :
** Comparative Study of Religions (with specific reference to Judaism),
** Middle East Studies,
** Hebrew language and literature,
** History of the Jewish people,
** Agriculture,
** Biology,
** Biotechnology,
** Economics,
** Business Management,
** Mass Communication,
** Environment Studies and
** Chemistry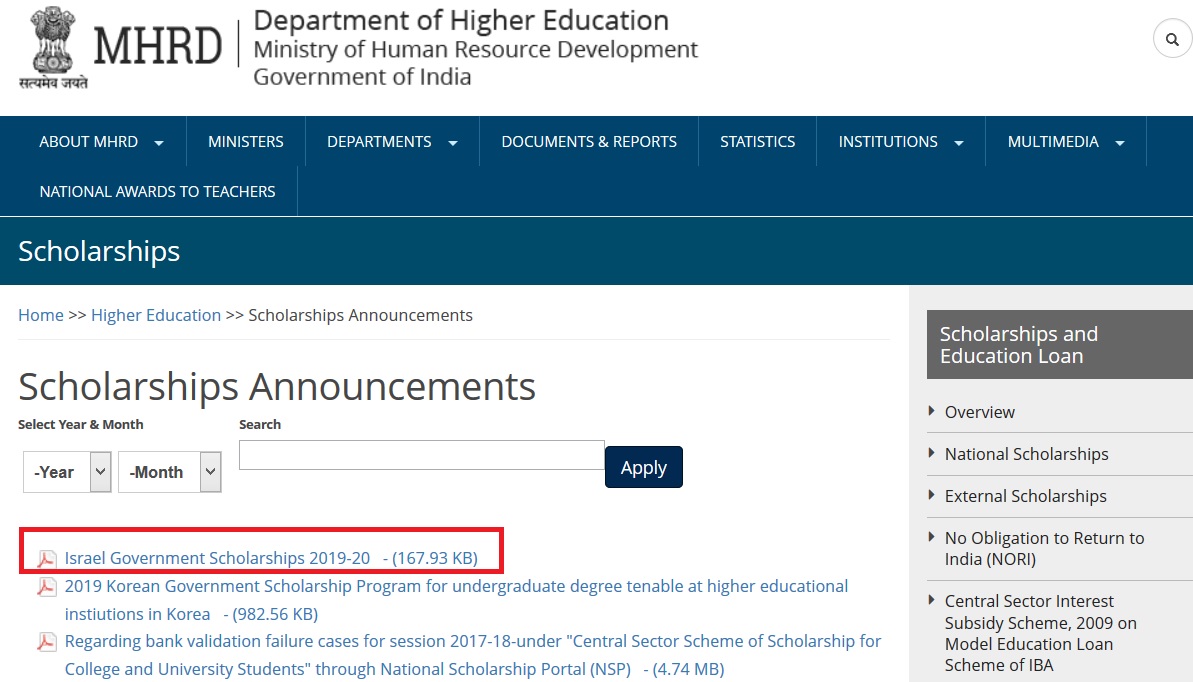 Eligibility
1. Candidates who have the letter of acceptance from the supervisor/Israeli university is only eligible to apply.
2. Age : There is no upper age limit for applying for the scholarship.
3. Qualification: (as on 30.11.2018)
i For research/specialization in the field of Agriculture, Chemistry, Biology, Biotechnology, Environment Studies, Economics, Business Management and Mass Communication, applicant must have Master's degree in the relevant field.
ii) For Hebrew language and Literature Course – Student pursuing the post-graduate course in this subject may apply
Others :
i) Candidates who have already been abroad for studies/training/ specialization either on scholarships or on their own, for a period exceeding six months are eligible to apply, if they have been in India for at least two consecutive years after returning from abroad as on 30.11.2018.
ii) Applications of candidates who are staying abroad will not be considered
Basic requirement :
i) Proof of English or Hebrew Language proficiency is a must.
How to Apply?
Just follow the below steps to apply for the Israel Government Scholarships 2019-20.
Steps :
Step 1 : Go to the link http://proposal.sakshat.ac.in/scholarship/
Step 2 : Then student click on the Online Application link in the home page.


Step 3 : Fill the application form with the following details
** Select the Scholarship Scheme
** Enter Your Personal Details
** Enter Your Academic details
** Enter Other Details
** Upload the supporting documents
Step 4 : Finally click on the Validate & Submit button
Documents Required
The following documents are required to be uploaded at the time of applying online.
** Colour passport size photograph ( it must be in .jpg or .jpeg format)
** Signature ( it must be in .jpg or .jpeg format)
** Letter of acceptance from supervisor/ Israeli university
** Marks sheets of 10 and 10+2 (self attested)
** University/College Transcript for Bachelor's and Master's degree.
(The size must not exceed 530 kb for each of the document, photograph, and signature)
Value of Scholarship
1. The scholarship could be partial or full
Partial scholarship includes :
i) part of the tuition fees
ii) Basic health insurance
iii) monthly allowance for one academic year (8 months only).
Full scholarship included :
i) tuition fee,
ii) Basic health insurance
iii) monthly allowance for one academic year (8 months only)
2. Accommodation, transportation and travel arrangements to and from or in Israel are the applicant's responsibility.
Selection Process
In case there are more number of students than the available nominations, preference would be given to those students who have received letter of acceptance from Israeli institution/university, which ranked higher as per the latest QS ranking of World Universities.
Notification :
https://www.scholarships.net.in/uploads/pdf2018/30104-Advt.pdf
The shortlisted candidates would be required to appear for the document verification. The venue, time and date would be intimated to the shortlisted candidates.
The following documents are required at the time of document verification :
** Dully filled in application form prescribed of the Government of Israel (application form enclosed).
** All original marks sheets and certificate of class 10 and 10+2, transcript and degree in respect of Bachelor's and Master's and all other original degrees and diploma.
** Self-attested copies of all original documents.
** Detailed proposal of the research/specialization, which the applicant intends to study in Israel, specifying the University where the applicant wishes to take admission.
** Curriculum Vitae.
** Letter of acceptance from Israeli supervisor/university in respect of the proposed research/specialization.
** At least two (2) letters of recommendation from lecturers/professors who taught the candidates.
** Three (3) photographs
** Certificate of Health.
** NOC from the employer. In case of Government Servant, clearance of the Cadre Controlling Authority is mandatory.
Last Date
Last date to submit the online application form is December 31, 2018