mcc.kerala.gov.in Fellowship in Hemato-oncology & BMT 2018 : Malabar Cancer Centre
Organisation: Malabar Cancer Centre
Scholarship Name : Fellowship in Hemato-oncology & BMT 2018
Applicable State : Kerala
Application Deadline : 30-10-2018
Website : http://www.mcc.kerala.gov.in/MCCfelloapp/mccapp.php#instruct
You can now ask your question on this scholarship.
Ask here
(OR) Go to the bottom of this page for comments.
MCC Kerala Fellowship Hemato-oncology & BMT
Malabar Cancer Centre, Thalassery invites application through online for institutional fellowship in Hemato-oncology & BMT 2018.
Related : Malabar Cancer Centre Fellowship in Oral Oncology 2018 : www.scholarships.net.in/30697.html
Objective
1. Gain deep knowledge in the subject, both practical and theoretical aspects
2. Learn fundamentals of BMT and the application of BMT in various hematological disorders.
3. Orientation toward basic and advanced cancer research activities
4. To actively take part in research activities of the department
5. To learn interpersonal communication skills and communication skill towards patients and their relatives.
6. To learn about the applied laboratory aspects of the subject
Eligibility
** The candidate should possess MD/DNB degree in General Medicine or Pediatrics or MD(Transfusion Medicine) or MD Pathology
** Candidate should have valid MCI registration certificate
** Candidates should not cross 35 years as on 1st July 2018.
How to Apply?
Read the Brochure and Instructions carefully before filling up the application online. Just follow the below steps to apply for the Fellowship in Hemato-oncology & BMT 2018.
Steps :
Step 1 : Go to the official website of Malabar Cancer Centre provided above.
Step 2 : Then scroll the pages down and click "Fellowship in Hemato-oncology & BMT Apply Online" link under Online Application.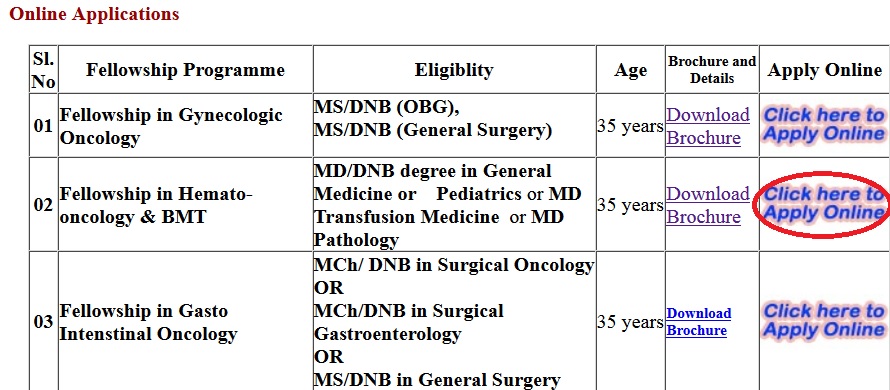 Step 3 : Tick the eligibility check box
Step 4 : Upload your Photo and fill the remaining details to complete the application process

Application Fee
Rs.2,000/-(Rupees Two Thousand Only). The amount may be transferred to the following account by RTGS/NEFT and the reference number should be specified in the online application.
Account Number : 1154104000017958
Bank and Branch : IDBI, Thalassery Branch
IFSC Code : IBKL0001154
Guidelines :
https://www.scholarships.net.in/uploads/pdf2018/29920-GL.pdf
Fee Structure
Course Fees of Rs. 30,000/- per annum will be levied and Rs. 10,000/- will be the refundable caution deposit. For sponsored candidates and candidates from other countries the institution may decide on the fee structure as appropriate.
Leaves :
Candidates will be eligible for 12 days leave during the program. Not more than 5 days of leave will be granted in on go. Candidates who avail for more than 12 days of leave will have extension for those additional days of leave.
Accommodation :
For lady candidates, shared room accommodation may be provided subject to availability. For gentleman candidates, accommodation is their personal responsibility.
Instructions
** Selection will be based on qualification and experience and performance in the written test/Interview.
** Claims in respect of Qualifications, Experience, etc. should be supported by copies of relevant documents;
** Candidates may be required to produce the originals at the time of Written Test/Interview.
** No TA/DA will be paid for the Interview/Written test.
** All communications regarding selection process from MCC will be through e-mail/SMS only. Candidates are advised to visit our website www.mcc.kerala.gov.in regularly for updates/ notices and announcements.
** Candidate should have valid MCI/DCI registration certificate.
** Stipend of Rs.47,000/- per month for the first year and Rs.48,000 per month for the second year will be disbursed for non-sponsored candidates.
Contact/Helpdesk
For any clarifications and queries, please feel free to contact;
1. Dr. Sajith Babau TP, Associate Professor & HOD,
Dept. of Surgical Oncology
Mobile : (+91) 9496048806
Email : drsajith [AT] gmail.com
2. Dr. Chandran K Nair, Professor & HOD,
Department of Clinical Hematology and Medical Oncology
Phone :0490 23 99 245, 2355881
Email : cknair09 [AT] gmail.com
3. Any technical queries regarding online applications please contact System Manager, Email: sm [AT] mcc.kerala.gov.in with application Number (Phone: 04902359881)