eep.bcdd.kerala.gov.in : Employability Enhancement Programme Scholarship 2018-19
Organisation : Backward Communities Development Department.
Scholarship Name : EEP Scholarship 2018-19 Employability Enhancement Programme
Applicable For : OBC Students
Applicable State : Kerala
Application Deadline : 15-10-2018
Website : http://eep.bcdd.kerala.gov.in/index.php/welcome/
You can now ask your question on this scholarship.
Ask here
(OR) Go to the bottom of this page for comments.
BCDD Kerala EEP Scholarship
Kerala Backward Communities Development Department invites Employability Enhancement Programme EEP scholarship application for the year 2018-19.
Related : Backward Classes Development Financial Assistance For Civil Service Exam Coaching 2018-19 : www.scholarships.net.in/34960.html
Objective
The scheme enables the OBC youth for advanced career and equips them for the challenges of modern employment scenario. Five crore rupees earmarked for the pioneer attempt
Who Can Apply?
** Students from the domicile state of Kerala and who belongs to OBC category
** The parental/family income ceiling is Rs. 4.5 lakh per annum for all categories.
How to Apply?
Just follow below steps to apply for the EEP Scholarship 2018-19.
Steps :
Step 1 : Go to the official website of Backward Communities Development Department, Kerala provided above.
Step 2 : Then click on the Registration link in the menu bar and Read the instructions carefully before applying.


Step 3 : Tick the check box "I have already read the notification & instructions for data entry and I have the following documents for online registration" and Click on the Submit button.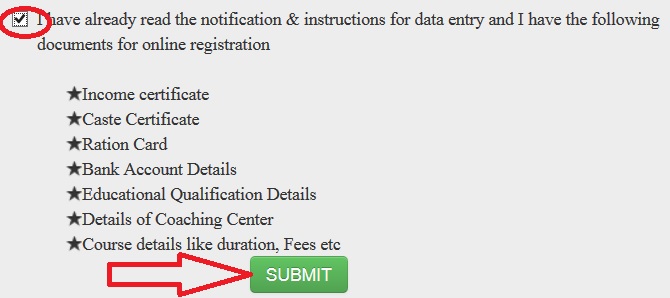 Step 4 : Please fill up all the fields through key board… Don't Copy Paste any data from other websites

Step 5 : Enter your Personal Details, Basic Educational Qualification Details, Coaching Center Details and finally click on the Register button
Note :
Send the hard copy of application & relevant documents to following address
Districts

Address

Thrissur, Palakkad, Malappuram, Kannur, Kozhikkod,Wayanad, Kasaragod
Regional Deputy Director
Backward Classes Development Department
Civil Station, Ist Floor
Kozhikode- 673020, Ph No.0495-2377786
Ernakulam, Idukki, Kottayam, Pathanamthitta, Alappuzha, Kollam, Trivandrum
Regional Deputy Director
Backward Classes Development Department
2nd floor Civil Station ,Kakkanad, Ernakulam
Pin – 682030
Ph : 0484 2429130
Check Application Status
Please follow the below steps to Check your Application Status,
Step 1 : Visit the official website provided above and click on the Application Status link in the menu bar.
Step 2 : Enter your Application ID and Date Of Birth
Step 3 : Press on "View" button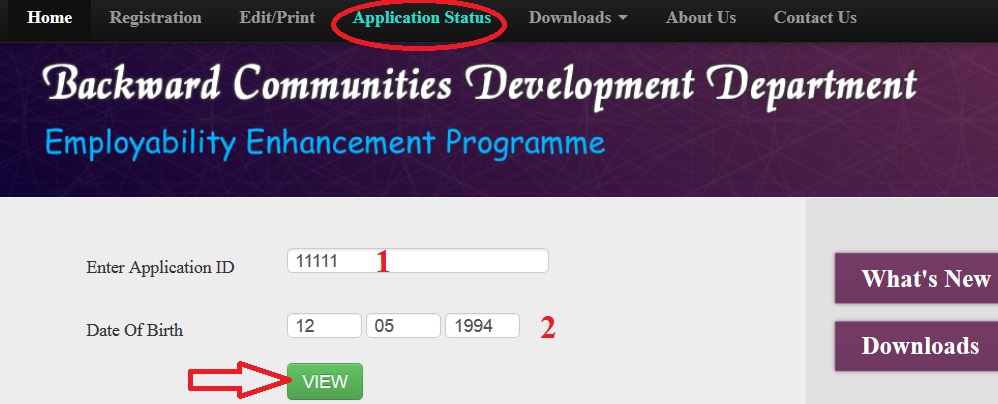 Documents Required
** Income certificate
** Caste Certificate
** Ration Card
** Bank Account Details
** Educational Qualification Details
** Details of Coaching Center
** Course details like duration, Fees etc
Rate of Financial Assistance
1. Medical/Engg Entrance – Rs. 30,000/-
2. Civil Service Examination – Rs. 50,000/-
3. Banking Service examinations – Rs. 20,000/-
4. PSC/UPSC/SSC etc. – Rs. 5000/-
Instructions
** Send the hard copy of application and relevant documents to concerned regional office. Each online application form is meant for one person only. Separate application has to be filed for each applicant.
** Furnish information exactly in the manner asked for in the forms, especially the names, address and date of birth.
** Applicants are required to verify the application details before submitting the online application.
** Applicants are requested to keep the Application Number (generated automatically after the submission of online form) for further communications.
** The Applicants must affix their recent identical passport size photographs, at the places indicated, on the printout of Online Application Form.