hpepass.cgg.gov.in Technical Education Scholarship 2018-19 : Himachal Pradesh ePass
Organisation : Himachal Pradesh Department of Higher Education (HP ePass)
Scholarship Name : Technical Education Scholarship 2018-19
Applicable For : Students Pursuing M.Tech /B.Tech / B.Architect / Diploma in Engineering courses & ITI level courses
Applicable State : Himachal Pradesh
Last Date : 31.12.2018 (Date is Extended)
Website : http://hpepass.cgg.gov.in/NewHomePage.do
You can now ask your question on this scholarship.
Ask here
(OR) Go to the bottom of this page for comments.
HP ePASS Technical Education Scholarship
Himachal Pradesh Department of Higher Education invites applications for Scholarship under "Himachal Pradesh Technical Education specific Scholarship Schemes" for the year 2018-19.
Related : HP ePASS Scholarship Student/Institution Registration 2018-19 : www.scholarships.net.in/29708.html
Who Can Apply?
Students of the State pursuing M.Tech /B.Tech / B.Architect / Diploma in Engineering courses and ITI level courses belonging to all categories studying in Govt. & Private Affiliated Institutions, within or outside the State are eligible to apply for the scholarship
How to Apply?
Just follow the below steps to apply for the Technical Education Scholarship 2018-19.
Steps :
Step 1 : Go to the official website of HP ePass through the URL provided above.
Step 2 : Click on student login in the menu bar.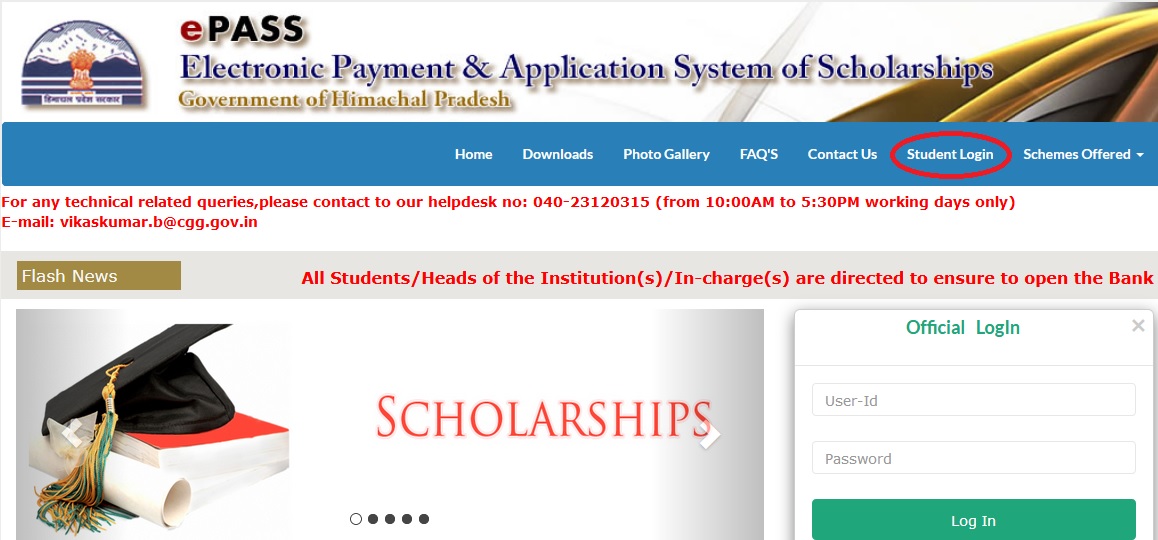 Step 3 : Apply through the Aadhaar number
Step 4 : Fill in all required details to complete the application form.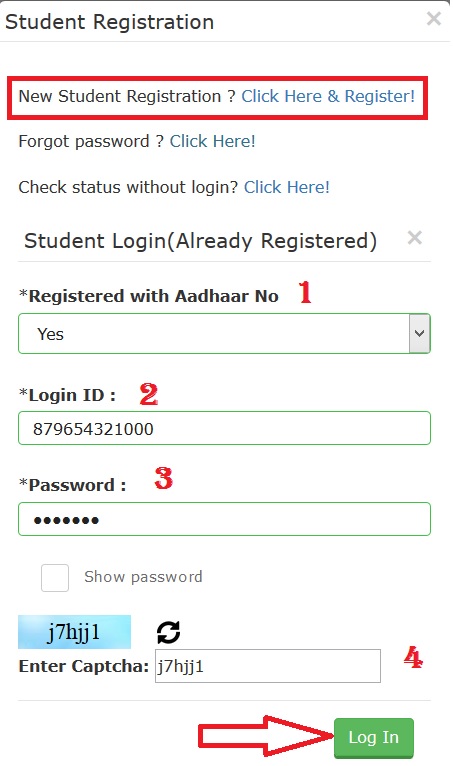 Step 5 : Upload necessary documents.
Step 6 : Finally submit the application.
Documents Required
** Passport size photograph
** Aadhaar Card
** Certificate of being a bonafide citizen of Himachal Pradesh
** Result card of previous year examination
** Income certificate of the guardian/parent issued by an officer, not below the rank of Tehsildar
** Caste certificate issued by an officer, not below the rank of Tehsildar
** Latest bank account statement of student's account
Notification :
https://www.scholarships.net.in/uploads/pdf2018/29101-Advt.pdf
Important Dates
** Last Date for Online Registration on HP e-PASS Portal for New Institutions Registration for the year 2018-19 is started w.e.f. 04-10-2018 to 31-12-2018.
The Format for New Institutions Registration must be submitted in this Directorate through E-mail Hard copy upto 31-12-2018. After 31-12-2018 no Registration Format shall not be entertained.
** Last Date of Registration / Submission of Online Scholarship Application by the Students (studying within outside the state) 31st December 2018 (04-10-2018 to 31-12-2018)
** Last Date of taking a printout of Online Application Form submitting the same along with the Scheme Specific Document(s) by the student(s) to their respective Institution(s). 31-12-2018.
Note : Out of State Students are advised to mention the following address on the Form (where the form needs to be sent) while submitting the Print out other documents to the concerned institution: Director of Higher Education Himachal Pradesh Shimla 171001.
Selection Criteria
The scholarship will be awarded to students based on the following two criteria –
** Income of the guardian/parents
** Marks obtained by the student in last qualifying examination/class
Instructions
1. All the Heads of the Institutions and scholarship In-charges are directed to make wide publicity/motivation/awareness among the students in this regard.
2. Aadhaar Card is mandatory to apply for all schemes being run by this Department.
3. Scholarship amount will be transferred to the student's Bank Account through DBT (Direct Benefit Transfer -Aadhaar based payment) mode only
4. The Institution(s) are fully responsible for verifying the incorrenct details of student's documents i.e Himachali Bonafide Certificate, Income Certificate, Latest Bank Statement, Scanned copy of Aadhaar, Category Certificate, Previous year, mark sheets etc.
5. All students/Heads of the Institution(s) In-charges(s) are directed to scan and upload the relevant original Documents, while applying for scholarship.
6. If the payment of Scholarship, made by this Directorate, does not get transferred or credited into the Students Bank Account through DBT mode, then Students and Heads of the Institution(s) has/have to intimate to this Directorate within one month, about non receiving of Scholarship, otherwise scholarship amount will be treated as lapsed.