Sanskriti Foundation Prabha Dutt Fellowship 2018 : sanskritifoundation.org
Organisation : Sanskriti Foundation
Fellowship Name : Prabha Dutt Fellowship 2018
Applicable For : Women journalists of age group 25 to 40 years
Applicable States : All Over India
Application Deadline : Dec 31, 2018
Website : http://www.sanskritifoundation.org/prabha-dutt-fellowship.htm
You can now ask your question on this scholarship.
Ask here
(OR) Go to the bottom of this page for comments.
Sanskriti Foundation Prabha Dutt Fellowship
Sanskriti Foundation invites applications for Prabha Dutt Fellowship for the year 2018. The Prabha Dutt Fellowship in Journalism encourages young women who wish to investigate and research on any topic of contemporary relevance.
Related :
Sanskriti Foundation Geddes Scholarship 2018 : www.scholarships.net.in/29001.html

Sanskriti Foundation Madhobi Chatterji Memorial Fellowship 2018-19 : www.scholarships.net.in/29014.html

Sanskriti Foundation Mani Mann Fellowship 2018-19 : www.scholarships.net.in/29022.html

Sanskriti Foundation Kalakriti Fellowship 2018 : www.scholarships.net.in/29034.html
Objective
The purpose of the Fellowship is to encourage young mid career women journalists to develop their potential by pursuing meaningful projects without having to work under the pressures of short deadlines.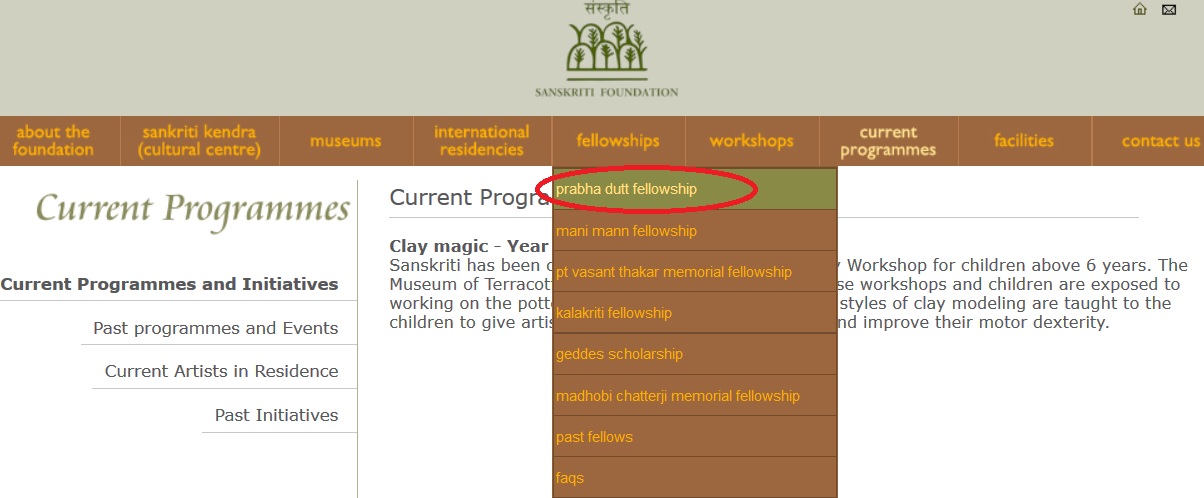 The Fellowship carries a grant of Rs 1,00,000 including travel expenses. The work can be executed in Hindi, English or any Regional Language
Who Can Apply?
To be eligible for the fellowship, an applicant must –
** Be a women journalist working in print media.
** Belong to the age group of 25 to 40 years.
** Have published a stipulated number of articles in renowned publications.
How to Apply?
Just follow the below steps to apply for the Prabha Dutt Fellowship 2018
Steps :
Step 1 : Create a 2-page CV containing full postal and telephonic contact details along with email-id.

Step 2 : Prepare a write-up describing the project in about 250 to 300 words.
Step 3 : Provide contact details of two referees and details of five published work samples.
Step 4 : Send the completed application bearing the title or subject line 'Sanskriti – Prabha Dutt Fellowship' either by post or by email to – fellowships [AT] sanskritifoundation.org
Head Office
Sanskriti Foundation
C-11, Qutab Institutional Area
New Delhi-110 016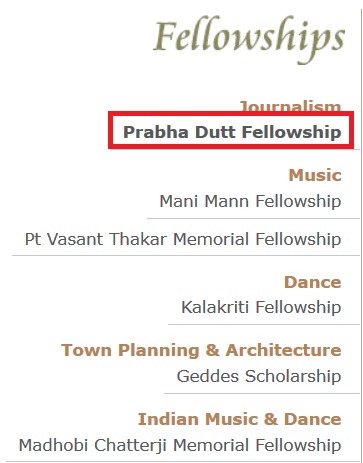 Agreement :
The applicant will have to sign an agreement with Sanskriti Pratishthan pertaining to a regular flow of work during the Fellowship period. The candidate should not be holding another Fellowship or working on any other project at the same time.
Terms & Conditions
** The fellowship comprises a grant of INR 1,00,000 (including travel expenses).
** The fellows can execute their work in English, Hindi or any other regional language.
** The fellowship is tenable for ten months.
** The fellows need to submit a progress report on completion of initial four months.
** The Fellow may work on a book or monograph for subsequent publication within the given time frame.
** The fellows will receive a grant in two phases – the first installment will be given at the commencement of award and the second installment will be given after the submission of the completed project.
About Sanskriti Foundation :
Sanskriti literally means the 'process of cultivating'. Heritage is its fruit. The need to create, to discover, to imagine is universal and requires expression and therefore support.
The purpose of Sanskriti Foundation is to cultivate an environment for the preservation and development of the artistic and cultural expressions of India but of the world as a whole.