Teach For India Fellowship 2020 : teachforindia.org
You can ask questions or answer questions about this scholarship.
Please go to the bottom of this page.
Organization : Teach For India
Fellowship Name : Teach For India Fellowship 2020
Applicable For : Students & Professionals With Bachelor's Degree
Applicable States/UTs : All Over India
Application Last Date : March 1st, 2020
Website/Apply Online : https://apply.teachforindia.org/
Teach For India Fellowship
Applications for the 2020 Teach For India Fellowship are open now.
Related / Similar Post : Teach For India Fellowship 2021
The Teach For India Fellowship program is an opportunity for India's brightest and most promising youth, from the nation's best universities and workplaces, to serve as full-time teachers to children from low-income communities in some of the nation's most under-resourced schools.
Who Can Apply?
a) Be at least a graduate (in any field or discipline) with a degree from an accredited college or university.
b) Be either an Indian citizen or a foreign national of Indian Origin (with a valid OCI Card)
c) Be fluent in the English language as Teach For India Fellows will be placed in English-medium schools and will be expected to teach in and attend training sessions conducted in English.
How to Apply?
Just follow the below steps to apply for the Teach For India Fellowship 2020.
Steps :
Step 1 : Go to the official website of Teach For India provided above.
Step 2 : Enter Your Email to Continue


Step 3 : Fill the Registration Form with the required fields and click on Register button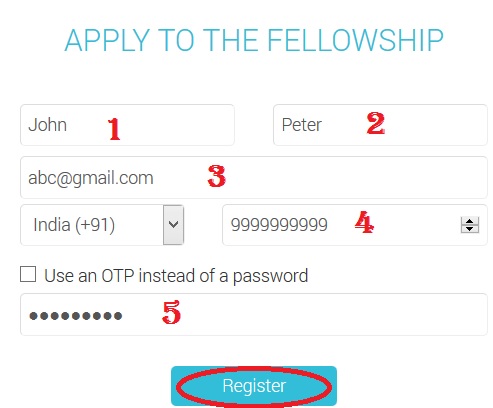 Step 4 : Fill the remaining details to complete your application.
Selection Procedure
Through a 3-staged process, the program selects the highest potential candidates.
Stage 1 :
After submitting the application, a link to a one-hour online test (AMCAT) focussing on English language and decision making skills will be sent to the registered email id. This must be completed within 4 days from the submission date of the application form.
Stage 2 :
After reviewing the application form and the online test results, a 30-minute telephonic interview is conducted to gather more information about the applicant
Stage 3 :
Shortlisted candidates will be invited to the final stage of the selection process – an in-person Assessment Centre – where they will teach a 5-minute lesson, take part in a group discussion, and complete a short problem-solving activity before an hour-long personal interview.
Application Last Date
The application Last Date is 10:00 PM IST on the mentioned date for each Round. The application outcome will be communicated via email by end of day on the mentioned date for each Round
| | | |
| --- | --- | --- |
| Round | Last Date | Outcome |
| Round 1 | 25th August 2019 | 5th September 2019 |
| Round 2 | 20th October 2019 | 4th November 2019 |
| Round 3 | 15th December 2019 | 3rd January 2020 |
| Round 4 | 1st March 2020 | 13th March 2020 |
FAQs
1. In spite of registering, why have I not received an email yet?
There are certain email services such as Hotmail that have a highly restrictive email filter and hence, it could be the case that the email we sent did not get delivered to you. We request you to register using a Gmail or Yahoo account.
Also, please check your Spam/Junk folder to ensure the email has not gotten delivered there. If you have still not received the email, please email apply [AT] teachforindia.org and we will get back to you within 48 hours.
2. How much will I be paid during the Fellowship?
Teach For India Fellows will be paid a salary of Rs. 19,000 per month. If required to relocate from their home city, Fellows will be given a housing allowance ranging from Rs.5500 to 10,000, depending on the city in which they will stay. In addition, Fellows will receive an allowance for school supplies.
3. How can I save the Application Form?
The online application is designed to let you complete various sections in your own time before you submit the final version. Please ensure that you click on "Save Section" button at the bottom of every section before moving on to another section.
The Admissions team will only review your application once you submit it. They will NOT look at your application while you are still working on it.