gokdom.kar.nic.in Selected Students List For PUC Incentive 2018-19 : Karnataka
Organisation : Karnataka Directorate of Minorities
Scholarship Name : Incentive to PUC Toppers 2018-19
Announcement : Selected Students List
Applicable State : Karnataka
Website : https://gokdom.kar.nic.in/index_en.asp
You can now ask your question on this scholarship.
Ask here
(OR) Go to the bottom of this page for comments.
GOKDOM PUC Incentive Selected Students
List of TOP 1000 PUC Students Selected for Directorate of Minorities Incentive for Securing 85% & above Score in March-2018 PUC Exam Conducted by PUE Board,Government of Karnataka
Related : Karnataka Directorate of Minorities SSLC Incentive Selected Students List 2018-19 : www.scholarships.net.in/28813.html
How to Download?
Just follow the below steps to download the selected students list for Incentive Amount.
Steps :
Step 1 : Go to the official website of Karnataka Directorate of Minorities through the URL provided above.
Step 2 : Then click on the "List of Top 1000 PUC Students Selected for Incentive" link under "Latest News" section


Step 3 : Students list will be displayed in a PDF format. Download the PDF file and check your name in the list.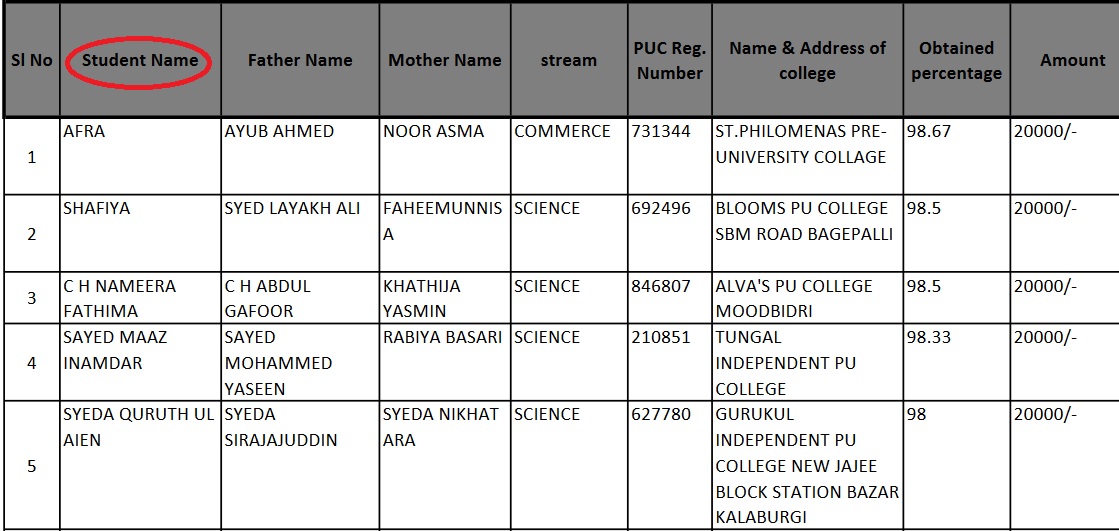 or you can directly download it from below mentioned link.
PUC Incentive Selected Students List :
https://www.scholarships.net.in/uploads/pdf2018/28817-PUC.pdf
Step 4 : The PDF contains the following details,
** Sl No
** Student Name
** Father Name
** Mother Name
** stream
** PUC Reg. Number
** Name & Address of college
** Obtained percentage
** Amount
Selected Candidates
Some of the selected candidates names are listed below. Kindly refer the "PUC Incentive Selected Students List" PDF links uploaded above for full list.
| | | | | | |
| --- | --- | --- | --- | --- | --- |
| Sl No | Student Name | PUC Reg. Number | Name & Address of college | Obtained percentage | Amount |
| 1 | AFRA | 731344 | ST.PHILOMENAS PRE-UNIVERSITY COLLAGE | 98.67 | 20000/- |
| 2 | SHAFIYA | 692496 | BLOOMS PU COLLEGE SBM ROAD BAGEPALLI | 98.5 | 20000/- |
| 3 | C H NAMEERA FATHIMA | 846807 | ALVA'S PU COLLEGE MOODBIDRI | 98.5 | 20000/- |
| 4 | SAYED MAAZ INAMDAR | 210851 | TUNGAL INDEPENDENT PU COLLEGE | 98.33 | 20000/- |
| 5 | SYEDA QURUTH UL AIEN | 627780 | GURUKUL INDEPENDENT PU COLLEGE NEW JAJEE BLOCK STATION BAZAR KALABURGI | 98 | 20000/- |
| 6 | Anam Fatima | 388269 | St. Francis Composite P.U. College, P.B NO.3417, Koramangala, Bengaluru-560034 | 98 | 20000/- |
| 7 | RIMSHA NAAZ | 512686 | ST NORBERT PU COLLEGE | 97.83 | 20000/- |
| 8 | NAMRA TAKREEM | 764029 | ANJUMAN PU COL FOR WOMEN,BASTI ROAD BHATKAL,NK DT 581320 | 97.83 | 20000/- |
| 9 | FATHIMA HAFIZA | 832260 | MADELEINE PU COLLEGE, MULKI MANGALORE TQ, DK DIST 574154 | 97.67 | 20000/- |
| 10 | FARHEEN I | 436882 | NMKRV PU COLLEGE FOR WOMEN | 97.67 | 20000/- |
| 11 | NEHA TARANNUM N | 676293 | ANANTH PU COLLEGE B H ROAD ARSIKERE | 97.5 | 20000/- |
| 12 | LUBNA MALEEHA | 638968 | Sharnabasveshwar, Residential Composite Pre-University College, Kalaburagi-585103 | 97.5 | 20000/- |
| 13 | Rifa anjum | 904524 | Sri aurobindo independent pu college, javalli, jnanadeepa campus, shimoga | 97.5 | 20000/- |
| | | | | | |
| --- | --- | --- | --- | --- | --- |
| 14 | SUZAINA | 861171 | KANACHUR WOMENS COLLEGE | 97.5 | 20000/- |
| 15 | Ayesha Ifra | 883003 | St.Cecilys Conposite PU college | 97.5 | 20000/- |
| 16 | Nabila Zainab N | 395218 | Carmel Convent PU College, East End Road,Jayanagar T Block,Bangalore-560041. | 97.33 | 20000/- |
| 17 | SAMRIN KHANUM | 693980 | NAGARJUNA PU COLLEGE BIDAGINAHALLI DOODA MARALI POST CHICKBALLPURA | 97.33 | 20000/- |
| 18 | SHABREZ KHAN B | 693561 | SREE VIJAYA PU COLLEGE GOPASANDRA CHINTAMANI TALUK CHIKKABALLAPURA DISTRICT KARNATAKA | 97.33 | 20000/- |
| 19 | Mohammed Khalid | 455641 | Seshadripuram Composite PU College#40 Badaganadu Sangha Road Seshadripuram Bengaluru-560020 | 97.33 | 20000/- |
| 20 | iman moula | 486256 | narayana PU college / HBR BANGALORE | 97.17 | 20000/- |
| 21 | NIHA MITHAAL | 843437 | EXPERT PU COLLEGE KODIALBAIL MANGALORE, SK DISTRICT | 97.17 | 20000/- |
| 22 | JUNAID KHAN | 517666 | SRI SAI ANGELS P U COLLEGE SIRGAPURA , MALALURU POST CHIKAMAGALURU | 97.17 | 20000/- |
| 23 | SAYEEDA KHUTEJA | 489990 | ST JOSEPH'S INDIAN COMP. PU COLLEGE, VITTAL MALLYA ROAD, BANGALORE | 97.17 | 20000/- |
| 24 | SYED SHOEB HUSSAINI MATWALE | 100478 | VAISHNAVI CHETHANA PU COLLEGE DAVANGERE | 97 | 20000/- |
| 25 | SUBANAHMED B LABBI | 867248 | ALAVA'S PU COLLEGE MOODBIDRI TQ MANGALORE DIST DAKSHIN KANNADA PIN 574227 | 97 | 20000/- |
| 26 | SHIFA ILMAN | 910832 | SARVODAYA PRE UNIVERSITY COLLEGE,HORPET,TUMKUR | 96.83 | 20000/- |
Contact Us :
Directorate of Minorities,
20th & 21st Floor, V V Towers(Main),
Dr. B R Ambedkar Veedhi,
Bangalore – 560001