wbscstcorp.gov.in NSKFDC Education Loan For Safai Karmacharis Students 2018 : West Bengal
You can ask questions or answer questions about this scholarship.
Please go to the bottom of this page.
Organisation : West Bengal Scheduled Caste & Scheduled Tribes Development & Finance Corporation
Scholarship Name : NSKFDC Education Loan 2018
Applicable For : Safai Karmacharis Students
Applicable State : West Bengal
Website : https://wbscstcorp.gov.in/#close
WBSCSTCORP NSKFDC Education Loan
West Bengal Scheduled Caste & Scheduled Tribes Development & Finance Corporation invites applications for NSKFDC Education Loan 2018. The Online Application facility for Education Loan – 2018 will be commenced from 18.09.2018.
Related / Similar Scholarship : WBSCSTCORP NBCFDC Education Loan 2018
Eligibility Criteria
** Caste Status – No Castes
** Annual Family Income – No income ceiling
** Applicant's Status – Safai Karmachari or their dependents can apply
How to Apply?
Just follow the below steps to apply for the NSKFDC Education Loan 2018.
Steps :
Step 1 : Go to the official website of West Bengal Scheduled Caste & Scheduled Tribes Development & Finance Corporation through provided above.
Step 2 : Then click on the Education Loan for SC, OBC, and SK Students link in the home page.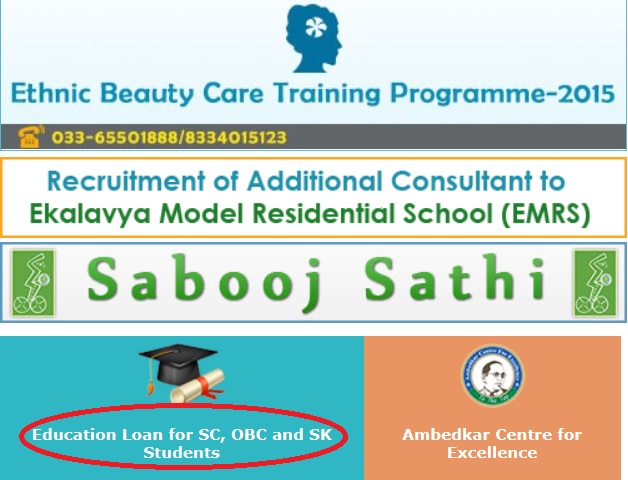 Step 3 : Next select "Apply Online (for Safai Karmacharis Students)" link under Education Loan Scheme

Step 4 : Fill the application form with the following details
** Applicant's Details
** Contact Details
** Rank Obtained
** Course Details
** Expenses Involved (year/semester wise break up in Rs.)
Step 5 : After that Create your Password using Password Tips and Confirm your password
Password Tips :
1. Password strength should be at least "Better".
2. One character like a, b, c etc. may be used
3. One numeric value like 1, 2, 3 etc. may be used
4. One special character like #, * etc. may be used
Step 6 : Enter the security code and finally click on the Submit button.
Step 7 : After submission of application you will get acknowledgement ID. Preserve the ID for future log-in.
Step 8 : Get a print out of the filled in application form. A signed copy of the application form would be required before disbursement.
Step 9 : You have to upload verification certificate duly filled in and authenticated by the Institute in pdf format.
For this you can download verification certificate from the link provided after logging in by user Id (Acknowledgement Id), Password (You generated) and your date of birth.
Step 10 : You can view status of your application at any point of time through your log-in.
Note :
** Please fill in the mandatory fields marked * carefully
** Please do not change your Tel/ Mobile no.
** You need not submit application further if you find that you have provided some wrong information/ data. You can update the same application you have already submitted through the link provided.
Documents Required
Following documents will be required during Documentation
a) Application form signed by the applicant and his / her Father/Mother/Guardian as co-loanee.
b) Two copies of recent 3.5X3.5 cm size colored photographs
c) Original & photocopy copy of SC Certificate issued by the Competent Authority
d) Income Certificate [ Certificate issued by Prodhan, Sabhapati, Chairman of Municipality, Municipal Councilor, Block Development Officer, Sub-Divisional Officer, Additional District Magistrate, Any Gazetted officer, MP, MLA may be accepted]
e) Copy of Ration Card, Voter's ID Card, Electricity/ Telephone Bill, Passport, Pass Book issued by Any Nationalised Bank, Certificate issued by appropriate Authority as proof of residence.
f) Certification by the Institute in prescribed format duly signed and bearing seal of the Institute.
Provision for Finance
** Project Cost – Maximum Rs. 5 lakhs
** Subsidy – Maximum Rs. 10000 only to the BPL candidate
** Subsidy and Margin Money Loan – 5% of the project cost and maximum Rs. 20000, whichever is less @ 4% interest.
** Term Loan – 90% of the project cost NSFDC Loan @ 6% interest
Helpdesk
For detailed information please contact Head Office of the West Bengal Scheduled Caste & Scheduled Tribes Development & Finance Corporation at MANGALIK, CF-217/A/1 SECTOR-I, SALT LAKE, KOLKATA -700064/ Tel – 40261500, Fax- 40261533