wbscstcorp.gov.in NSFDC Education Loan 2018 : West Bengal SC & ST Development & Finance Corporation
Rate this post:
[ Votes=

0

, Average =

0

]
Organisation : West Bengal Scheduled Caste & Scheduled Tribes Development & Finance Corporation
Scholarship Name : NSFDC Education Loan 2018
Applicable For : Scheduled Castes
Applicable State : West Bengal
Website : http://wbbcdev.gov.in/education-loan
WBSCSTCORP Education Loan
The Online Application facility for Education Loan – 2018 will be commenced from 18.09.2018.
Related / Similar Post : wbscstcorp.gov.in
Eligibility Criteria
** Caste Status – Scheduled Castes
** Annual Family Income – Maximum Rs. 81000 p.a. in rural area and Rs. 103000 p.a. in urban areas
** Age – 18 to 50 years
Professional or Technical Courses Covered :
i. Engineering (Diploma/B. Tech/B.E./M. Tech/ M.E.)
ii. Architecture ( B. Arch/M. Arch)
iii. Medical (MBBS/MD/MS)
iv. Biotechnology (B. Pharma/M. Pharma)
v. Dental (BDS/MDS)
vi. Physiotherapy (B. Sc./M. Sc.)
vii. Pathology (B. Sc./M. Sc.)
viii. Nursing (B. Sc./M. Sc.)
ix. Information Technology (BCA/MCA)
x. Management (BBA/MBA)
xi. Hotel Management and Catering Technology (Diploma/Graduation/Post Graduation)
xii. Law (LLB/LLM)
xiii. Education (CT/NTT/B. Ed./M. Ed.)
xiv. Physical Education (C. PEd./B. P Ed/M. PEd.)
xv. Journalism and Mass Communication (Graduation/Post Graduation)
xvi. Geriatric Care (Diploma)
xvii. Midwifery (Diploma)
xviii. Laboratory Technician (Diploma)
Besides above, the following professional will also be covered under the scheme :
i. Chartered Accountant (CA)
ii. Cost Accountant (ICWA)
iii. Company Secretaryship (CS)
iv. Actuarial Sciences (Graduation/Post Graduation/FIA)
v. Associate Member of Institute of Engineers (AMIE)
vi. Institute of Electronics and Telecommunication.
How to Apply?
Just follow the below steps to apply for the NSFDC Education Loan 2018.
Steps :
Step 1 : Go to the official website of West Bengal Scheduled Caste & Scheduled Tribes Development & Finance Corporation through provided above.
Step 2 : Then click on the Education Loan for SC, OBC, and SK Students link in the home page.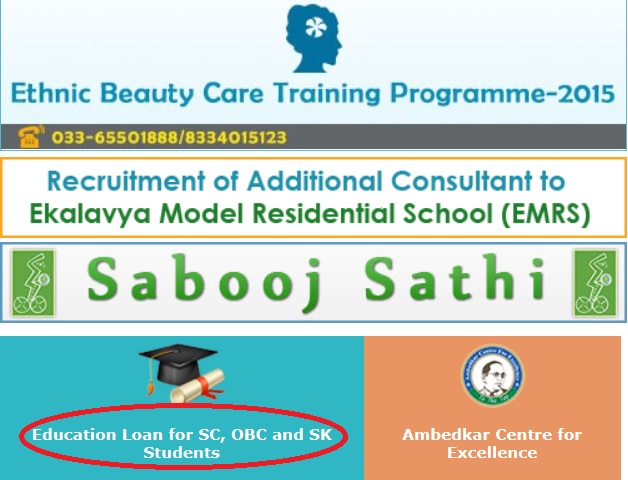 Step 3 : Next select "Apply Online (for SC Students)" link under Education Loan Scheme
Step 4 : Fill the application form with the following details
** Applicant's Details
** Contact Details
** Rank Obtained
** Course Details
** Expenses Involved (year/semester wise break up in Rs.)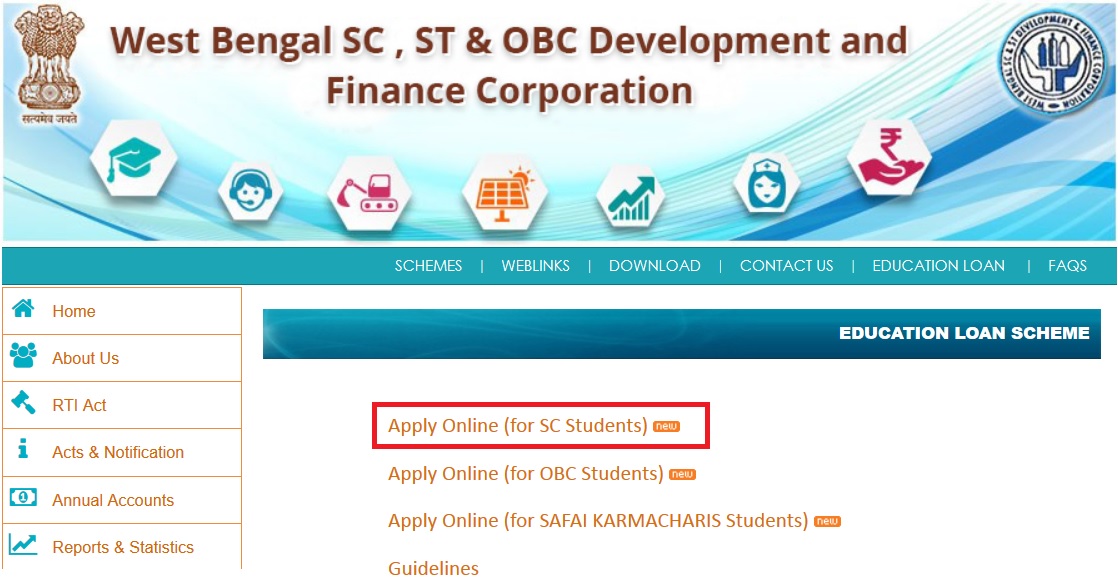 Step 5 : After that Create your Password using Password Tips and Confirm your password
Password Tips :
1. Password strength should be at leaset "Better".
2. One character like a, b, c etc. may be used
3. One numaric value like 1, 2, 3 etc. may be used
4. One special character like #, * etc. may be used
Step 6 : Enter the security code and finally click on the Submit button.
Documents Required
Following documents will be required during Documentation
a) Application form signed by the applicant and his / her Father/Mother/Guardian as co-loanee.
b) Two copies of recent 3.5X3.5 cm size colored photographs
c) Original & photocopy copy of SC Certificate issued by the Competent Authority
d) Income Certificate [ Certificate issued by Prodhan, Sabhapati, Chairman of Municipality, Municipal Councilor, Block Development Officer, Sub-Divisional Officer, Additional District Magistrate, Any Gazetted officer, MP, MLA may be accepted]
e) Copy of Ration Card, Voter's ID Card, Electricity/ Telephone Bill, Passport, Pass Book issued by Any Nationalised Bank, Certificate issued by appropriate Authority as proof of residence.
f) Certification by the Institute in prescribed format duly signed and bearing seal of the Institute.
Guidelines :
https://www.scholarships.net.in/uploads/pdf2018/28667-GL.pdf
Loan Details :
** Term Loan – 90% of course fee. Maximum loan amount Rs. 10 lakhs for study in India and Rs. 20 lakhs for study in abroad.
** Process of Repayment – After six(6) months of termination of course or getting a job, whichever is earlier. Intereset will be @4% for male candidates and @3.5% for female candidates.
Helpdesk
For detailed information please contact Head Office of the West Bengal Scheduled Caste & Scheduled Tribes Development & Finance Corporation at MANGALIK, CF-217/A/1 SECTOR-I, SALT LAKE, KOLKATA -700064/ Tel – 40261500, Fax- 40261533