goa.gov.in Central Sector Scholarship For College & University Students 2018-19
Organisation : Goa Board of Secondary and Higher Secondary Education
Scholarship Name : Central Sector Scholarship 2018-19
Applicable For : College And University Students
Applicable State/UT : Goa
Application Deadline : October 31, 2018
Website : https://www.goa.gov.in/know-goa/spotlight/
You can now ask your question on this scholarship.
Ask here
(OR) Go to the bottom of this page for comments.
Goa Central Sector Scholarship
Goa Board of Secondary and Higher Secondary Education invites application under the Central Sector Scholarship for College and University Students implemented by the Ministry of Human Resource Development, for all class XII pass out students.
Related : Directorate of Social Welfare Goa Scholarship/ Stipend To Differently Abled Students 2018-19 : www.scholarships.net.in/25316.html
Who Can Apply?
** Students who are above 80th percentile of successful candidates in the relevant stream from a particular Board of Examination in Class XII
** The parental/family income ceiling is Rs. 6 lakh per annum for all categories.
** Students pursuing Diploma courses are not eligible under the scheme.
** Not receiving any other scholarship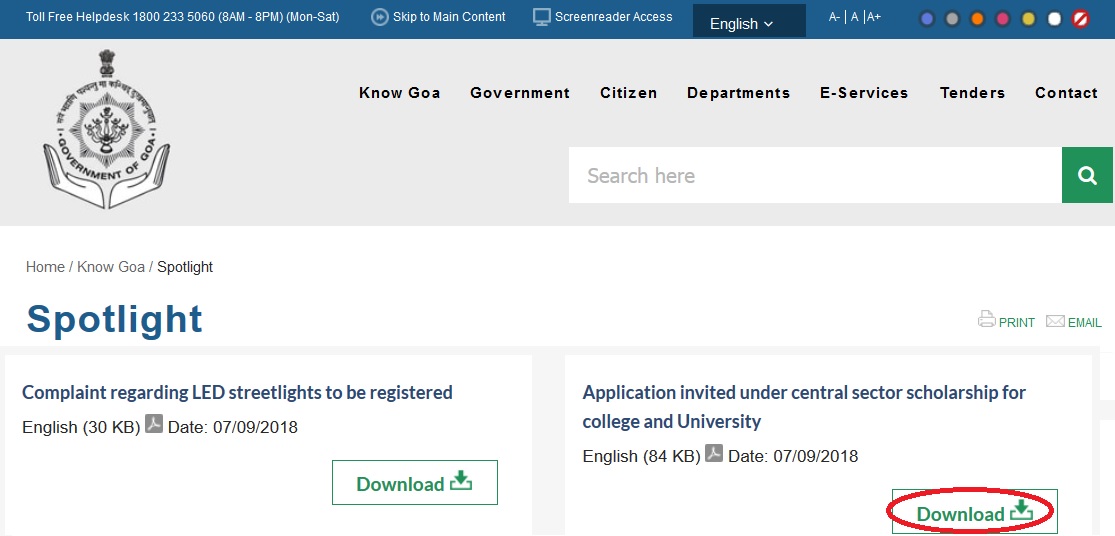 Reservation Category
Reservations for the various categories are as follows :
** Scheduled Castes (SCs) 15 % ,
** Scheduled Tribes ( STs) 7.5 %,
** Other Backward Classes(OBCs) 27 %
** Horizontally 5 % for Physically Handicapped / Persons(s) with Disabilities (PwDs) in all the categories.
How to Apply?
Students just follow the below steps to apply for the Central Sector Scholarship Scheme Fresh & Renewal 2018-19.
Steps :
Step 1 : Go to the official website of National Scholarship Portal
Apply Online : https://scholarships.gov.in/
Step 2 : For Fresh Registration students click on the New Registration link in the home page and Fill the required details to complete your Registration.

Step 3 : For Renewal case, Students Click the Login link and enter your Application Id, Password, Captcha image for Login. Then complete your renewal process.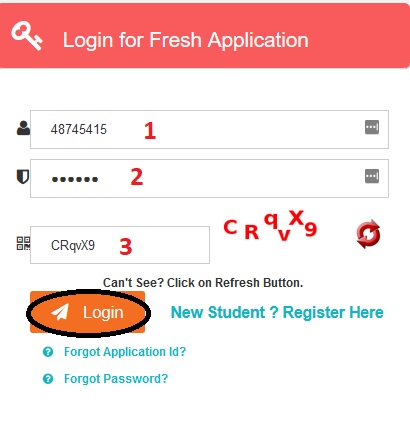 Note :
Renewal applications sent directly to the Ministry of Human Resource Development shall not be accepted.
Rate Of Scholarships
** The rate of scholarship is Rs.10000/- per annum at Graduation level for first three years of College and University courses and Rs.20000/- per annum at Post- Graduation level.
** Students pursuing professional courses, in case, where the duration of course is five (5) years/Integrated course would get Rs.20000/- per annum in the 4th and 5th year.
Allocation Of Scholarships
** The total number of scholarships are divided amongst the State Education Boards based on the State"s population in the age group of 18-25 years, after segregating share of CBSE and ICSE on the basis of number of students passing out from various Boards in the country.
Notification :
https://www.scholarships.net.in/uploads/pdf2018/28277-Noti.pdf
** 50 % of the scholarship is earmarked for girls.
** In case of shortfall in the number of applications, the scholarship slots could be inter-changed.
Selection Procedure
** The online applications would be verified at two levels
(i) By the Institute where the student is studying.
(ii) By the respective State Education Board.
** Application which is not verified either by the institute or by the concerned State Education Board or by both will be treated as "Invalid".
** Merit list as per the State allocated quota would be generated from the verified applications.
Last Date
Last Date to submit your application form is 31-10-2018.