scholarship.itschool.gov.in : OBC Prematric Kerala 2018-19
You can ask questions or answer questions about this scholarship.
Please go to the bottom of this page.
Organisation : Kerala BC Development Department
Scholarship Name : OBC Prematric Scholarship 2018-19
Applicable For : All OBC Students
Applicable State : Kerala
Application Last Date : 10.10.2018 (Date is Extended)
Website : https://scholarship.itschool.gov.in/prematric_obc2018-19/
IT School Kerala OBC Prematric Scholarship
OBC Prematric scholarship – Data entry started. Application receiving date extended upto 10.10.18 & Data entry closing date is 15.10.18
Update : The beneficiary list for 2019-20 has been published. The scholarship amount will be transferred to the student bank account by 31.03.2020.
The scholarship at pre-matric level will encourage parents from minority communities to send their school going children to school, lighten their financial burden on school education and sustain their efforts to support their children to complete school education.
Who Can Apply?
** Students studying in Govt. & Aided Schools Only are eligible to apply
** Students whose parents Income does not exceed 2,50,000/- per annum
** Students who secured Mark/Grade Percentage is 80%
Scholarship Rate : Std I to X – Rs. 1500/-
Eligible Communities
1. Chakkamar
2. Madiga
3. Chemman/Chemmar
4. Kudumbi
5 Dheevara/Dheevaran (Arayan,Valan,Nulayan,Mukkuvan,Arayavathi,Valanchiyar,Paniyakal,Mokaya,Bovi, Magayar,Mogaveerar)
6. Scheduled Caste converted to Christianity
7. Kusavan, Kulalan, Kubharan, Velaan, Odan, Andhra Nair, Andhuru Nair
8. Pulaya Vettuvan (Except Kochi State)
How to Apply?
Just follow the below steps to apply for the OBC Prematric Scholarship 2018-19.
Steps :
Step 1 : Student visit the official website of Kerala General Education Department provided above.
Step 2 : Then Click 'OBC Prematric' tab in the menu bar.

Step 3 : Read the notification carefully and Login with your Sampoorna User Name & Password.

Step 4 : Download the Application Form from the official website or directly download it from below mentioned link.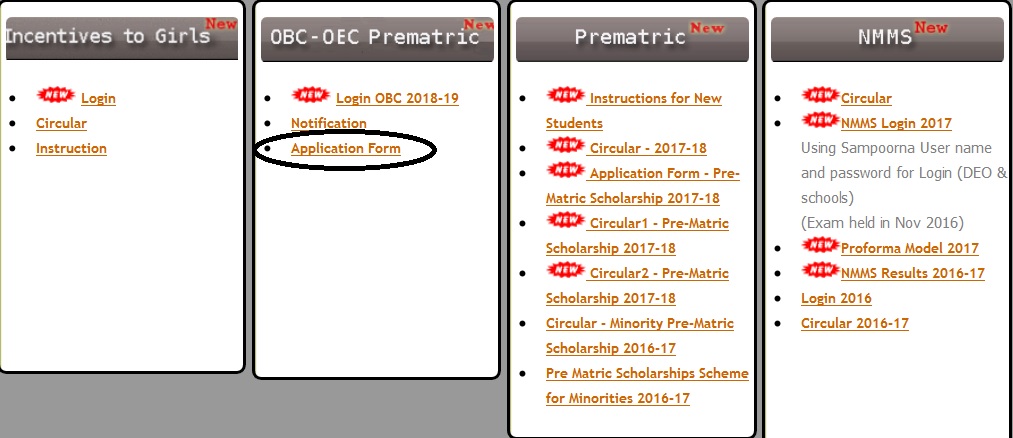 Step 5 : Fill the Application Form carefully. Attach required documents along with OBC Prematric Scholarship form.
Download Application Form :
https://www.scholarships.net.in/uploads/pdf2018/28268-Form.pdf
Step 6 : Submit your form & take a hard copy of it for future reference.
Name of the Community
1. Vaniya (Vanika, Vanika Vaisya, Vanibha Chetty, Vaniya Chetty, Ayiravar, Nagarathar and Vaniyan
2. Veluthedathu Nair (Veluthedan and Vannathan)
3. Chetty/Chetties (Kottar Chetties, Parakka Chetties, Elur Chetties, Attingal Chetties, Pudukkada Chetties, Iraniel Chetties, Sri Pandara Chetties, Telugu Chetties, Udiyankulangara Chetties, Peroorkada Chetties, Sadhu Chetties, 24 Mana Chetties, Wayanadan Chetties, Kalavara Chetties and 24 Mana Telugu Chetties)
4. Ezhavathi (Vathy)
5. Ganika
6. Kanisu or Kaniyar Panicker, Kani or Kaniyan (Ganaka) or Kanisan or Kamnan, Kalari Kurup / Kalari Panicker
7. Vilkurup, Perumkollan
8. Yadavas (Kolaya, Ayar, Mayar, Maniyani and Iruman), Erumakkar
9. Devanga
10. Pattariyas
11. Saliyas (Chaliya, Chaliyan)
12. Pandithar
13. Vaniar
14. Ezhuthachan
15. Chakkala / Chakkala Nair
16. Reddiars (throughout the State except in Malabar Area)
17. Kavuthiya
18. Veerasaiva (Yogi, Yogeeswara Poopandaram, Malapandaram, Jangam, Matapathi, Pandaram, Pandaran, Vairavi, Vairagi)
19. Vilakkithala Nair – Vilakkithalavan
20. Vaduka – Vadukan, Vadugar, Vaduka, Vaduvan
21. Chavalakkaran
22. Agasa
23. Kaikolan
24. Kannadiyans
25. Kerala Mudalis
26. Madivala
27. Naikkans
28. Tholkolans
29. Thottian
30. Mooppar or Kallan Moopan or Kallan Moopar
Instructions :
1. Check whether your school is registered in OEC scholarship site
2. If your school is not in Affiliated School list click register as New school.
OBC 2018-19 Notification :
https://www.scholarships.net.in/uploads/pdf2018/28268-OBC.pdf
3. After approval of your school, use your school code as password to login. Registered schools are displayed in Affiliated / Unaided Schools List
Contact Us :
Director,
BC Development Department,
Ayyankali Bhavan,
Kanakanagar,
Vellayambalam,
Thiruvananthapuram-3.