edudel.nic.in JSTS Junior Science Talent Search Examination 2018-19 : Delhi
Organisation : Delhi Directorate of Education
Scholarship Name : JSTS 2018-19 Junior Science Talent Search Examination
Applicable For : Students presently studying in Class IX
Applicable State : Delhi
Application Deadline : 20.09.2018
Exam Date : 20.01.2019
Website : http://www.edudel.nic.in/mis/misadmin/DoeNewPublicCircular.htm
You can now ask your question on this scholarship.
Ask here
(OR) Go to the bottom of this page for comments.
EDUDEL JSTS
Science Branch, Directorate of Education, Delhi conducts the Junior Science Talent Search Examination for the year 2018-19.
Related :
Delhi Directorate of Education NMMS National Means-cum-Merit Scholarship Examination 2018-19 : www.scholarships.net.in/28147.html

Delhi Directorate of Education NTSE National Talent Search Examination 2019 : www.scholarships.net.in/28151.html
JSTS-2019 which will be held on 20.01.2019 (Sunday) for the students presently studying in Class IX in Govt., Govt. Aided and unaided recognized Pvt. Schools including KVS, JNV, NDMC etc. under the jurisdiction of Delhi.
Eligibility
The students who have secured 65% marks in class VIII in the session 2017-18. No income limit is Prescribed.
Application Procedure
Just follow the below steps to apply for the JSTS Junior Science Talent Search Examination 2018-19.
Steps :
Step 1 : Application-cum-Admit Card may be downloaded from the official website on Public circular.
Download Application Form :
https://www.scholarships.net.in/uploads/pdf2018/28147-Form.pdf
Step 2 : Head of the Schools will get the Application —cum-Admit Card filled by the students in duplicate and fill the (Well Typed) Performa 'A' in THREE sets.
Step 3 : Two copies of Performa 'A' is to be submitted by the H.O.S/Principal to the DEO (Science Branch)between 10.30 A.M. to 3.00P.M. on working days excluding Saturday till the last date.
Step 4 : The Acknowledgement will be given on the 3RD copy of Performa 'A.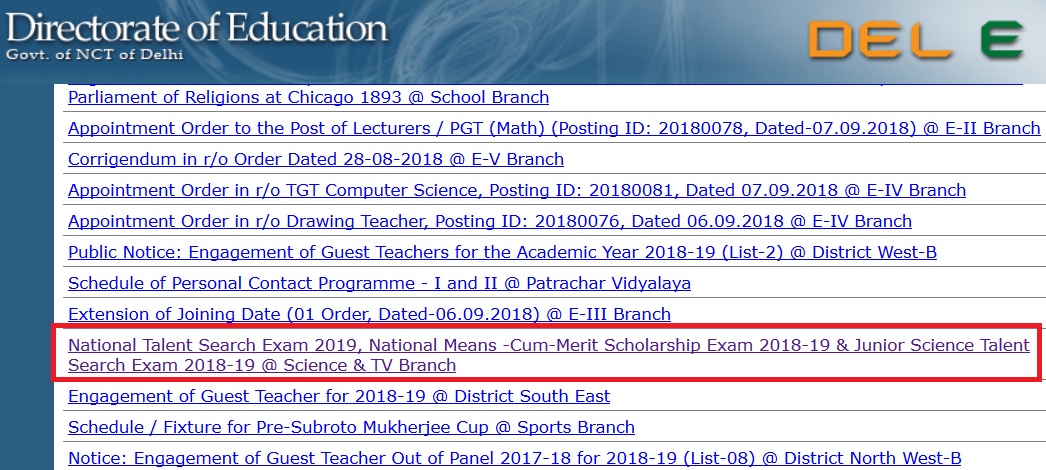 Step 5 : Filled in Application cum Admit Card in duplicate will be retained by the School out of which one Application-cum-Admit Card will be issued to the student after the receipt of Roll No, & Centre Name from this Branch One copy is to be maintained in the school
Step 6 : Application-cum-Admit Card issued by the school should be attested by the Principal.
Step 7 : No student will be issued Roll No. by the School Authority on its own. Other than the Roll Number issued by the Science Branch.
Step 8 : Attested Copy of caste/PH certificate is to be submitted along with Performa "A". Caste/Category once claimed will not be changed. Without valid certificate candidate will be considered under General category.
Step 9 : While filling the application form, percentage of marks is to be filled instead of CGPA. Application sent by Post will not be accepted
Note : Application received after the stipulated date and incomplete applications will not be entertained.
Exam Schedule
** Application-cum-Admit card & Performa 'A' may be downloaded from Deptt. Website – 10.09.2018 to 20.09.2018 Except Saturday
** Submission of JSTS Application cum-Admit Card & Performa 'A' (Duplicate) duly filled in by H.O.S in the Science Branch – 07.01.2019 to 18.01.2019 Except Saturday & Sunday
About Us :
Education holds the key to economic growth, social transformation, modernization and national integration. It aims at promotion of a national, a sense of common citizenship and composite culture and strengthening national integration.
The educational facilities are provided in stages i.e. pre-primary, primary, middle, secondary, senior secondary and university level.
Contact Us :
Directorate Of Education
(Science & Tv Branch)
2nd Floor. Old Gargi College Building.
Laipat Nagar-IV.
New Delhi-Ll0024
Ph. No: 26280413;
Email : sciencebranch [AT] gmail.com