edudel.nic.in NTSE 2019 : National Talent Search Examination Delhi
Organisation : Delhi Directorate of Education
Scholarship Name : NTSE 2019 National Talent Search Examination
Applicable For : Students Studying Class X
Applicable State : Delhi
Application Deadline : 20.09.2018
Exam Date : 04.11.2018
Website : http://www.edudel.nic.in/mis/misadmin/DoeNewPublicCircular.htm
You can now ask your question on this scholarship.
Ask here
(OR) Go to the bottom of this page for comments.
EDUDEL NTSE
Applications are invited for NTSE 2019 National Talent Search Examination.
Update : Delhi Directorate of Education NTSE Result 2019 : www.scholarships.net.in/35926.html
First Stage National Talent Search Examination (NTSE)-2019 which will be held on 04/11/2018 (Sunday) for the students presently studying in class X in Govt., Govt. Aided and Unaided recognized Pvt. schools including KVS,JNV,NDMC, etc. under the jurisdiction of Delhi.
Who Can Apply?
The students who have secured 60% marks in class IX for general category & OBC, 55% marks for reserved Category in the session 2017-18. No income limit is Prescribed.
Application Process
Step 1 : Application-cum-Admit Card may be downloaded from the official website on Public circular.
Download Application Form :
https://www.scholarships.net.in/uploads/pdf2018/28147-Form.pdf
Step 2 : Head of the Schools will get the Application —cum-Admit Card filled by the students in duplicate and fill the (Well Typed) Performa 'A' in THREE sets.
Step 3 : Two copies of Performa 'A' is to be submitted by the H.O.S/Principal to the DEO (Science Branch)between 10.30 A.M. to 3.00P.M. on working days excluding Saturday till the last date.
Step 4 : The Acknowledgement will be given on the 3RD copy of Performa 'A.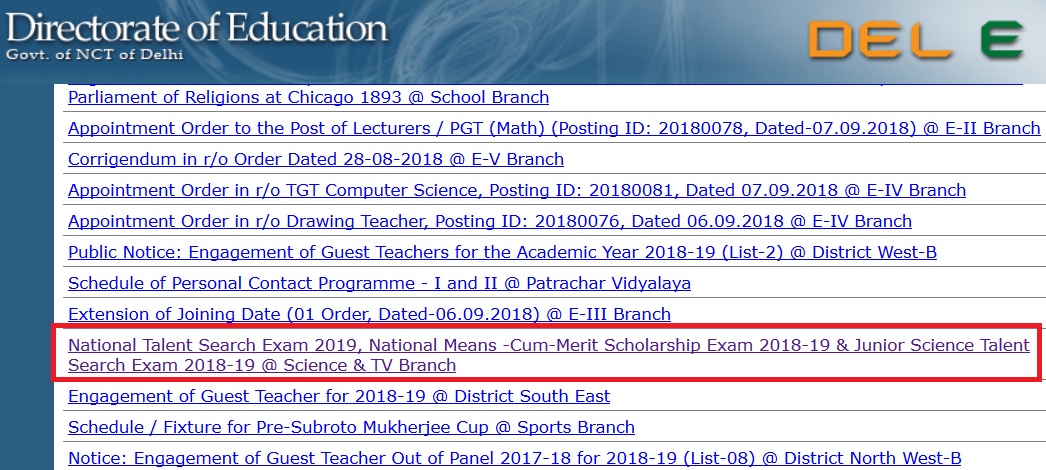 Step 5 : Filled in Application cum Admit Card in duplicate will be retained by the School out of which one Application-cum-Admit Card will be issued to the student after the receipt of Roll No, & Centre Name from this Branch One copy is to be maintained in the school
Step 6 : Application-cum-Admit Card issued by the school should be attested by the Principal.
Step 7 : No student will be issued Roll No. by the School Authority on its own. Other than the Roll Number issued by the Science Branch.
Step 8 : Attested Copy of caste/PH certificate is to be submitted along with Performa "A". Caste/Category once claimed will not be changed. Without valid certificate candidate will be considered under General category.
Step 9 : While filling the application form, percentage of marks is to be filled instead of CGPA. Application sent by Post will not be accepted
Exam Pattern
The examination consists of tests, namely Mental Ability Test (MAT) and Scholastic Aptitude Test (SAT). The items in the MAT and SAT are multiple choice questions.
Stage-I (State Level) and Stage-II (National Level), however, the students studying abroad are exempted for State Level Stage-I of NTS examinations as per NTS Scheme.
Scholarship Amount
About One thousand scholarships are awarded for different stages of education as follows
(a) Scholarship of Rs.1250/- per month for Class-XI to XII.
(b) Scholarship of Rs.2000/- per month for Undergraduates and Post-graduates.
(c) Amount of Scholarship for Ph.D. be fixed in accordance with the UGC norms.
Type of School /Institution
Government :
A Government school is that which is run by the State Government or Central Government or Public Sector Undertaking or an Autonomous Organization completely financed by the Government.
Local Body :
A Local Body school is that which is run by Panchayati Raj and Local Body institution such as Zilla Parishad, Municipal Corporation, Municipal Committee and Notified Area Authority Committee and Cantonment Board.
Private Aided :
A Private Aided school is that which is run by an individual or a private organization and receives grant from Government or Local Body.
Private Unaided :
A Private Unaided School is that which is managed by an individual or a private organization and does not receive any grant either from Government or Local Body.
Coding Plan
Read instruction carefully before filling up the Application Form.
1. Use only Blue or Black Ball Point pen. WRITE IN CAPITAL LETTERS. Do not mark or write outside the boxes.
2. Leave one box blank between two words. Limit your name and/or address within the space provided for it.
3. Cross(x) only one of the appropriate boxes in items nos. 4,5,6,7,10,11 and 21.
4. Please write code number in items nos 12, 13,14, 15 and 16 as given overleaf.
5. It is the responsibility of the candidate and the principal of the school to deposit the filled in form with the state concerned Officer before the last date.
6. Incomplete or defensive applications are liable to be rejected.