chdeducation.gov.in Post Matric Scholarship For Transgender Students 2018-19 : Chandigarh Education
Organisation : Chandigarh Administration Education Department
Scholarship Name : Post Matric Scholarship For Transgender Students 2018-19
Applicable For : Transgender Students
Applicable State : Chandigarh
Application Deadline : 10.10.2018
Website : http://chdeducation.gov.in/?q=node/350
You can now ask your question on this scholarship.
Ask here
(OR) Go to the bottom of this page for comments.
CHD Education Post Matric Scholarship
Education Department, Chandigarh Administration has decided to award Post Matric Scholarships to Transgender students who are permanent resident of UT, Chandigarh for studies in India under the Govt. of India Scheme.
Chandigarh Education Scholarship 2018-19 :
1. Dr. Ambedkar Post Matric Scholarship For EBC

2. Post Matric Scholarship For OBC

4. Merit-Cum-Means Based Scholarship
The objective of the scheme is to provide financial assistance to the Transgender students studying at post matriculation or post-secondary stage to enable them to complete their education.
Eligibility
i. He/she should belong to any caste declared as Scheduled Caste or Other Backward Class for the UT., Chandigarh.
ii. The total annual family income of parents shall not exceed Rs. 2,50,000/-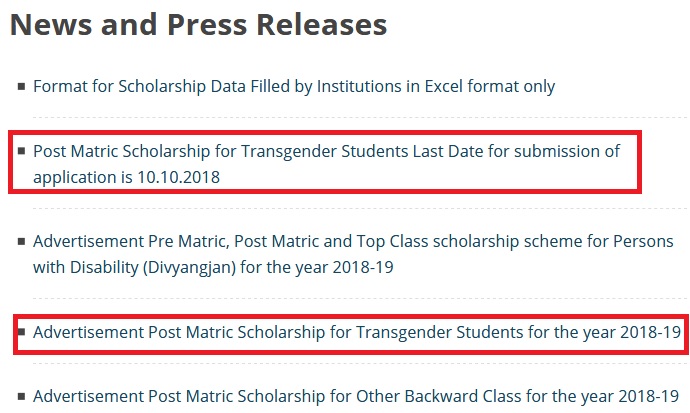 iii. Only those candidates, who are transgender and who have passed the Matriculation or Higher Secondary or any higher examination of a recognised University or Board of Secondary Education, will be eligible.
iv. No scholarship will be paid to the student under this scheme from the date he/she accepts another scholarship/stipend.
v. Parents of the student should be bonafide residents of UT., Chandigarh for the past three years.
How to Apply?
Just follow the below steps to apply for the Post Matric Scholarship For Transgender Students 2018-19.
Steps :
Step 1 : Go to the official website of Chandigarh Administration Education Department through the URL http://chdeducation.gov.in/
Step 2 : Download the application Form from the official website under Form in the left side of the menu.
Download Application Form :
https://www.scholarships.net.in/uploads/pdf2018/27856-Form.pdf
Step 3 : Fill the forms carefully with the required fields and attach the below mentioned documents.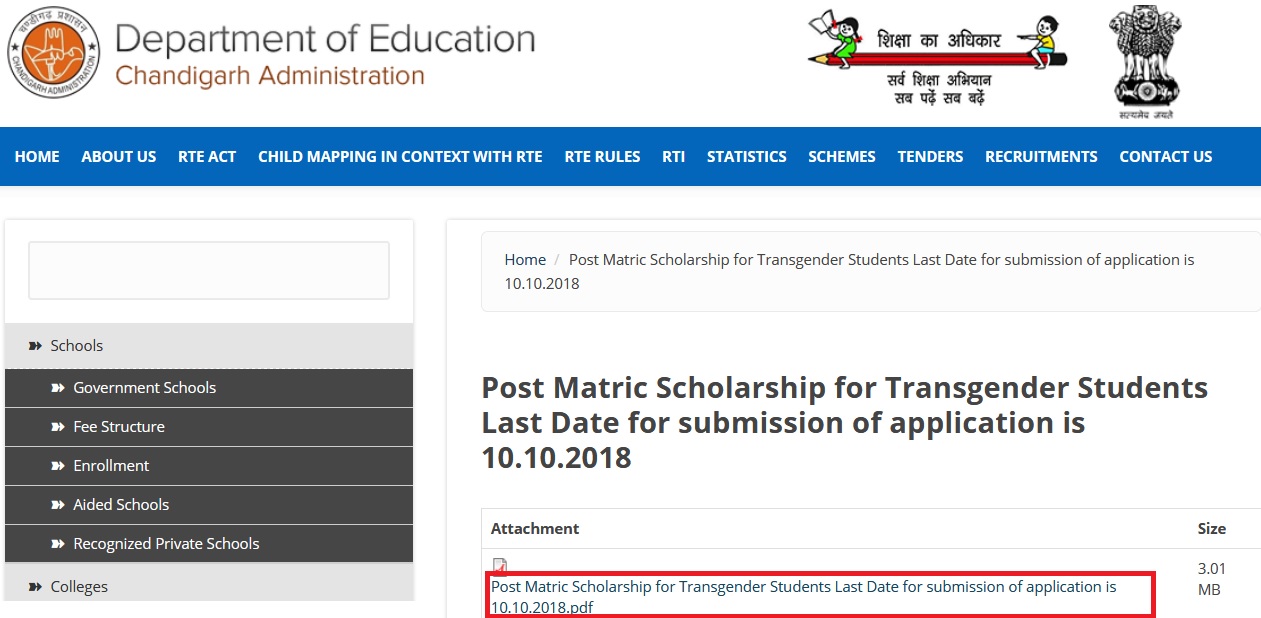 Step 4 : Completed application form should reach to the following address by the students through their respective institutes alongwith all supporting documents by 10.10.2018 positively.
Send To :
Director Higher Education,
Additional Deluxe Building,
U.T Sector-9 D,
Chandigarh,
Documents Required
** Copy of residence proof,
** Copy of Aadhaar card/Aadhaar Enrolment slip,
** Annual fee details verified by Institute,
** Last class pass certificate,
** Copy of bank account in the name of student linked with Aadhaar,
** Proof of income,
** Self declaration by the
** Transgender student that he/she is a transgender person) etc.
Advertisement :
https://www.scholarships.net.in/uploads/pdf2018/27856-Advt.pdf
Value of Scholarship
The value of scholarship includes the following for complete duration of the course
i. Maintenance Allowance,
ii. Reimbursement Of Compulsory Non-Refundable Fee
Selection of Candidates
** All the eligible Transgender candidates will be given scholarships subject to eligibility conditions as mentioned in para IV and V above.
** Candidates belonging to one State but studying in other State will be awarded scholarships by the State/UT in which they are studying..
Last Date
Last Date for submission of Post Matric Scholarship for Transgender Students application is 10.10.2018