rajeduboard.rajasthan.gov.in NTSE 2019-20 : National Talent Search Exam
You can ask questions or answer questions about this scholarship.
Please go to the bottom of this page.
Organization : Rajasthan Board of Secondary Education
Exam Name : NTSE 2019-20 National Talent Search Exam
Applicable For : Class X Students
Applicable State : Rajasthan
Application Last Date : September 19, 2019
Exam Date : 03-11-2019
Website : http://rajeduboard.rajasthan.gov.in/
Rajasthan Education Board NTSE
Rajasthan Board of Secondary Education invites online application for NTSE National Talent Search Exam for the year 2019-20.
Related : Rajasthan PDU STSE Pandit Deen Dayal Upadhyaya State Talent Search Examination 2018-19 : www.scholarships.net.in/28463.html
Who Can Apply?
** All students of Class X studying in recognized schools are eligible to appear for the Stage-I examination, conducted by the States/UTs, in which the schools are located.
** Students registered under Open Distance Learning (ODL) will also be eligible for scholarship, provided the student is below the age of 18 years (as on 15th July of the particular year), the student is not employed and s/he is appearing in class X examination for the first time
How to Apply?
Just follow the below steps to apply for the NTSE 2019-20.
Steps :
Step 1 : Go to the official website of Scholarship Amount Rajasthan Board of Secondary Education through the URL provided above.

Step 2 : Then click on the "ONLINE Apply for N.T.S.Exam. (Level-1) 2019-20" link in the home page.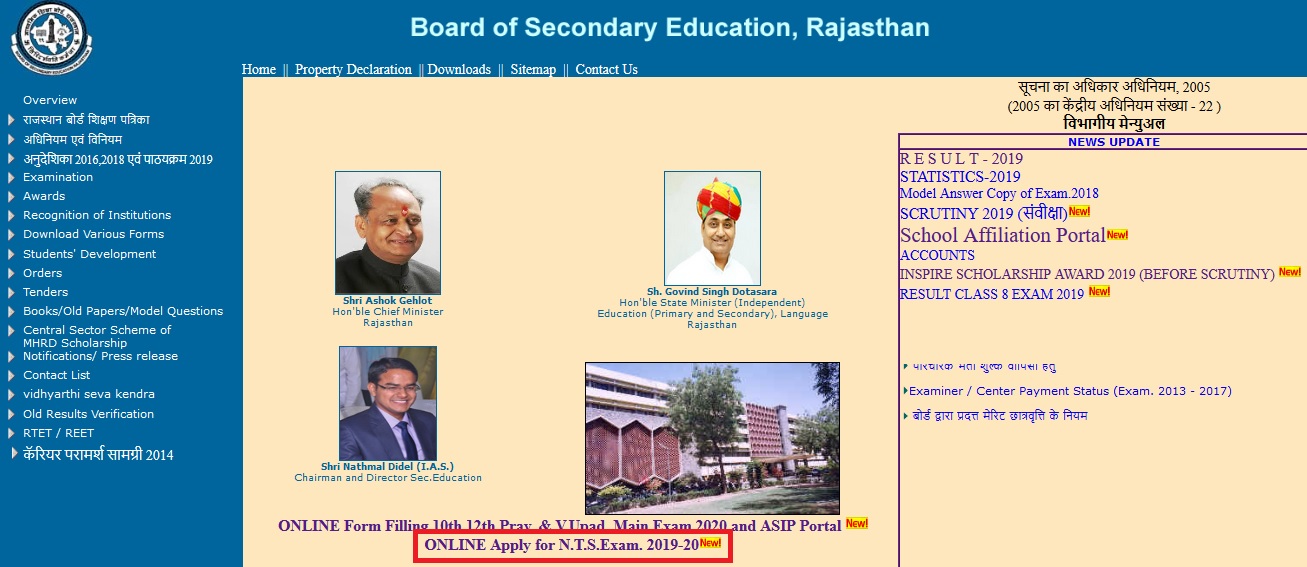 Step 3 : Please read instructions carefully before login.
Step 4 : Login with your School Login Id and Password.


Step 5 : Fill the application form with the required details to complete your registration.
Download Application Form :
https://www.scholarships.net.in/uploads/pdf2019/27558-Form.pdf
Scholarship Amount
About One thousand scholarships are awarded for difference stages of education as follows
(a) Scholarship of Rs.1250/- per month for Class-XI to XII.
(b) Scholarship of Rs.2000/- per month for Undergraduates and Post-graduates.
(c) Amount of Scholarship for PhD. be fixed in accordance with the UGC norms.
Selection Process
The examination is conducted every year at two levels
** Stage-I (State Level)
** Stage-ll (National Level).
Stage-I, selection will be done by States/UTs and those who qualify Stage- I, will be eligible to appear for Stage-II examination, conducted by NCERT.
Reservation :
15% for students belonging to the SC category, 7.5% for students belonging to the ST category and 3% for Physically Challenged Group of Students.
Qualifying Marks :
Qualifying marks for candidates from General category is 40% in each paper and for candidates from SC, ST, PH is 35% in each paper.
Type of School/Institution
Government :
A Government School is that which is run by the State Government or Central Government or Public Sector Undertaking of an Autonomous Organization completely financed by the Government.
Local Body :
A Local Body School is that which is run by Panchayati Raj and Local body institutions such as Zila Parishad, Municipal Corporation, Municipal Committee, Notified Area Committee and Cantonment Board.
Private Aided :
A Private Aided School is that which is run by an individual or private organization and receives grant from government or local body.
Notification :
https://www.scholarships.net.in/uploads/pdf2019/27558-NTSE.pdf
Coding Plan
Read instruction carefully before filling up the Application Form.
1. Use only Blue or Black Ball Point pen. WRITE IN CAPITAL LETTERS. Do not mark or write outside the boxes.
2. Leave one box blank between two words. Limit your name and/or address within the space provided for it.
3. It is the responsibility of the candidate and the principal of the school to deposit the filled in form with the state concerned Officer before the last date.
4. No request for condoning delay in submission will be entertained whether it is due to the fault of the Candidate or the Headmaster/Principal of his/her institution.
5. Please write code number in items nos 12, 13,14, 15 and 16 as given overleaf.
6. Incomplete or defensive applications are liable to be rejected.
Important Dates
a) Last Date for Submitting Application Form 19-09-2019
b) Last Date for Submitting Application Form (with Late Fee) 26-09-2019
c) NTSE Stage-1 Exam date 03-11-2019
d) NTSE Stage-2 Exam date 10-05-2020