SEB Gujarat NTSE National Talent Search Exam 2018 : sebexam.org
Organisation : Gujarat SEB State Examination Board
Scholarship Name : NTSE 2018 National Talent Search Exam
Applicable For : Class X Students
Applicable State : Gujarat
Application Last Date : 15/09/2018
Exam Date : 04/11/2018
Website : http://www.sebexam.org/SCHP/FrmNTSEInstruction.aspx?AppType=qqe+J3Hn7fWU0uvinOUrQA==
SEB NTSE
Gujarat SEB State Examination Board invites applications for NTSE National Talent Search Exam for the year 2018-19.
Update : SEB Gujarat Print Hall Ticket NTSE/PSE-SSE 2018 : www.scholarships.net.in/30421.html
The National Talent Search Examination for students studying in Class X is meant to identify and nurture talent.
Important Dates
** Date of issue of notification – 06/08/2018
** Online submission of the application form for the exam – 14/08/2018 to 15/09/2018
** Duration of the fee for the examination – 14/08/2018 to 18/09/2018
** The Last Date for submission of Statements filled by the school to the DEO office – 25/09/2018
** The last date for online submission of the login given by the RT board by scrutinizing the application forms by the DEO office – 04/10/2018
** The Last Date to submit to the Hard copy of the application forms from the school by DEO office – 05/10/2018
** Exam date – 04/11/2018
How to Apply?
Just follow the below steps to apply for the NTSE 2018.
Steps :
Step 1 : Go to the official website of Gujarat State Examination Board through the URL provided above.
Step 2 : Then Click Apply Online button in the Menu bar
Step 3 : Next Select National Talent Search Examination and Click on Apply Now button
Step 4 : Read the instructions carefully and click on Continue button to proceed your application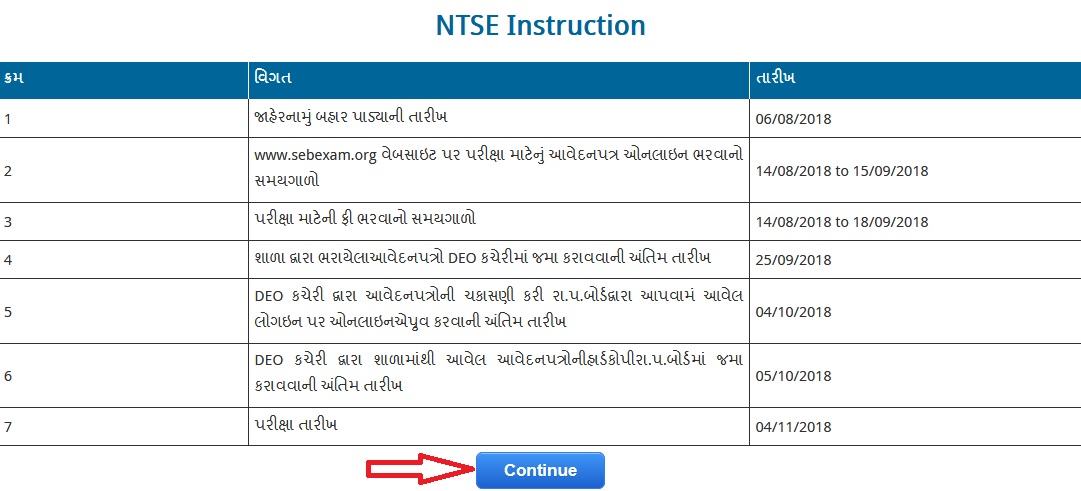 Step 5 : Then enter the following details and click on the Save button.
** Personal Information of The Candidate
** School Information
** Other Information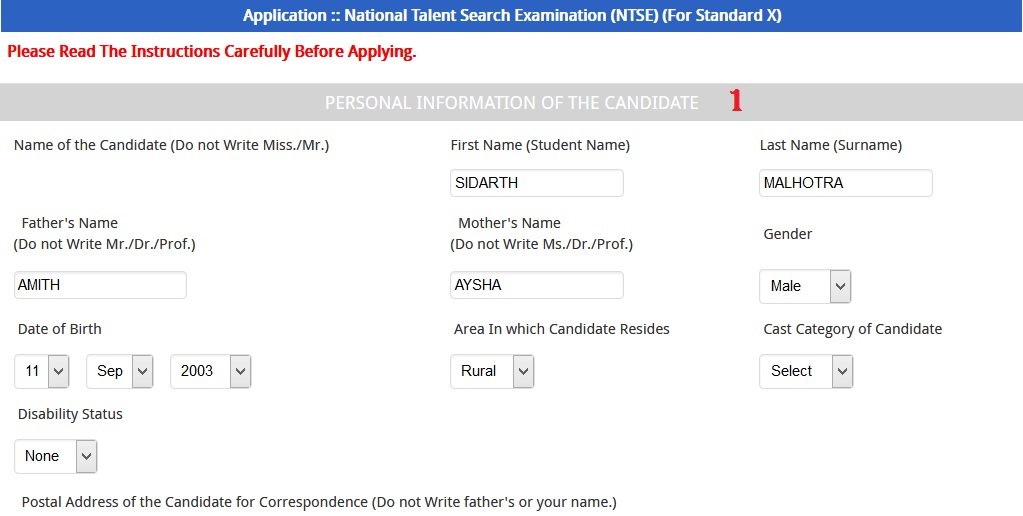 Upload Photograph & Signature
(i) Photo scan by uploading in jpg format (passport size).
(ii) Photo size is 5 cm. Height (Height) and 3.6 cm Should be wide.
(iii) Size of Photo and Signature should not be more than 15 KB.
(iv) If the size of the photo and signature is increased by 15 KB, then scanning the DPI resolution of the scanner should be scanned again.
(v) Signature black / blue color on white paper for signature and scan it to upload to JPG format.
(vi) Size of signature 2.5 cm Height (Height) and 7.5 cm Should be wide.
Print Application Form / Challan
Please enter the following details to Print Application Form / Challan
Step 1 : Select Your Exam – NTSE/NMMSE/PSE/SSE
Step 2 : Enter Your Confirmation Number [123456]
Step 3 : Enter Your Date of Birth [07/Feb/2002]

Note :
Enter the confirmation number which is sent on your email address and on mobile no via SMS. Ex: 4100001/4200001. Do not enter application number in the field.
Print Hall Ticket
Follow the below steps to Print your Hall Ticket for NTSE.
Steps :
Step 1 : Select Exam – NTSE/NMMSE
Step 2 : Enter the Confirmation Number
Step 3 : Enter your Date of Birth
Step 4 : Click on Submit button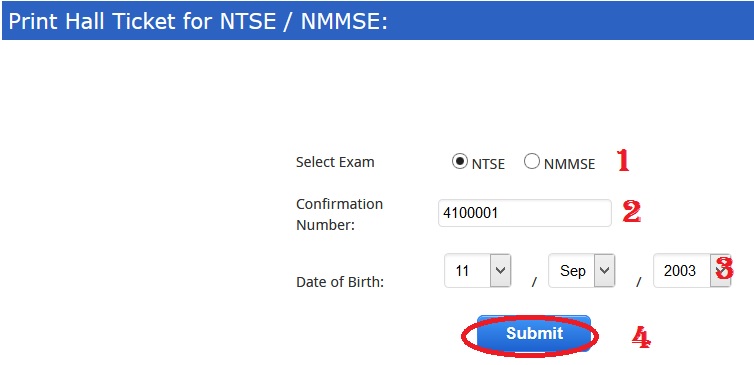 Scholarship Amount
About One thousand scholarships are awarded for difference stages of education as follows
(a) Scholarship of Rs.1250/- per month for Class-XI to XII.
(b) Scholarship of Rs.2000/- per month for Undergraduates and Post-graduates.
(c) Amount of Scholarship for PhD. be fixed in accordance with the UGC norms.
Selection Process
The examination is conducted every year at two levels
** Stage-I (State Level)
** Stage-ll (National Level).
Notification :
https://www.scholarships.net.in/uploads/pdf2018/26941-NTSE.pdf
Stage-I, selection will be done by States/UTs and those who qualify Stage- I, will be eligible to appear for Stage-II examination, conducted by NCERT.