Ohm Jyoti Trust Scholarship Application 2018-19 : ohmjyoti.org
You can now ask your doubts / questions.
Please go to the the bottom of this page for comments section.
Organization : Ohm Jyoti Trust
Scholarship Name : Ohm Jyoti Scholarship Application 2018-19
Applicable For : 12th Students
Applicable State/UTs : All Over India
Website : http://www.ohmjyoti.org/index.php?route=static/static/home
Ohm Jyoti Scholarship Application
Ohm Jyoti is an educational charitable trust. The objective of the trust is to support deserving students for higher education ( Class 12+) through scholarship and financial assistance.
Related / Similar Scholarship : zidniilma.com Financial Aid 2019-20
How to Apply?
Class XII students who are interested in the scholarship will need to fill up the form and email (info [AT] ohmjyoti.org ) it to us along with the documents.
Just follow the below steps to apply for the scholarship,
Steps :
Step 1 : Go to the official website of Ohm Jyoti through the URL provided above.

Step 2 : Then Click on the Application link in the menu bar and click on the Application Form button


Step 3 : If you are a new applicant Register Your Account by clicking Register button. Already registered user can directly Login with your Email Id & Password.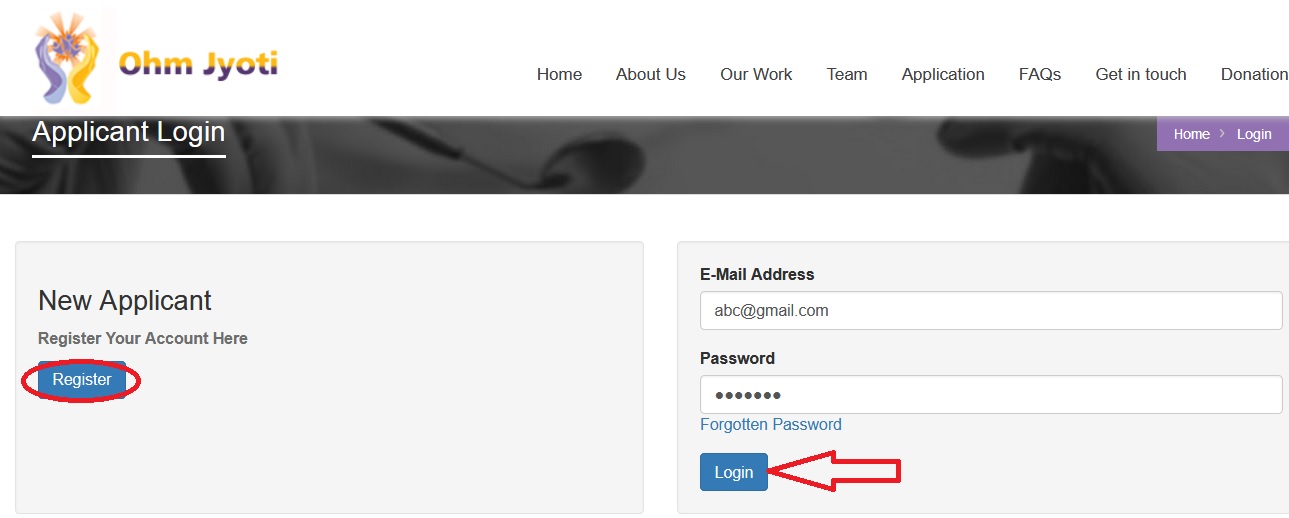 Step 4 : Next, enter your Personal Details and Select your Password to complete the Registration Process.

Step 5 : After that, enter your Education Details, Fee Details, Co-applicant Details and other information to complete the scholarship application.
Selection Process
** Our team will go through in detail about the needs and requirements of individual students, depending on their past performance, educational background and then decide on the scholarship to be provided.
** With the said documents the management committee will go through the form in detail and if the student is selected, he will receive a call from Ohm Jyoti representative and may be called for a personal interview
Note :
If you know of a bright student who deserves the fellowship, please email the details to us, with your background also and we will get in touch with the recommended student.
FAQs
1. Does Ohm Jyoti work in India or other countries too ?
Ohm Jyoti will fund only Indian citizens.
2. Will Ohm Jyoti fund students for education below Class 12 ?
No. For medical and engineering students the funding will be provided for class 12 + For rest of the streams Ohm Jyoti will fund only post graduation courses
3. Can we courier or Fax or Email documents ?
No, Ohm Jyoti accepts only online application.
4. Will Ohm Jyoti provide financial assistance for any stream ?
Yes, Ohm Jyoti is open to provide financial assistance for education in stream of choice of student
5. What are the various scholarship schemes on offer ?
** Scholarship
** Bank Interest Reimbursement
** Crowd Funding
** As per discretion of the Management
6. Would there be any obligation of students towards Ohm Jyoti ?
We request students of Ohm Jyoti family to take a pledge to pay back as and when comfortable for the benefits of future students.
7. Will Ohm Jyoti sponsor for preparatory exams ?
No