scertharyana.gov.in NMMS National Means-cum-Merit Scholarship Exam 2019-20 : SCERT Haryana
Organisation : SCERT Haryana
Scholarship Name : NMMS 2019-20 National Means-cum-Merit Scholarship Scheme Exam
Applicable For : Class VIII Students
Applicable State : Haryana
Application Last Date : 25th September 2019
Exam Date : 17.11.2019
Website : http://scertharyana.gov.in/talent-search-exam/
You can ask questions or answer questions about this scholarship.
Please go to the bottom of this page.
SCERT Haryana NMMS
State Council of Educational Research and Training (SCERT) Haryana is inviting applications for NMMS National Means-cum-Merit Scholarship Scheme Exam for the year 2019-20.
Related / Similar Scholarship : SCERT Haryana NTSE 2019-20
Who Can Apply?
** Students whose parental income from all sources is not more than Rs. 1,50,000/- per annum are eligible to avail the scholarships.
** The students shall have minimum of 55% marks or equivalent grade in Class VII examination (Relaxable by 5% for SC/ST)
How to Apply?
Just follow the below steps to apply for the National Means-cum-Merit Scholarship Scheme Exam 2019-20.
Apply Online :
http://www.scertharyanaonline.com//home/student_eight_class
Steps :
Step 1 : Go to the official website of SCERT Haryana through the URL http://scertharyana.gov.in/
Step 2 : Then click on the Scert "NTSE L-1/HScTSS /NMMS Exam" link in the left side of the home page.
Step 3 : Next Click "Online Application Form for NMMS 2019/20" link under NTSE L-1/HScTSS/NMMS

Step 4 : Fill the Application Form with the required fields and finally click on the Submit button.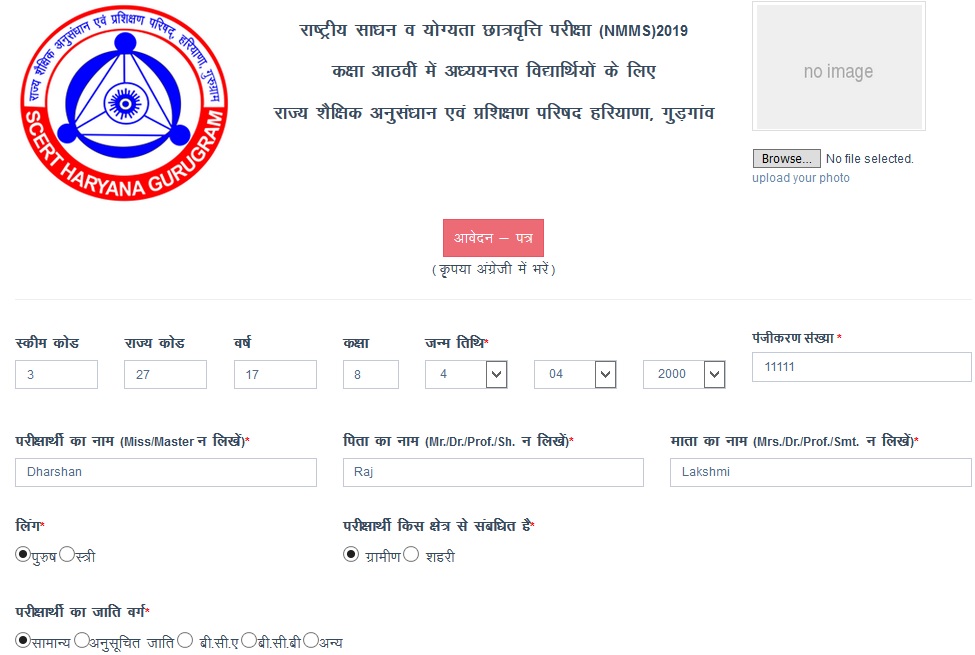 Step 5 : After submitting the application, you will be assigned the Username & Password , take a printout and keep it Confidential and Safe.
Note :
** Data will not be saved without clicking "Submit" button, click on " submit" button to save the details filled by you.
** Information regarding Application Form, Admit card, will be available on our website
Exam Pattern
The State Level Examination may consist of the following two tests
(i) Mental Ability Test (MAT)
(ii) Scholastic Aptitude Test (SAT)
Mental Ability Test may consist of 100 multiple-choice questions testing verbal and non-verbal meta-cognitive abilities like reasoning and critical thinking. The questions in the test may be on analogy, classification, numerical series, pattern perception, hidden figures etc.
Scholastic Aptitude Test may consist of 100 multiple-choice questions covering subjects namely, science, social studies and mathematics as taught in classes VII and VIII.
Scholarship Amount
The scholarships will be paid from class IX till class XII for a maximum period of four years. The amount of scholarship is proposed to be Rs.6000/- per annum @Rs.500/- per month.
Notification :
https://www.scholarships.net.in/uploads/pdf2019/26854-NMMS.pdf
Instructions
1. Pre-Requisites for Applying Online Application Form
a. Prospectus 2018-19 ( website scertharyana.gov.in )
b. Your email id (eg. xyz@gmail.com)
c. Your Mobile Number
d. Scanned copy of Photograph, Signature , Cast certificate and Disability certificate ensuring that all required scan images should be in .jpeg format with size of each scan must be less than 2MB
e. Pin Code with the details of Correspondence Address.
f. Education Qualification & Weightage detail ( for NMMS exam is class 7th) (minimum 55% marks for Gen and minimum 50% marks for Reserve Category)
2. Read the Instructions & prospectus carefully and then start the process of "filling online application form".