jkbose.jk.gov.in NMMSS National Means-cum-Merit Scholarship Scheme 2018-19 : Jammu & Kashmir School Education
Organisation : JKBOSE J&K Board of School Education
Scholarship Name : NMMSS 2018-19 National Means-cum-Merit Scholarship Scheme
Applicable For : 9th students
Applicable State : Jammu & Kashmir
Last Date : 31st October 2018
Website : http://jkbose.jk.gov.in/index.php
You can now ask your question on this scholarship.
Ask here
(OR) Go to the bottom of this page for comments.
JK BOSE NMMSS
National Means-cum-Merit Scholarship scheme Examination inviting online applications from the candidates of exam year 2017, 2016, 2015, 2014 for the session 2018-19.
Related : Jammu & Kashmir School Education Central Sector Scheme of Scholarship 2018 : www.scholarships.net.in/30570.html
Who Can Apply?
The students of class 9th who have qualified the National Means-cum-Merit Scholarship Scheme Examination held on 2017 and whose parental income from all sources is not more than Rs. 1,50,000/- per annum are eligible to avail the scholarships.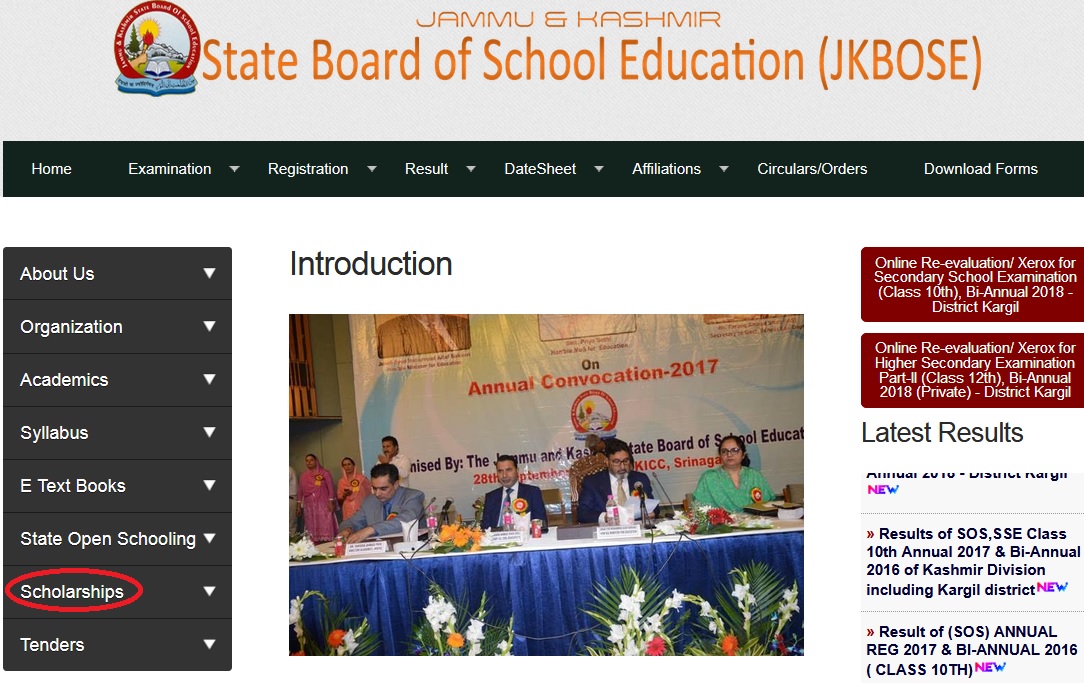 How to Apply?
The scheme is implemented through National Scholarship Portal (NSP). Just follow the below steps to apply for the National Means-cum-Merit Scholarship Scheme 2018-19.
Apply Online : https://scholarships.gov.in/
Fresh
Steps :
Step 1 : Go to the official website of National Scholarship Portal.
Step 2 : Then Select Central Schemes tab and Click on Department of School Education & Literacy link in the drop down list.
Step 3 : After that Click Apply link in the National Means-cum-Merit Scholarship.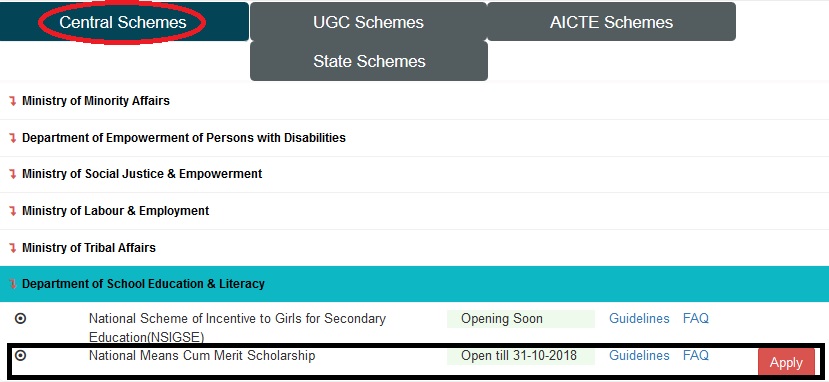 Step 4 : It will redirect to the Login Page. Enter your Application Id, Password and Captcha for Login.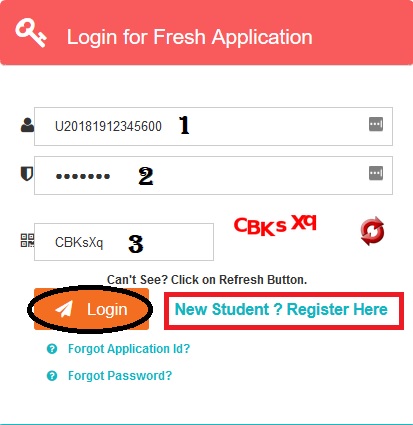 Step 5 : After Login to your account select the Scholarship scheme and fill the required details to apply for the scholarship.
Step 6 : If you are a New User then Click on the Register link in the Login Page.
Step 7 : Enter all required details for registration to get your user id and password.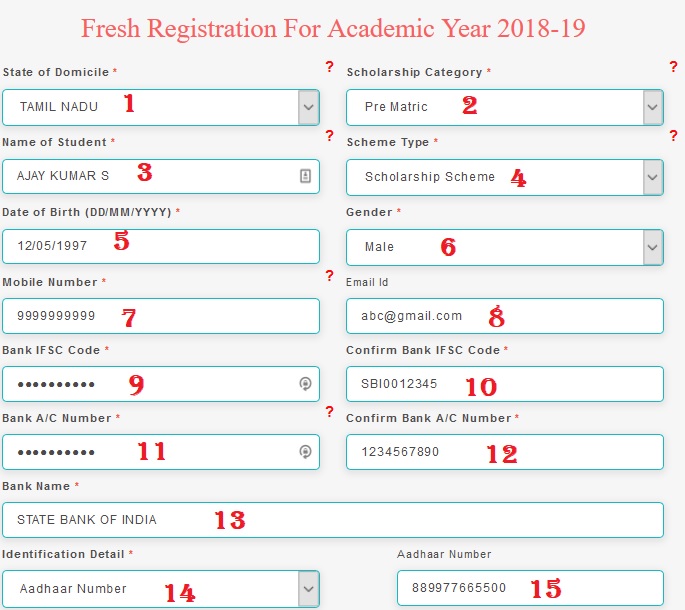 Step 8 : After complete your application you will get a confirmation message to your registered email id & mobile number.
Renewal
The candidates of NMMSS Exam year 2016, 2015 & 2014 and are studying in the class 10th, 11th and 12th respectively during the session 2018-19 who are in receipt of National Means-cum-Merit Scholarship Scheme (NMMSS) that they can also submit online applications for the respective renewal installments on National Scholarship Portal by or before the last date.
Scholarship Amount
The quantum of scholarship is Rs.12,000/- per annum are awarded to selected students of class IX every year and their continuation/renewal in classes X to XII for study in State Government, Government-aided and Local body schools under the scheme.
Notification :
https://www.scholarships.net.in/uploads/pdf2018/26479-NMMSS.pdf
Selection Process
** The selection of students for award of scholarships under the scheme is made through an examination conducted by the State Governments.
** Each State/UT conducts its own test for selection of students for the award of the National Means-cum-Merit Scholarship. The State Level Examination consists of the following two tests.
(i) Mental Ability Test (MAT)
(ii) Scholastic Aptitude Test (SAT)
** The students must pass both the tests i.e. MAT and SAT with at least 40% marks in each. For the reserved category, this cut off will be 32% marks.
Last Date
The last date for submission of applications on Portal is 31st October 2018.