ncert.nic.in NTSE National Talent Search Exam 2019 : Council of Educational Research & Training
Organisation : National Council of Educational Research & Training
Scholarship Name : NTSE 2019 National Talent Search Exam
Applicable For : Students Studying in Class X
Applicable States/ UTs : All Over India
Exam Date : 03,04 & 18th Nov 2018 (Stage I) & 12th May 2019 (Stage II)
Website : http://ncert.nic.in/
You can now ask your question on this scholarship.
Ask here
(OR) Go to the bottom of this page for comments.
NCERT NTSE
National Council of Educational Research & Training invites applications for National Talent Search Exam for the 2019. The National Talent Search Examination will be conducted for students studying at the Class X level.
Related : Shiksha Education Trust NST 2018 National Scholarship Test : www.scholarships.net.in/22878.html
Who Can Apply?
** Student is below the age of 18 years (as on 1st July of the particular year), the student is not employed and she/he is appearing in class X examination for the first time.
** There will be no domicile restriction.
** Students registered under Open Distance Learning (ODL) will also be eligible for scholarship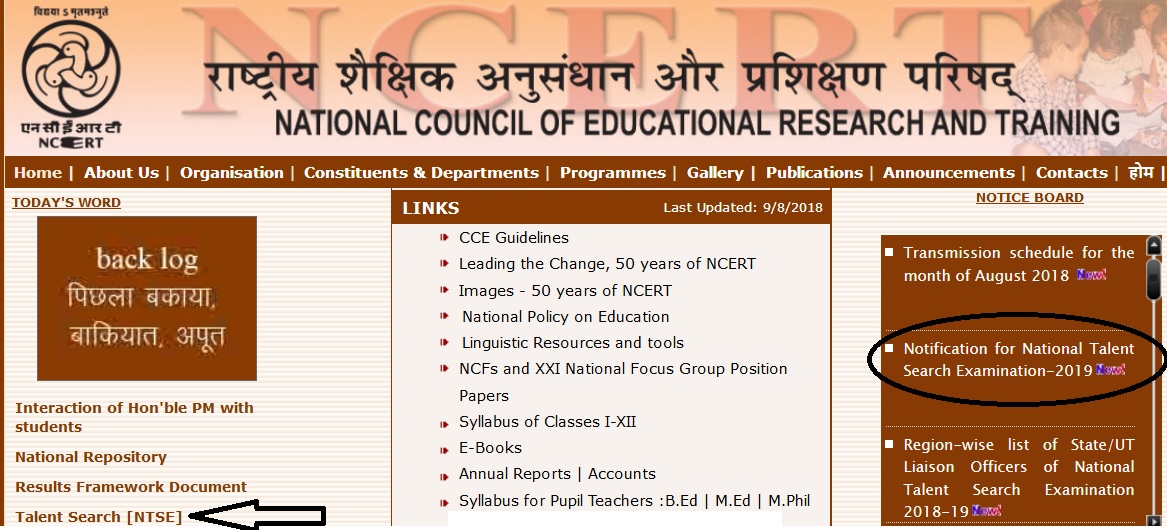 Note :
** Indian Students Studying Abroad in Class X can appear directly for Stage II NTS Examination under conditions prescribed in the NTS brochure which is available on the NCERT website.
** Candidates may fill up the Application Form, available on the NCERT website and send to the undersigned along with a photocopy of the mark sheet of previous examination, latest by December 31, 2018.
** Application Form for students studying abroad will be uploaded on NCERT website in the month of October, 2018.
How to Apply?
Just follow the below steps to apply for the National Talent Search Exam.
Steps :
Step 1 : You may contact the State/UT Liaison officer for procuring application form.

Step 2 : The completed application form should be signed by the Principal of the school much before the last date of submission.

Step 3 : Different states may have different last dates for submission. Please confirm from the Liaison Officer of your state, the address at which the completed forms are to be submitted.

Note :
All queries related to application form should be directed to the State Liaison Officers (LOs). No application should be sent to NCERT.
Important Dates
Dates for submission of application form and conduct of examination, are given below
Stage
Area
Tentative Dates

Stage I

(State)

Last Date for Submission of Application To be notified by the respective State Form
To be notified by the respective State Form and it may vary from state to state
Examination in Mizoram, Meghalaya, Nagaland and Andaman and Nicobar Islands
03th November, 2018
Examination in All other States and Union Territories except West Bengal West Bengal
04th November, 2018 (Sunday)
State II

(National)

Examination in All States and Union Territories
12th May, 2019 (Sunday)
Exam Pattern
The examination is conducted every year at two levels
** Stage-I (State Level)
** Stage-II (National Level).
Stage-I & II examination at the State/UT level will comprise of two papers
| | | | | |
| --- | --- | --- | --- | --- |
| Paper | Test | No.of Questions | No.Of Marks | Duration (in minutes) |
| Paper-I | Mental Ability Test (MAT) | 100 | 100 | 120 |
| Paper-II | Scholastic Aptitude Test (SAT) | 100 | 100 | 120 |
There will be no negative marking in Stage-II examination.
Scholarship
About one thousand scholarships are awarded for different stages of education as follows
(a) Scholarship of Rs.1250/- per month for Class-XI to XII.
(b) Scholarship of Rs.2000/- per month for Undergraduates and Post-graduates.
(c) Amount of Scholarship for Ph.D. is fixed in accordance with the UGC norms.
Notification :
https://www.scholarships.net.in/uploads/pdf2018/26457-NTSE.pdf
Selection Procedure
Stage-I, selection will be done by States/UTs and those who are selected/recommended from Stage-I examination, will be eligible to appear for Stage-II examination, conducted by NCERT.
Qualifying Marks :
Qualifying marks for candidates from SC/ST/PH category is 32% in each paper and for others (General/OBC) categories it is 40% in each paper.
Application Deadline :
To be notified by the respective state and it may vary from state to state.