AICTE PMSSS J&K Round 4 Provisional Allotment 2018-19 : PM's Special Scholarship Scheme Jammu & Kashmir
You can ask questions or answer questions about this scholarship.
Please go to the bottom of this page.
Organization : All India Council For Technical Education (AICTE)
Announcement : PMSSS J&K 2018-19 Round 4 Provisional Allotment
Scholarship Name : Prime Minister's Special Scholarship Scheme
Last Date Of Seat Confirmation : 14-08-2018
Applicable State : Jammu & Kashmir
Website : https://www.aicte-india.org/bureaus/jk/2018-2019
AICTE PMSSS Round 4 Allotment
Round 4 counselling (Last round of counselling) result is displayed in student login. Last Date for joining of the college for allotted candidates will be 14-08-2018.
Related / Similar Scholarship : AICTE J&K PMSSS 2019-20
Following candidates have been provisionally selected for admission based on merit and reservation. Candidate should upload the joining report immediately after giving the confirmation on allotted seat, as per the prescribed format through his/her login.
Candidate need to report to the allotted Institute (except Nursing Institutes) on or before August 14, 2018 because no admission would be made after August 15, 2018 in any of the AICTE approved colleges as per the Hon'ble Supreme Court directions.
The joining report should be uploaded before August 17, 2018 for confirming your admission. The candidates of Nursing courses may join to their respective Institutes as and when the classes are going to be started. Candidate may contact their college to get the schedule of session.
Cut-Off Merit
| | | |
| --- | --- | --- |
| Category | General | Professional |
| Open (OP) | 14114 | 5547 |
| Physically Disabled | 13579 | 13731 |
| Scheduled Caste (SC) | 14038 | 8677 |
| Scheduled Tribe (ST) | 14218 | 14184 |
| SEBC | 14223 | 9624 |
Important Points :
** No Allotment for the Candidates whose names are not mentioned in this list. No allotment for the candidates who have not opted for round 4.
** Last Date of seat confirmation on the PMSSS portal is 14-08-2018 failing which seat will be cancelled automatically. This is the last round of online counselling.
Download Allotment List
Step 1 : Visit the official website of All India Council For Technical Education through the URL https://www.aicte-india.org/
Step 2 : Then, Select the 'PMSSS J&K' link under the Quick Links section.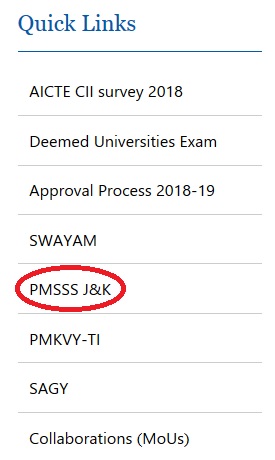 Step 3 : After that click 2018-19 tab in the menu bar and Select "Provisional Allotment – Round 4 of College and Course"

Step 4 : The Allotment list will be opened in a PDF format. Download the PDF file to check the allotment details.
Or you can directly download it from below mentioned link.
Round 4 Allotment List :
https://www.scholarships.net.in/uploads/pdf2018/26421-R4.pdf
The PDF Files contains the following details,
** Student ID
** Rank
** Name of the Candidate
** Physically Disabled
** Category
** Stream
** College Id
** Course
** College Name
** State
** District
** College type
** Allotment Category
Selected Candidates List
Some of the candidates names are listed below. Kindly refer the above mentioned PDF link to view the complete Allotment Round 4 list.
Student ID

Rank

Name of the Candidate

College Name

Course

Allotment

Category

2018280573
1
SYED TABINDAH JAVEED
MANIPAL INSTITUTE OF TECHNOLOGY
BIOMEDICAL ENGINEERING
OP
2018163388
18
SYED TAQWA KIRMANI
DELHI COLLEGE OF ENGINEERING
ELECTRICAL ENGINEERING
OP
2018018400
21
AKHILESH MAHAJAN
DELHI COLLEGE OF ENGINEERING
COMPUTER ENGINEERING
OP
2018168688
27
AADIL AHMAD WAR
SGTB KHALSA COLLOGE
B.Sc. (Hons.) Mathematics
OP
2018173611
39
HASIR MUSHTAQ KHAN
INTERNATIONAL INSTITUTE OF INFORMATION TECHNOLOGY
ELECTRONICS & COMMUNICATION ENGG
OP
2018015847
44
RADHIKA KATOCH
HANS RAJ MAHILA MAHAVIDYALAYA
B.Sc. (Medical)
OP
2018268259
53
INAM GUL
G.B. Pant University of Agricultural & Technology, Pantnagar (Uttarakhand).
BV. Sc.
OP
2018066512
64
ANKUSH SINGH
DELHI INSTITUTION OF PHARMACEUTICAL SCIENCES AND RESEARCH
PHARMACY
OP
2018172013
67
HADIYA TANVEER
ZAKIR HUSAIN COLLEGE OF ENGINEERING & TECHNOLOGY
ELECTRONICS ENGINEERING
OP
2018021974
71
MALLIKA SHARMA
JAWAHARLAL NEHRU NATIONAL COLLEGE OF ENGINEERING
TELECOMMUNICATION ENGINEERING
OP
2018018350
74
MANAV ARORA
COLLEGE OF ENGINEERING, PUNE
ELECTRICAL ENGINEERING
OP
2018066534
79
RAHUL MANOTRA
THE OXFORD COLLEGE OF ENGINEERING
AUTOMOBILE ENGINEERING
OP
2018174180
80
REYAN RAFIQ PIR
VEERMATA JIJABAI TECHNOLOGICAL INSTITUTE
CIVIL ENGINEERING
OP
2018020642
99
UDAY GUPTA
MAHARAJA AGRASEN INSTITUTE OF TECHNOLOGY
COMPUTER SCIENCE & ENGINEERING
OP
2018175247
110
SHAIQ FAROOQ
UNIVERSITY INSTITUTE OF ENGINEERING AND TECHNOLOGY
ELECTRONICS & COMMUNICATION ENGG
OP
2018014836
116
AKANKSHA SHARMA
LADY SHRI RAM COLLEGE FOR WOMEN
B.A
OP