Vidyasaarathi ACC Scholarship Renewal 2019
You can ask questions or answer questions about this scholarship.
Please go to the bottom of this page.
Organisation : ACC Ltd, Vidyasaarathi
Scholarship Name : ACC Vidyasaarathi Renewal Scholarship 2019
Applicable For : Students pursuing UG Course, Engineering, ITI, Diploma
Application Last Date : 20/11/2019 (Date is Extended)
Website : https://www.vidyasaarathi.co.in/Vidyasaarathi/scholarship#
Vidyasaarathi ACC Scholarship Renewal
ACC Ltd invites online applications for ACC Vidyasaarathi Scholarship Renewal 2019. This scholarship program is only for students who have been awarded under the ACC Vidyasaarathi Scholarship Programme for Under Graduates, ITI, Diploma, Engineering for the academic year 2019-20.
Related / Similar Scholarship : Vidyasaarathi Concord Biotech Scholarship 2019-20
Who Can Apply?
1. Qualification criteria :
** Under Graduate Course – Minimum 50% in HSC
** B.E/B.Tech – Minimum 50% in HSC, Minimum 50% in Diploma
** ITI – Minimum 35% in SSC
** Diploma – Minimum 35% in SSC
2. Scheme is available to only student whose family income is between 0.00 – 500000.00
3. This scheme is not applicable for ACC employees and their Children.
How to Apply?
Just follow the below steps to apply for the ACC Vidyasaarathi Renewal Scholarship 2019.

Steps :
Step 1 : Visit the Vidyasaarathi official website through the URL https://www.vidyasaarathi.co.in/Vidyasaarathi/index
Step 2 : Already registered user can directly Login with your Email and Password.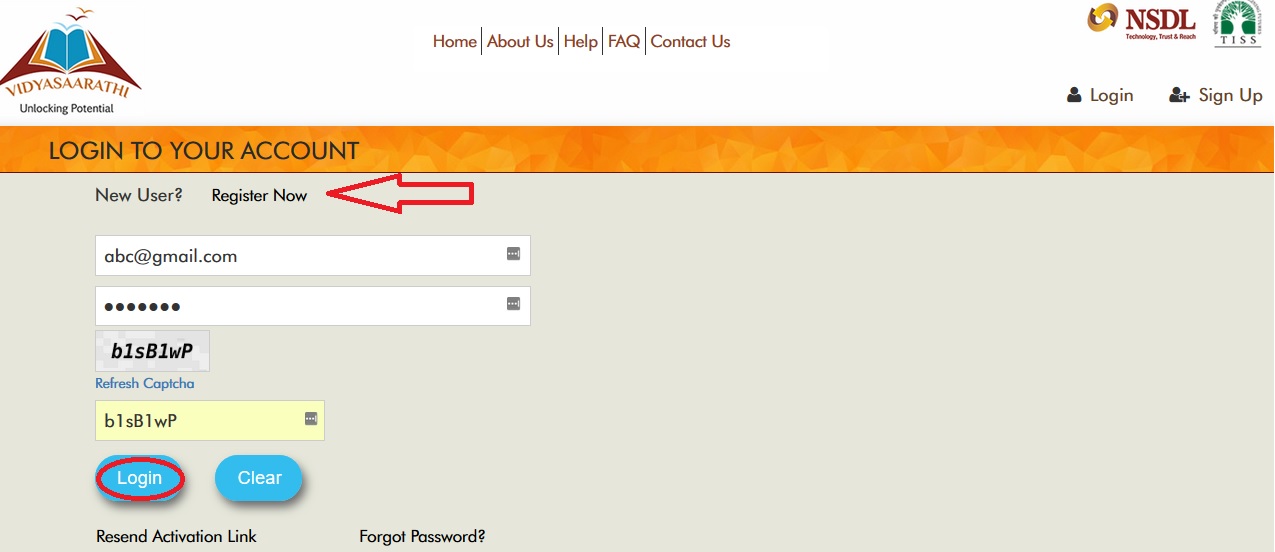 Step 3 : After Login to your account Search for relevant schemes in which you are eligible and Then fill the required details to apply for scholarship.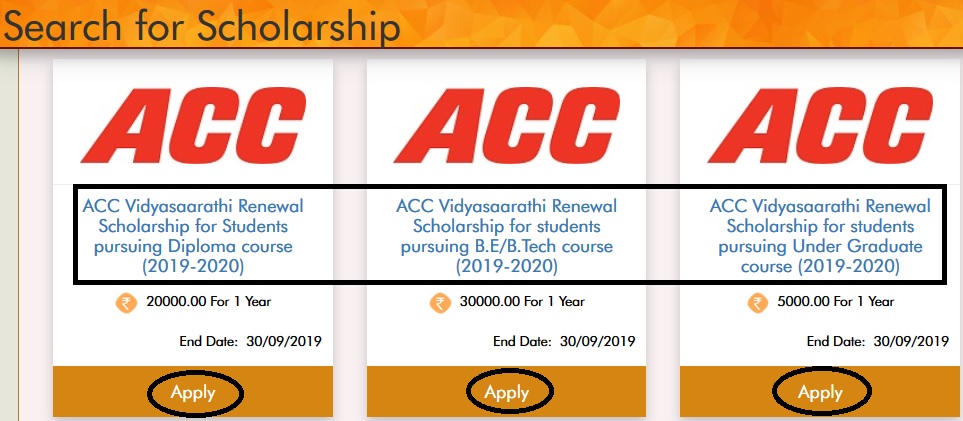 Step 4 : If you are new user then click the Register Now link in the Login page and fill the required details for registration to apply for the scholarship.
Documents Required :
Passing mark sheet for the respective previous year
Important Dates
** Starting Date to Apply Online is 02/08/2019
** Last Date to Submit Application is 20/11/2019
Scholarship Amount
** UG students can receive financial aid upto INR 5000
** B.E/B.Tech students can receive financial aid upto INR 30000
** ITI students can receive financial aid upto INR 20000
** Diploma students can receive financial aid upto INR 20000
Terms and Conditions :
Hereby, I confirm that the funds provided towards my education by ACC Ltd under their CSR expenditure will be used for education purpose only. And all the information provided above is true to the best of my knowledge.
Frequently Asked Questions
1) Who should apply ?
Student who had been shortlisted for the academic year 2018-19
2) What is the minimum qualifying Percentage for Renewal ?
50% and above in previous academic year
3) Whether compulsory to have a bank account ?
Student should have an active bank account, as the Scholarship amount would be transferred to students bank account in case of reimbursement.
4) What are the features of Vidyasaarathi Portal?
Vidyasaarathi portal provides single window for students to access information and make application for educational scholarships.
It has the following features :
** Information about various educational scholarships.
** Apply to multiple Educational Scholarships & Schemes.
** Facility for Corporates to download Students Scholarship Applications & Review the same.
** Application to Registered or Un-registered Educational Institutes.
5) What if I forget password of my Login ID?
You can click on "Forgot password" option provided on the Login page of Vidyasaarathi Portal and you will be asked to provide your registered e-mail address. Vidyasaarathi Portal will send a system generated password on your registered email address.
6) How should I check the status of my application online?
You have to login on portal by entering your registered email id and password. Once login, you will be redirected to dashboard. Under the field header named 'Action' you can check your applications current status.
Student's Helpdesk
Vidyasaarathi Helpdesk
Times Tower, 1st Floor,
Kamala Mills Compound, Lower Parel,
Mumbai – 400 013.
Contact Person : Rajesh Mishra
Contact Email-ID :
** For scheme related queries – vidyasaarathi [AT] nsdl.co.in
** For grievance related queries – grievance [AT] vidyasaarathi.co.in