sdd.punecorporation.org DBT Lokshahir Annabhau Sathe Scholarship 2019-20 : Pune Municipal Corporation
You can ask questions or answer questions about this scholarship.
Please go to the bottom of this page.
Organization : Pune Municipal Corporation, Direct Benefit Transfer
Scholarship Name : Lokshahir Annabhau Sathe Education Scholarship 2019-20
Applicable For : 12th Passed out Students
Applicable State : Pune Municipal Corporation
Application Last Date : 30th November 2019
Website : https://pmc.gov.in/en/educational-schemes
DBT Pune Lokshahir Annabhau Sathe Scholarship
Pune Municipal Corporation has introduced Lokshahir Annabhau Sathe Educational Scholarship Scheme for the students of city. The schemes will provide financial support for the students who recently passed 12th standard examination.
Related : DBT Pune Bharatratna Maulana Abul Kalam Azad Scholarship 2019-20 : www.scholarships.net.in/25642.html
The scheme will award the scholarship of Rs. 25,000 to the students who passed Higher Secondary Certificate (HSC) or any equivalent examination.

Who Can Apply?
** The student should belong to the area under Pune Municipal Corporation.
** The student must have obtained minimum 80% in HSC exam in the year February-March 2019.
** If the student belongs to Backward Category or studied in Pune Municipal Corporation's regular/night school, he/she is required to have obtained minimum 70%.
** If the student is 40% handicapped, minimum percentage required is 65%.
** The student must have applied at recognized institute for further education.
How to Apply?
Just follow the below steps to apply for the Lokshahir Annabhau Sathe Scholarship Scheme 2019-20.
Apply Online : http://dbt.punecorporation.org/app/index.html#!/
Steps :
Step 1 : Go to the official website of Pune Municipal Corporation Direct Benefit Transfer through the URL provided above.
Step 2 : Then Click on the "New Registration" link at the top of right corner.

Step 3 : Fill up the information required and register.


Step 4 : You will receive the username and password for login. Log in to website using these credentials.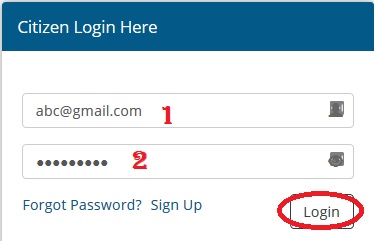 Step 5 : After Login to your account select the 'Lokshahir Annabhau Sathe Scholarship' Scheme. Click on the 'Apply for scheme'.
Step 6 : After clicking on 'Apply for scheme', you will see a form seeking some important information. The form should be filled in the name of parent of a student.
Step 7 : After filling the complete information 'Save' the application and click on 'Next'.
Step 8 : After that, one more form will appear on the screen. Fill your seat no. and Mother's name. After that click on option 'Search' and then click on 'Save& Next'.
Step 9 : Print the copy of your application and submit it at Pune Municipal Corporation Ward office along with the the required documents.
Documents Required
** Mark sheet of the exam you have recently passed and the mark sheet proof on the letterhead of School/College.
** Transfer Certificate of School/ Bonafide certificate.
** Transfer Certificate of 10th and 12th is mandatory for the beneficiary students of 12th standard.
** Beneficiary should be staying in the municipal area of Pune Municipal Corporation at least for last 3 years.
** Tax receipts of Municipal tax or Electricity bills (one from each year) /Telephone bills/Slum photopass/ Slum service charges receipt/ rent agreement/ letter from Owner of last three years.
** Proof of the admission taken at any recognized institute i.e. Fee receipt, Sign and stamp from College Principal.
** Caste certificate or Handicapped certificate.
** AADHAR/PAN (if there) of Parent.
** Applicant needs to mention whether he has linked his AADHAR card to his/her bank account. Bank passbook and AADHAR card photocopy is required.
Note :
Do not attach the original copies of documents. Attach only photocopies.
Last Date
Students can apply the Lokshahir Annabhau Sathe Scholarship 2019-20 from 29th July 2019 to 30th November 2019.
Contact Us :
Pune Municipal Corporation, Direct Benefit Transfer
PMC Main Building,
Near. Mangla Theatre,
Shivajinagar,
Pune- 411 005