Siemens India Scholarship Program 2018-19
Rate this post:
[ Votes=

0

, Average =

0

]
Organisation : Siemens India
Scholarship Name : Siemens Scholarship Program 2018-19
Applicable For : 1st Year Students of Government Engineering Colleges
Applicable States/UTs : All Over India
Website : http://www.siemens.co.in/about-us/sustainability/corporate-citizenship/education/siemens-scholarship.htm
Siemens India Scholarship Program
Siemens India invites Siemens Scholarship Program for the year 2018-19. Applications to Siemens Scholarship Program will commence from Aug 2018.
Related / Similar Scholarship :
Siemens Scholarship 2020-21
Siemens Scholars who have graduated from this program have been placed in Siemens as well as leading companies in various sectors such as engineering, banking and finance, IT services, infrastructure, automotive, consumer goods.

Who Can Apply?
1. First-year students of Government Engineering colleges from the following streams
** Mechanical / Production
** Electrical
** Electronics/Instrumentation
** Electronics & Telecommunication
** Computers/Information Technology
** Instrumentation
2. Age – Up to 20 years
3. SSC – Minimum 60% aggregate
4. HSC or equivalent result Minimum 50% aggregate and minimum 60% PCM aggregate
5. Annual family Income – Not more than Rs. 2 lakhs
How to Apply?
Just follow the below steps to apply for Siemens Scholarship Program 2018-19.
Steps :
Step 1 : Go to the official website of Siemens India through the URL provided above.
Step 2 : Next Click Siemens Scholarship Program 2018 – 19 link in that page.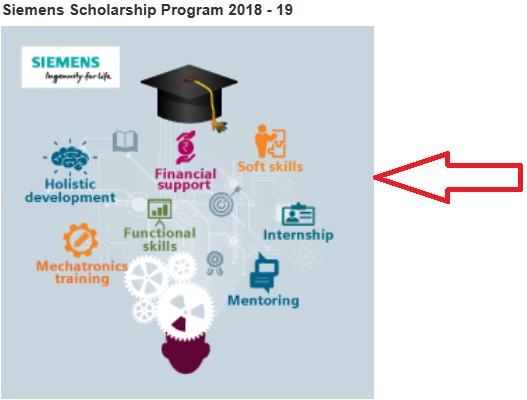 Step 3 : Fill the Applications with the required details.
Step 4 : Click on the submit button once you have filled up the application form.
Note :
** This site is best viewed in IE 8.0,Mozilla 25.0 OR Chrome 31.0.
** Please provide all information in English.
Scholarship Highlights
i. Annual Scholarship comprises
** Reimbursement of tuition fees (if the student is availing any other scholarship, the balance tuition fee, if any, would be reimbursed)
** Flat allowances for books, stationery, hostel, additional classes, etc.
ii. 50% scholarship is reserved for girls
iii. Holistic development program
iv. Scholarship subject to students clearing all subjects and scoring first class
FAQs
1. Is there scholarship reserved for girls?
50 % scholarship is reserved for girls.
2. Do I have to fulfill all conditions to apply for the scholarship?
Yes. Application forms will not be accepted if any of the above eligibility conditions are not met.
3. When to apply?
The online application tool will be open for a certain period after all admissions for the first year in Government Engineering Colleges is complete
Terms & Conditions
** Siemens shall not be responsible for any entries submitted but not received or recorded in the application tool for any reason whatsoever.
** Siemens shall not be responsible for any delay, failure in transmission of information due to network, technical, electronic failures or any other conditions beyond the control of Siemens.
** The decision of Siemens is final in all respects and shall be binding on all the applicants and no correspondence whatsoever will be entertained in this regard.
** No phone calls or SMS or any other electronic mode shall be accepted in respect to the result of the Scholarship.
** Successful application online does not mean grant of Scholarship. Final selection of Scholars eligible for the Scholarship is based on further selection process. The shortlisted applicants will be informed by email.
** Non acceptance of any of these terms and conditions will result in disqualification of the applicants.
Helpdesk
For more details, please write to siemensscholarship [AT] smilefoundation.org