sjeta.arunachal.gov.in Final List of Umbrella Pre & Post Matric Scholarship 2017-18 : Arunachal Pradesh
Organisation : Arunachal Pradesh Social Justice & Empowerment and Tribal Affairs (SJETA)
Announcement : Final List of Pre/Post Matric Scholarship 2017-18
Scholarship Name : Umbrella Pre & Post Matric Scholarship for SC Students
Applicable State : Arunachal Pradesh
Website : http://sjeta.arunachal.gov.in/site_main/index.php/Message/load_msg_pg
You can now ask your question on this scholarship.
Ask here
(OR) Go to the bottom of this page for comments.
SJETA Final List of Pre/Post Matric Scholarship
Arunachal Pradesh Social Justice & Empowerment and Tribal Affairs has released the final list of beneficiaries under Umbrella scheme of Pre & Post Matric Scholarship for SC Students for 2017-18.
Related : SPDC Scholarship Programme for Diaspora Children 2018-19 : www.scholarships.net.in/24932.html
How to View the List?
Just follow the below steps to check the final list of Pre/Post Matric Scholarship 2017-18.
Note : "submission of form-A in hard copy / e-mail will not be accepted after 18/07/2018"
Steps :
Step 1 : Go to the official website of Arunachal Pradesh Social Justice & Empowerment and Tribal Affairs through the URL http://sjeta.arunachal.gov.in/site_main/index.php/Home
Step 2 : Then Select the Final List of Beneficiaries link under the Notification tab.

Step 3 : The list will be displayed in a Excel format.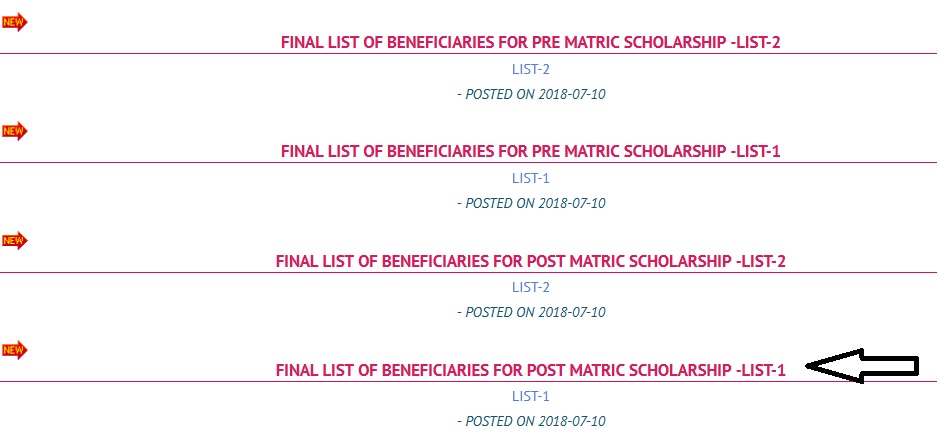 The Excel file contains the following details
** Sl.No
** Institution
** Application Id
** Student Name
** Father's Name
** Mother Name
** Date of Birth
** Pre/Post
** Aadhaar Number
** Bank Account Number
** IFS Code
** Gender
** Hosteller/Day Scholar
** Course Name
** Mode Of Study
Step 4 : Please download the PDF file and Check your Application No in the list.

Note :
It is requested to the students to note the Registration Id for future application for renewal in National Scholarship Portal.
Selected Candidates List
Some of the selected candidates names with Application Numbers are listed below. Kindly refer the below PDF links uploaded for full candidates list.
Pre-Matric Scholarship
| | | | |
| --- | --- | --- | --- |
| Sr. No | Application Id | Student Name | Aadhaar Number |
| 1 | OFAR1718011718719 | KASU TALOH | XXXXXXXX1815 |
| 2 | OFAR1718011721658 | GYAMAR APPA | XXXXXXXX5822 |
| 3 | OFAR1718011664611 | TAILYANG COSY | XXXXXXXX8092 |
| 4 | OFAR1718011662423 | TARH NENE | XXXXXXXX6692 |
| 5 | OFAR1718011685506 | TARH KAKU | XXXXXXXX8205 |
| 6 | OFAR1718011622683 | TADAR JEENA | XXXXXXXX9270 |
| 7 | OFAR1718011664054 | BENGIA PERINA | XXXXXXXX4013 |
| 8 | OFAR1718011587677 | TAI TAGIA | XXXXXXXX6229 |
| 9 | OFAR1718011198010 | TADAR KUNU | XXXXXXXX6294 |
| 10 | OFAR1718011593883 | MILLI TABA | XXXXXXXX2836 |
| 11 | OFAR1718011626170 | TECHI TEDIR | XXXXXXXX4830 |
| 12 | OFAR1718011615170 | Tai Chumchum | XXXXXXXX7318 |
| 13 | OFAR1718011584612 | YORUM MEME | XXXXXXXX6429 |
| 14 | OFAR1718011623704 | GOLIK YEDI | XXXXXXXX6683 |
| 15 | OFAR1718011594982 | Kipa Rima | XXXXXXXX1206 |
| 16 | OFAR1718011637975 | KURU SUMPA | XXXXXXXX8235 |
| 17 | OFAR1718011631958 | DUYU OPO | XXXXXXXX2016 |
| 18 | OFAR1718011663820 | HABUNG MINI | XXXXXXXX5126 |
| 19 | OFAR1718011592119 | PHASSANG CHEFA | XXXXXXXX0427 |
| 20 | OFAR1718011592623 | YANGBIU TANGHUM | XXXXXXXX6160 |
| 21 | OFAR1718011684939 | SUBU TANGU | XXXXXXXX4860 |
| 22 | OFAR1718011231850 | JOSAN YOMCHA | XXXXXXXX4525 |
| 23 | OFAR1718011661440 | PATE PAPI | XXXXXXXX5015 |
| 24 | OFAR1718011585126 | DANGHI TAKU | XXXXXXXX0603 |
| 25 | OFAR1718011626329 | YOWA ZERNIA | XXXXXXXX5558 |
Pre-Matric Final List 1 :
https://www.scholarships.net.in/uploads/pdf2018/25008-Pre1.xlsx

Pre-Matric Final List 2 :
https://www.scholarships.net.in/uploads/pdf2018/25008-Pre2.xlsx
Post Matric Scholarship
| | | | |
| --- | --- | --- | --- |
| SL. No. | Application Id | Student Name | Aadhaar Number |
| 1 | OFAR1718012263698 | DAKPIN RIBA | XXXXXXXX5049 |
| 2 | OFAR1718012052255 | binjili marging | XXXXXXXX9942 |
| 3 | OFAR1718012050989 | Nich serbi | XXXXXXXX3608 |
| 4 | OFAR1718012084370 | Nyaken kamdak | XXXXXXXX0854 |
| 5 | OFAR1718011983780 | TAO TARA | XXXXXXXX9959 |
| 6 | OFAR1718011983816 | NIKH PASSA | XXXXXXXX6622 |
| 7 | OFAR1718011956262 | BAJOY TABANG | XXXXXXXX8540 |
| 8 | OFAR1718011958584 | rent bayang | XXXXXXXX6302 |
| 9 | OFAR1718012142496 | LUCKY TAGA | XXXXXXXX0782 |
| 10 | OFAR1718012062695 | TABA YAM | XXXXXXXX8702 |
| 11 | OFAR1718011972310 | DUBON YAYING | XXXXXXXX2567 |
| 12 | OFAR1718012155168 | LEKI CHOTTEN TOKSHIPA | XXXXXXXX2848 |
| 13 | OFAR1718011986134 | NANG ANJALI MANTAW | XXXXXXXX1647 |
| 14 | OFAR1718012151878 | TECHI TATA | XXXXXXXX2098 |
| 15 | OFAR1718012156843 | ODAP SIRAM | XXXXXXXX9252 |
| 16 | OFAR1718011937133 | HIBA PEKU | XXXXXXXX4855 |
| 17 | OFAR1718012076688 | Yummo nyokir | XXXXXXXX3080 |
| 18 | OFAR1718011980305 | DEKNGAM BOJE | XXXXXXXX8077 |
| 19 | OFAR1718012265001 | LIBING BADU | XXXXXXXX0781 |
| 20 | OFAR1718011920393 | CHEMEN QAYYAM | XXXXXXXX8199 |
| 21 | OFAR1718012051353 | Oyin tasing | XXXXXXXX2612 |
| 22 | OFAR1718011894264 | ROMIK SORUM | XXXXXXXX7049 |
| 23 | OFAR1718011939148 | MAMUM MEGU | XXXXXXXX3247 |
| 24 | OFAR1718012036902 | takam kanu | XXXXXXXX6898 |
| 25 | OFAR1718011200637 | GYATI MUNYA | XXXXXXXX4270 |
| 26 | OFAR1718012198110 | TAME TANIYA | XXXXXXXX8369 |
| 27 | OFAR1718012062469 | OMANSO TAYANG | XXXXXXXX2560 |
| 28 | OFAR1718012029443 | TUMYIR NOSHI | XXXXXXXX1992 |
| 29 | OFAR1718011669606 | Muklong taki | XXXXXXXX3888 |
| 30 | OFAR1718011757685 | TOKO TEMI | XXXXXXXX3658 |
| 31 | OFAR1718011985747 | SORANG TATLI | XXXXXXXX6156 |
| 32 | OFAR1718011685619 | YURA HARIG | XXXXXXXX6852 |
| 33 | OFAR1718011723731 | hibu yapa | XXXXXXXX2961 |
| 34 | OFAR1718011636182 | NABAM ANNA | XXXXXXXX0710 |
| 35 | OFAR1718011646638 | Phulu dodum | XXXXXXXX2592 |
Post-Matric Final List 1 :
https://www.scholarships.net.in/uploads/pdf2018/25008-Po1.xlsx

Post-Matric Final List 2 :
https://www.scholarships.net.in/uploads/pdf2018/25008-Po2.xlsx

Post-Matric Final List 3 :
https://www.scholarships.net.in/uploads/pdf2018/25008-3.xlsx