IGSC Scholarship Exam 2018-19 : igscscholarship.org
Organisation : Institute of General Studies for Children Kerala (IGSC)
Scholarship Name : IGSC Scholarship Exam 2018-19
Exam Date : December 1, 2018
Website : http://igscscholarship.org/
You can now ask your question on this scholarship.
Ask here
(OR) Go to the bottom of this page for comments.
IGSC Scholarship Exam
IGSC Scholarship Exam helps children in building General Awareness and improving their problem solving skills closely integrated with their everyday classroom learning.
Related : MEDHAVI Swawlamban Scholarship Examination 2018 : www.scholarships.net.in/24694.html
Exam Benefits
** The school children's can achieve to train themselves in the lifelong process of acquiring and updating it
** IGSC Scholarship Examination makes the children ready for the different forthcoming competitive examinations.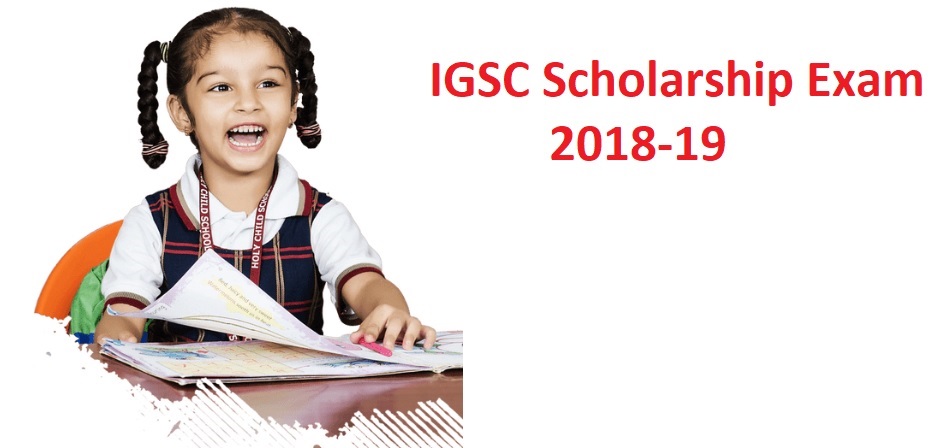 ** It also provides the school children necessary disclosure to various and many types of intelligence and aptitude tests and tests of creativity.
Exam Schedule
** IGSC SCHOLARSHIP EXAM 2018-19, will be held on December 1, 2018 Saturday from 10.30 am to 12.00 noon at various centres all over India.
** IGSC Scholarship Examination is conducted at different centres in India in the month of November or December of each year.
** Results are announced in the month of February.
** The entries are open for the school children for IGSC Scholarship Examination in the month of July of every year and are closed last week of August month of every year.
How to Apply?
** The School Authorities need to write or email to Institute of General Studies for Children Kerala for obtaining free prospectus and for application format.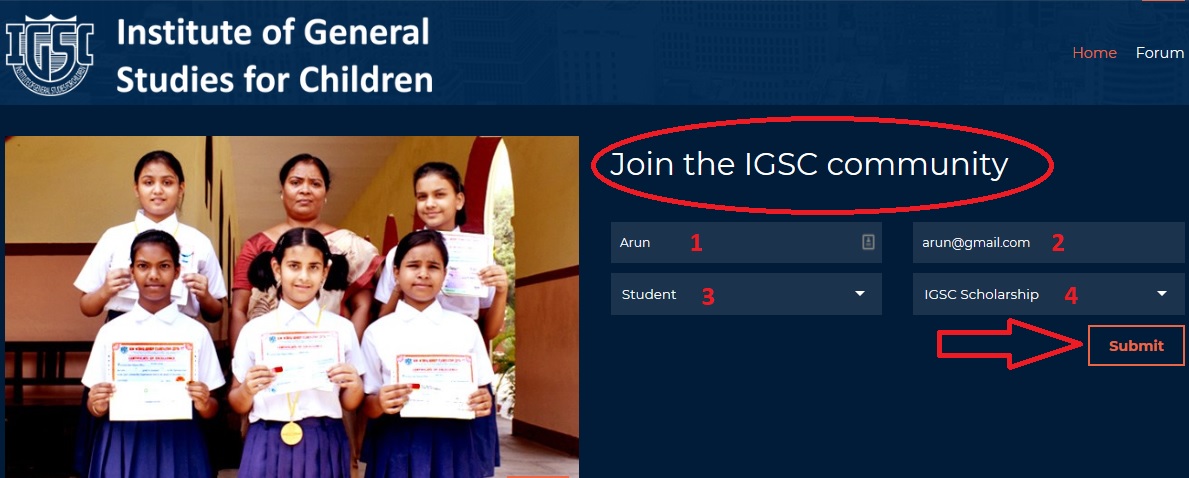 ** The IGSC only accept and register the collective entries only through educational institutions.
** The IGSC will not accept and register the individual entries direct from students or parents side.
Awards & Prizes
The first three ranks are being awarded scholarship money and well crafted personalized medals. Further a large number of scholarships for other toppers, useful books for runner-ups and graded Certificate of Excellence to all participants are being distributed.
The scholarship money amounts to Rs.10,000/-, Rs.5000/- and Rs. 2500/- for the 1st, 2nd and 3rd rank holders respectively in the last exam in each class / group.
The net worth of scholarship including that for the other toppers earmarked for the last year is Rs.1,22,000/- and the books for presentation among the runner-ups cover a value of Rs.2,45,500/- barring the institutional discount factor on bulk purchases.
About Us :
The Institute of General Studies for Children (IGSC) is conducting Scholarship Examinations for schoolchildren since the year 1993. It is a nonprofit venture promoted by a group of elite educationalists.
More than 60,000 school children from all over India had been bestowed with scholarships, medals and useful books during the last 21years of its fruitful existence. Other activities of IGSC include seminars, study tours, literary and painting competitions to create environmental concern and ecological awareness in school children.
Contact Us :
Institute of General Studies for Children
KEWF Building
T.D. Road, Ernakulam, Kerala
Telephone – 0484 2355312
Email – info [AT] igscscholarship.org