GEMS Genius Scholarship 2018 : gemspublicschool-patiala.com
Organization : GEMS Public School – Patiala
Scholarship Name : Genius Scholarship 2018
Applicable States : Punjab
Applicable For : Pre KG to Grade 8
Applicable Deadline : 15th July 2018
Website : http://www.gemspublicschool-patiala.com/admissions/genius-scholarship/
You can now ask your question on this scholarship.
Ask here
(OR) Go to the bottom of this page for comments.
GEMS Genius Scholarship
GEMS Public School invites Genius scholarship Applications for the year 2018. A scholarship programme designed to provide boundless opportunities to students with a proven track record.
Related : IMS India NST National Scholarship Test For CAT 2019 : www.scholarships.net.in/24817.html
How to Apply?
Just follow the below steps to apply for the GEMS Genius Scholarship 2018.
Steps :
Step 1 : Go to the official website of GEMS Public School, Patiala through the URL http://www.gemspublicschool-patiala.com/
Step 2 : Then Click Admission tab in the Menu bar and Select GEMS Genius Scholarship.

Step 3 : After that, fill the Registration form with the following details and Click Submit button
** Enter your Student's Name [Aniruth S]
** Enter your Father's Name [Shyam S]
** Enter your Mother's Name [Meena S]
** Enter your Contact Number [9876543210]
** Enter your Email id [ani@gmail.com]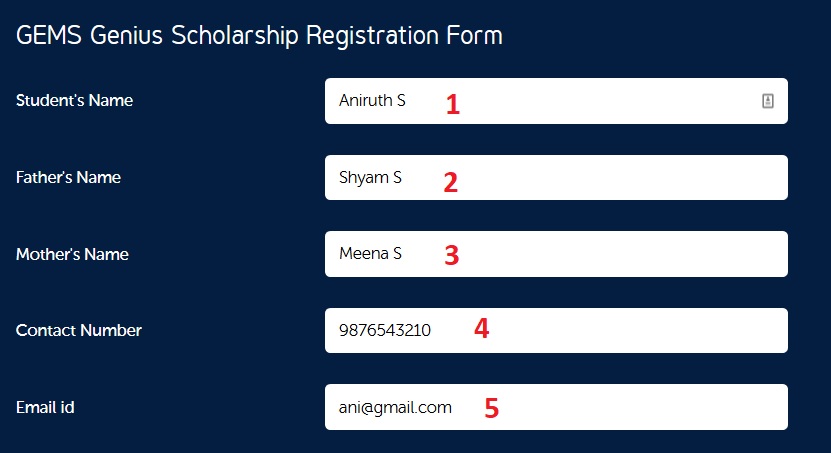 ** Enter your Complete Address [111A, Near Patiala head post office, Fountain Chowk, Patiala, Punjab]
** Select GEMS Genius Scholarship Category [Academics]
** Enter your Achievement in respective category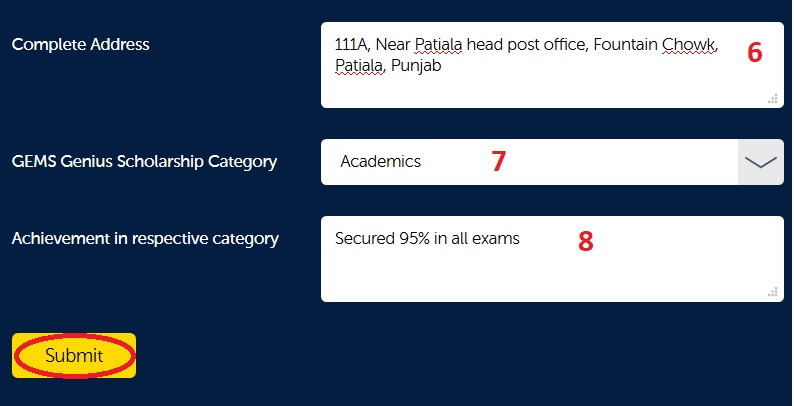 Step 4 : After complete your Registration you will receive a confirmation message.
Admissions Process
We aim to make the admissions process here at GEMS Public School, Patiala, as simple, straightforward and stress-free as possible. Every prospective GEMS student is admitted in line with the GEMS admission policy.
Which is the right grade for your child?
1. Pre-KG : 2 years 6 months old as of 31st of March
2. KG 1 : 3 years 6 months old as of 31st of March.
3. KG 2 : 4 years 6 months old as of 31st of March.
4. Grade 1 : 5 years 6 months old as of 31st of March
Registration Steps
Step 1 : Go to our online registration page to complete our Enquiry Form. If you require any additional guidance, please don't hesitate to contact us.

Step 2 : Once you have completed the online application form, you will receive an email detailing the next steps in the admissions process.
Step 3 : There is a one-off registration fee, details of which will be provided in the email. This fee covers the cost of administering your application.
Note : a completed application submission does not guarantee your child a place at our school.
Step 4 : Once steps 1-3 have been completed, you will then be contacted by the school registrar to arrange a convenient time to meet a member of our senior leadership team.
About Us :
A proposed CBSE curriculum based school stretched across a 4 acre lush green campus and providing world class education from Pre KG to Grade 8 (Proposed Pre KG to Grade 12). The students here are mentored and nurtured by caring, self-motivated and highly trained teachers.
The school offers a curriculum that gives your child value-led education, a highly stimulated learning environment and the best of International practices.
Contact Us :
GEMS Public School – Patiala
Chaura Sanour Road,
Behind Urban Estate Phase-1,
Patiala, Punjab 147 002, India