Lila Poonawalla Foundation Scholarship For UG Girls Pune 2019 : lilapoonawallafoundation.com
Organisation : Lila Poonawalla Foundation
Scholarship Name : Under Graduate Scholarship 2019
Applicable For : Girl Students For Under Graduation Studies
Applicable City : Pune
Website : http://www.lilapoonawallafoundation.com/
Lila Poonawalla Foundation UG Scholarship
Golden Opportunity of Scholarship for Girls who are planning to take admission in any college in Pune District to pursue Graduation.
Related / Similar Scholarship : LPF 2020-2021 Merit-cum-Need Based Scholarship
Eligibility Criteria
** Age Limit below 20 years (Below 21 for Engineering after Diploma)
** Only those who are taking admission in academic year 2019-20 in any College in Pune District can apply.

** Family's total annual income not to be exceed Rs. 3,50,000/- per annum. For Science category the total annual income not to be exceed Rs. 2,00,000/- per annum
** Candidate should have secured minimum 70% marks in 10th & 12th standard . B.Sc Nursing Candidates should have secured minimum 60% marks in 10th& 12th standard
Applicable Streams
** Science (B. Sc. 3 year course- after 12th) (Animation, Biochemistry, Computer Application, Computer Science, Chemistry, Mathematics, Microbiology, Physics and Statistics)
** B Pharmacy (4 year course-after 12th)
** Engineering (4 year course- after 12th)
** Engineering after Diploma (3 year course)
** Nursing (B. Sc. Nursing (4 year course)
How to Apply?
Those candidates who are suitable under above criteria are eligible to apply. Just follow the below steps to apply for the Lila Poonawalla Foundation Scholarships
Apply Online :
https://www.lpfscholarship.com/lpfonlineapp/
Steps :
Step 1 : Go to the official website provided above.
Step 2 : Then Click on the Lila Girls Undergraduate Scholarships link in the home page.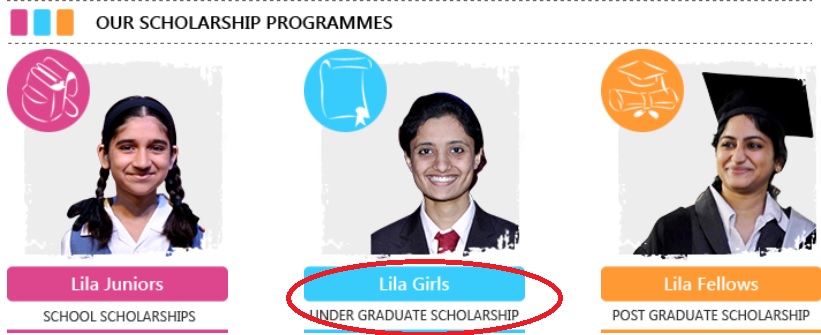 Step 3 : Fill the Application form with the required fields and upload necessary documents.
Step 4 : Finally click on the Submit button
Step 5 : Fill your application online & submit the hard copy of the form along with required documents at LPF Office.
Address :
Lila Poonawalla Foundation,
'Fili Villa' 101, 102.
Survey No. 23, Balewadi,
Baner, Pune.
Note : Online Application Forms will be available from 15th July 2019.
Notification :
https://www.scholarships.net.in/uploads/pdf2019/24747-Advt.pdf
Scholarship Details
The Under Graduate Scholarships were introduced by the Lila Poonawalla Foundation in 2010, i.e. in the 15th year, for girls wishing to pursue Bachelors in Engineering, with the aim of supporting them through all the four years of their education.
In the 20th year, LPF broke its record and awarded total 1190 scholarship in a year to the girls from Pune, Amravati, Wardha districts and 1713 scholarships in its 21st Year. Till date, a total of 11242 scholarships have been given, to 4686 deserving girls.
Note :
1. LPF have stopped giving Overseas scholarships
2. LPF have closed Diploma scholarships
Scholarship Amount
Amt. Sanction Based On Need & Merit Will Be Reimbursed Against Authorized Receipts as follows
** Engineering – 60,000/-
** Science – 50,000/-
** Bsc Nursing – 1,00,000/-
** Engineering After Diploma – 60,000/-
** B. Pharmacy – 75000/-
Selection Process
** The scholarship amount will be decided on merit, need and performance in interview but will not exceed Rs. 60,000/- per year.
** The scholarship is for a period of three academic years and is subject to the candidate passing in all subjects and securing a minimum overall score of 60% marks each academic year in the same college.
For each subsequent year, the candidate will have to submit the University / College mark sheet for verification before raising the claim.
** It is mandatory to attend minimum three training workshops per year arranged by the Foundation and the continuation of the scholarship will depend on the same.
Contact Us
If you have any query please contact the following person,
Ms. Asmita Shinde/ Ms Shweta Ghare
Tel Nos.: 020 – 27224264 / 27224265
Mobile: 9766728535 / 7057985665
E-mail ID: asmita [AT] lilapoonawallafoundation.com/ shweta [AT] lilapoonawallafoundation.com
Address :
Lila Poonawalla Foundation
Fili Villa ', 101/102, Survey No. 23, Balewadi,
Nr. D –Mart, Baner Pune – 411 045