Magma Fincorp M-Scholar Scholarships For 100 Undergraduate Students 2018
Organisation : Magma Fincorp Ltd
Scholarship Name : Scholarships For 100 Undergraduate Students 2018
Applicable For : Class 12th Passed Students
Website : https://magma.co.in/about-us/activities/csr-activities/m-scholarship-magma-fincorp/
You can now ask your question on this scholarship.
Ask here
(OR) Go to the bottom of this page for comments.
Magma Fincorp M-Scholarship
Magma Fincorp Ltd has doubled the number of scholarships this year and will offer 100 scholarships across the country in FY18.
Related : Panasonic Ratti Chhatr Scholarship 2018-19 : www.scholarships.net.in/24587.html

About Scholarship
Each year many meritorious students from financially poor families are forced to discontinue their higher education due to lack of funds.
Magma Fincorp believes in "Investing in smallest dreams" and demonstrating the same in real life. We at Magma have decided to financial assist 100 (from 2018 onwards) meritorious students from poor families under the newly launched Program "M-scholar"
"M-scholar" ship is being offered to them since July 2015, for their undergraduate studies. The three year scholarship is renewable every year on confirmation of grades in the annual exam. We believe that scholarship will meet a part of the students education and related expenses while pursuing undergraduate studies.
Who Can Apply?
** Students who have scored a minimum of 80% in their class XII board exams are eligible for the scholarship.
** All Indian nationals are eligible for the scholarship
Conditions:
** Maximum age of the applicant on 15th Aug – 20 Years
** Applicant should have secured minimum of 80% marks in school passing out board exam ( Class XII ) in their respective state boards or CBSE, KV, ISC.
** Students from families having monthly household income less than INR 10,000 are eligible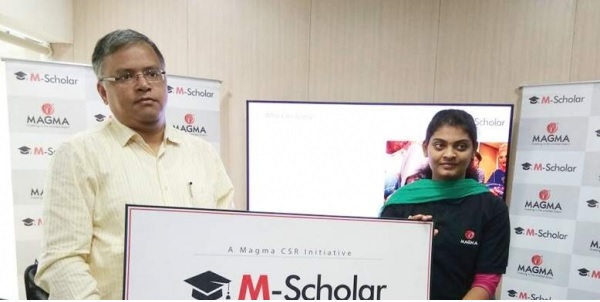 How To Apply?
To apply for the scheme , one can apply for the scholarship by mailing us the details at csr@magma.co.in or if you know any student who qualifies for scholarship, one can write to us at csr@magma.co.in
Documents Required
The list of documents are application letter seeking to be enrolled into the scheme, attested photocopy of the Class XII marksheet, two passport photographs, ag, address and identity proof, parent income certificate, college admission proof, bank account details, character certificate from school.
Magma Hunger Free Education :
An empty stomach can make a person lose his/her cattle. Similarly, it would be difficult for kids to grasp classroom lessons with an empty belly.
Hence to deal with the issue, Magma joins hands with Annamrita, an initiative from Govt. of India and ISKCON Food Relief Foundation to provide hygienically cooked, balanced, nutritious wholesome food for children in selected municipal and government aided schools which addresses the issue of Classroom Hunger.
About Magma Fincorp :
Since inception in 1988, we've been driven by a single, purposeful goal- of "investing in the smallest dream". During the past 28 years, we have serviced over one million customers and helped them evolve.
At Magma, we offer a bouquet of financial products to our customers through our 297 branches speared across 22 states. Our energetic team of 8800 Magmaites are always looking to support you as a friendly financier and guide.