sw.kar.nic.in 2018-19 SC/ST Financial Assistance For Foreign Studies : Karnataka Social Welfare
Organisation : Karnataka Department of Social Welfare
Scholarship Name : SC/ST Financial Assistance For Foreign Studies 2018-19
Applicable For : SC/ST Candidates
Applicable State : Karnataka
Application Last Date : 09-07-2018
Website : http://www.sw.kar.nic.in/Index.aspx
You can now ask your question on this scholarship.
Ask here
(OR) Go to the bottom of this page for comments.
SW Karnataka SC/ST Financial Assistance
Applications are invited online for the sanction of financial assistance to SC/ST candidates who are the aspirants of pursuing higher education in Foreign Universities, for the year 2018-19.
Eligibility
i) Income Limit : Candidate's total family income from all sources should not exceed Rs. 10.00 lakhs per annum.
ii) Age limit : 35 years, as on application date.

iii) Educational Qualification : Minimum of I class (60%) in qualifying degree
iv) If the candidate has already been selected & sanctioned scholarship under this scheme, such candidate is not eligible to apply again.
How to Apply?
Just follow the below steps to Apply for the SC/ST Financial Assistance For Foreign Studies 2018-19.
Step 1 : Go to the official website of Karnataka Department of Social Welfare provided above and Click Online Registration of Foreign Studies 2018-19 link under News and Events section.

Step 2 : It will redirect to the following page. Click Online Application link in that page.

Step 3 : Select Have you availed any schemes from Pre-Examination Training Centre, S.W.D. Bengaluru [Yes/No]

Step 4 : Next, Read the Instructions Carefully and Tick 'I Accept' check box and Click on the Submit button.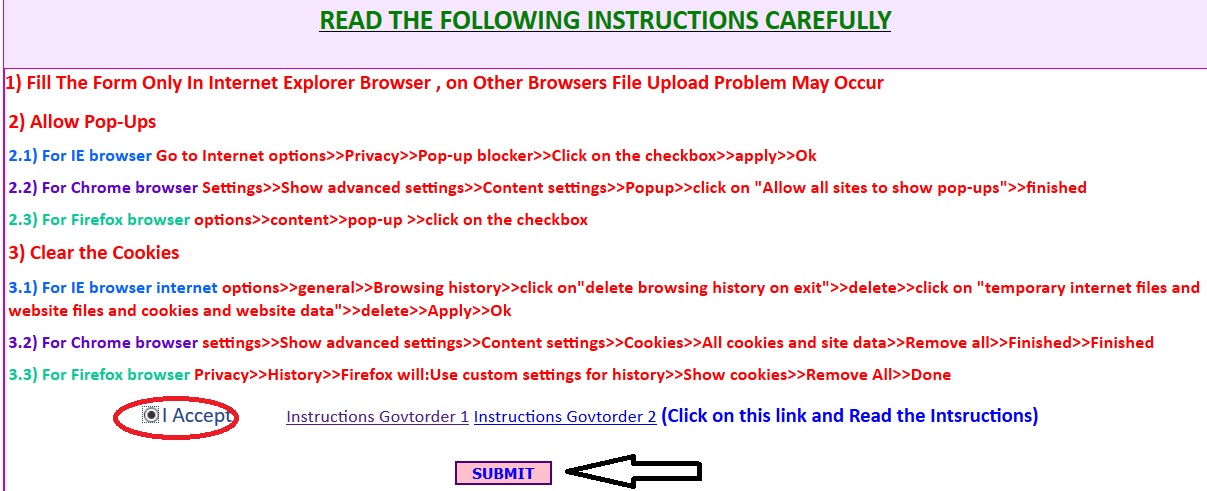 Step 5 : Enter the following details for Aadhar Confirmation and Click Next button.
i. Enter your Aadhar Number [464512349876]
ii. Enter the Aadhar Applicant Name* [Raja]
iii. Select your Gender * [Male/Female/Transgender]
iv. Enter the Text Displayed in the Captcha

Reprint Acknowledgement
Follow the below steps to re-download the Acknowledgement.
Steps :
Step 1 : Go to the following link [http://web3.kar.nic.in/foreignstudies/WebPages/Login_Ack_Reprint.aspx]
Step-2 : Enter your Registration Number in the space provided. [11111111]
Step-3 : Enter your Date of Birth in the format (DD/MM/YYYY)
Step-4 : Click the 'Reprint' button.

Selection Procedure
The selection of eligible candidates is made by the Selection Committee under the chairmanship of Principal Secretary to Government, Social Welfare Department, Government of Karnataka; on a first cum first serve basis and Subject to Submission of all relevant records. The Committee decision is final.
The candidates have to present their original documents along with VISA for verification, when ever called by the concerned authorities or the Selection Committee.
Last Date
Last Date for Online Application is 09/07/2018 17:30 PM
About Us :
The Constitution of India provides certain special Constitutional safeguards for the welfare of Scheduled Castes and Scheduled Tribes and other weaker sections of the population, so that they could take their rightful place in community.
As citizens of the Republic of India, they are fully entitled to certain rights and privileges, which were denied to them in the past on the ground of Caste system and the practice of Untouchability.
Contact/Helpdesk
Helpline Timings – 10:30 am To 5:30 pm
Land-Line Number – 080-22207784, 080-22340956
E-mail : helpswkar [AT] gmail.com