AICTE 2018-19 J&K PMSSS Provisional Allotment Round 1 : PM's Special Scholarship Scheme Jammu & Kashmir
Organisation : All India Council For Technical Education
Announcement : PMSSS 2018-19 Provisional Allotment Round1 (counselling )
Scholarship Name : Prime Minister's Special Scholarship Scheme
Applicable For : Students of Jammu & Kashmir
Applicable State : Jammu & Kashmir
Website : https://www.aicte-india.org/bureaus/jk/2018-2019
You can ask questions or answer questions about this scholarship.
Please go to the bottom of this page.
AICTE PMSSS Provisional Allotment Round 1
Prime Minister's Special Scholarship Scheme- 2018-19 Provisional Allotment List for Round 1. The admission of the candidate is provisional and will be confirmed after the fulfilment of the specific eligibility criteria for the course.
Related / Similar Post : PMSSS JK Round 2 Provisional Allotment 2018-19
The centralized counselling is carried out for a maximum of 02 supernumerary seats/course created by University Grant Commission (UGC) in Colleges and Universities with a limit of 02 seats per department;
Update : Round 3 Provisional Allotment
https://www.scholarships.net.in/uploads/pdf2018/24964-Round3.pdf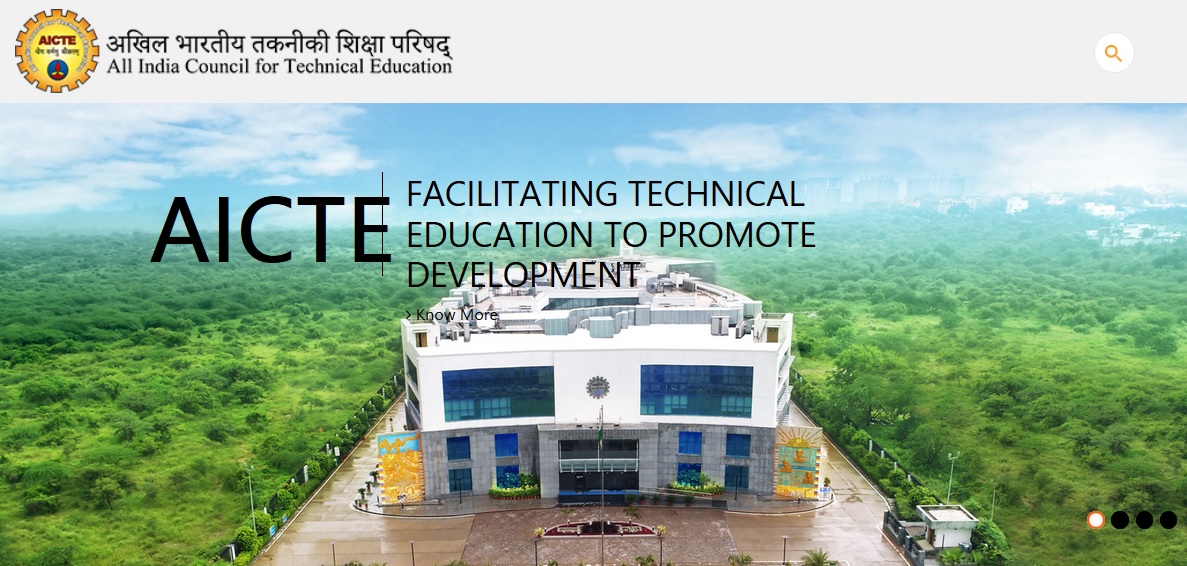 10 supernumerary seats created by AICTE in Engineering Colleges (maximum of 02 seats per course/ division); 03 supernumerary seats in Nursing Colleges; 02 supernumerary seats each in Pharmacy, Hotel Management, Agriculture and Architecture Colleges (subject to clearance of NATA).
Seat Allotted Candidates should send their consent through online and should report physically to the Institute by 25th July, 2018 with all original documents, failing which his / her admission shall be cancelled automatically and his/her seat will be given to other candidate in final round of counselling.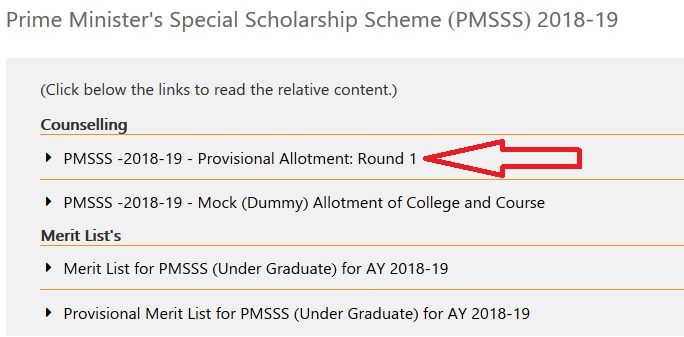 How to Upload Joining Report?
Candidate should upload the joining report immediately after giving the confirmation on allotted seat, as per the prescribed format through his/her login.
Joining Report Format :
https://www.scholarships.net.in/uploads/pdf2018/24355-JR.pdf
Candidate who failed to upload their joining report on the AICTE PMSSS portal on or before the last date specified for joining, their seats under the scheme will be cancelled automatically and will be allotted to the eligible candidates in the next/subsequent rounds of counselling.
Note :
Institution should not collect any academic fee from the allotted (admitted) candidate as the same will be directly reimbursed to the Bank Account of Institution after submitting online claim.
Download Allotment List
Step 1 : Visit the official website of All India Council For Technical Education through the URL https://www.aicte-india.org/
Step 2 : Then, Select the 'PMSSS -2018-19 – Provisional Allotment Round 1' link under the Announcement section.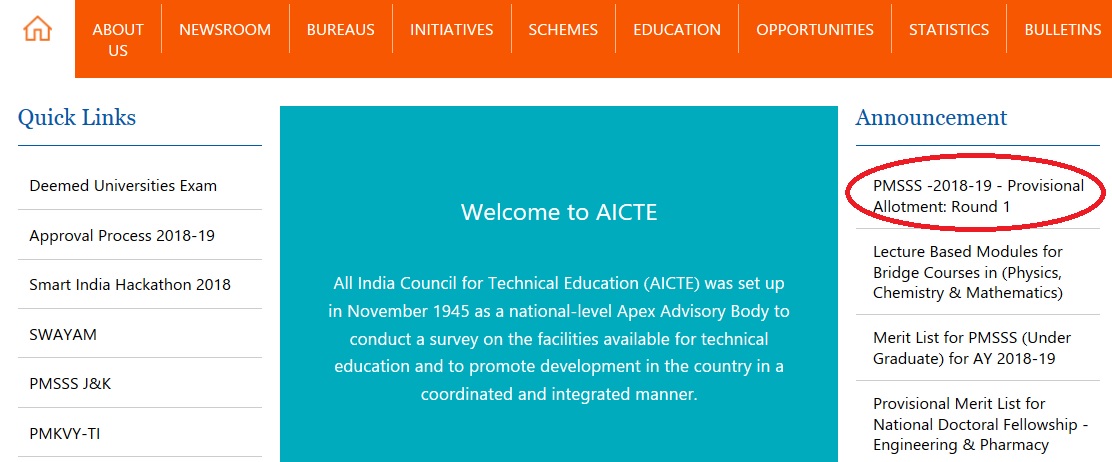 Step 3 : The Allotment list will be opened in a PDF format. Download the PDF file to check the allotment details.

Or you can directly download it from below mentioned link.
PMSSS Provisional Allotment :
https://www.scholarships.net.in/uploads/pdf2018/24355-Final.pdf
The PDF Files contains the following details,
** Student ID
** Rank
** Name of the Candidate
** Physically Disabled
** Category
** Stream
** College Id
** Course
** College Name
** State
** District
** College type
** Allotment Category
Seat Allocation Events
1. Round 1 Online Counseling By AICTE (Seat Allotment) – 22nd June 2018
2. Confirmation from the Candidate against the Seat Allocation (Freeze/Participating/Choice Filling in the next round of Counseling) – Till 2nd July 2018
Instruction :
https://www.scholarships.net.in/uploads/pdf2018/24355-Instrn.pdf
3. Second Round seat allocation for the vacant seats – Till 5th July 2018
4. Reporting of the students to the allotted Institutes and uploading of joining report by the student – Upto 25th July 2018
Merit Cut-Off
| | | |
| --- | --- | --- |
| Category | General | Professional |
| Open (OP) | 7310 | 2864 |
| Physically Disabled | 6876 | 13903 |
| Scheduled Caste (SC) | 12885 | 5939 |
| Scheduled Tribe (ST) | 13988 | 9673 |
| SEBC | 14064 | 6941 |
Allotted Candidates List
Student ID
Rank
Name of the Candidate
College Name
Course
Allotment Category

2018280573
1
SYED TABINDAH JAVEED
MANIPAL INSTITUTE OF TECHNOLOGY
BIOMEDICAL ENGINEERING
Open
2018164622
2
SABIYA SYEED
ATMA RAM SANATAN DHARMA COLLEGE
B.Sc. (Hons.) Physics
Open
2018158276
3
AAQIB YOUSOUF GANIE
R.V. COLLEGE OF ENGINEERING
CIVIL ENGINEERING
Open
2018159379
4
MALIK MAHAK NISAR
R R BAWA DAV COLLEGE FOR GIRLS
B.Sc. (Medical)
Open
2018174104
5
FARHAAN MAJIED
DELHI COLLEGE OF ENGINEERING
CIVIL ENGINEERING
Open
2018016576
6
JANVI GUPTA
MIRANDA HOUSE
B.A. (Hons.) Political Science
Open
2018018007
7
ARYAN GUPTA
DELHI COLLEGE OF ENGINEERING
COMPUTER ENGINEERING
Open
2018163344
8
BURHAN MEHRAJ
DELHI COLLEGE OF ENGINEERING
COMPUTER ENGINEERING
Open
2018174999
9
JALEES JAHANZAIB
INTERNATIONAL INSTITUTE OF INFORMATION TECHNOLOGY
COMPUTER SCIENCE & ENGINEERING
Open
2018281609
10
GARIMA SHARMA
MIRANDA HOUSE
B.A. (Hons.) Geography
Open
2018018346
11
MANIK VERMA
DELHI COLLEGE OF ENGINEERING
MECHANICAL ENGINEERING
Open
2018142157
12
DURDANAH MASOODI
LADY SHRI RAM COLLEGE FOR WOMEN
B.A
Open
2018163368
13
MUNEEB MEHRAJ GANAI
DELHI COLLEGE OF ENGINEERING
CIVIL ENGINEERING
Open
2018266845
14
NIBHAN IRSHAD
DAULAT RAM COLLEGE
B.Sc. (Hons) Bio-

Chemistry

Open
2018158929
15
MOHAMMAD YAMIN BHAT
DELHI COLLEGE OF ENGINEERING
COMPUTER ENGINEERING
Open
2018159375
17
NIDA
LADY SHRI RAM COLLEGE FOR WOMEN
B.A. (Hons.) English
Open
2018163388
18
SYED TAQWA KIRMANI
INTERNATIONAL INSTITUTE OF

INFORMATION TECHNOLOGY

ELECTRONICS &

COMMUNICATION

ENGG

Open
2018172071
19
SAKIRA SHOWKAT BHAT
Tamil Nadu Veterinary and Animal Sciences University, Chennai
B.V. Sc.& AH
Open
2018174055
20
MOHSIN MAMOON HAFIZ
INTERNATIONAL INSTITUTE OF INFORMATION TECHNOLOGY
COMPUTER SCIENCE & ENGINEERING
Open
2018018400
21
AKHILESH MAHAJAN
COLLEGE OF ENGINEERING
COMPUTER

ENGINEERING

Open
2018017631
22
AAYUSH SHARMA
HINDU COLLEGE
B.Sc. (Hons.) Mathematics
Open
2018019248
23
SAYAM GUPTA
SRI VENKATESWARA COLLEGE
B.A. (Hons.) Political

Science

Open
2018285132
24
GAZALPREET KOUR
HANS RAJ MAHILA MAHAVIDYALAYA
B.A
Open
2018015148
25
SHAGUN MAHAJAN
LAJPAT RAI DAV COLLEGE
B.A
Open
2018066635
26
AARYAN MAHAJAN
SRI RAM COLLEGE OF COMMERCE
B.Com (Hons.)
Open
Important Dates
1. Round 1 online Counselling Seat Allotment Result – 22 June 2018
2. Second Round seat allocation for the vacant seats – 05 July 2018
3. Last Date of Joining for students under PMSSS in allotted college – Till 25 July 2018
Helpline
** Helpline Number:0120-2446701(09:30 am-05:30 pm Monday to Saturday)
** For PMSSS-2018-19 email: jkadmission2018 [AT] aicte-india.org
** For Technical Support (PMSSS Portal) email: helpdesk1 [AT] aicte-india.org