Tiara Foundation 2018-19 Special Grant : tiarafoundation.com
Organization : Tiara Charitable Foundation
Scholarship Name : Tiara Special Grant 2018-19
Applicable For : Indian Students, resident in India
Application Last Date : 15 July 2018
Website : https://www.tiarafoundation.com/tiara-special-grant
Tiara Special Grant
Tiara Special Grant Applications for the 2018-19 academic session is now OPEN. The Foundation hopes to award this grant to those who have the potential to be of consequence to others around them in later years.
Related / Similar Scholarship : Tiara Foundation Special Grant 2020-21
The Tiara Special Grant is a one-time Grant for students who already have an offer of a place in a University overseas for Post Graduate Studies, with a scholarship/fee waiver and teaching assistant-ship to finance their study.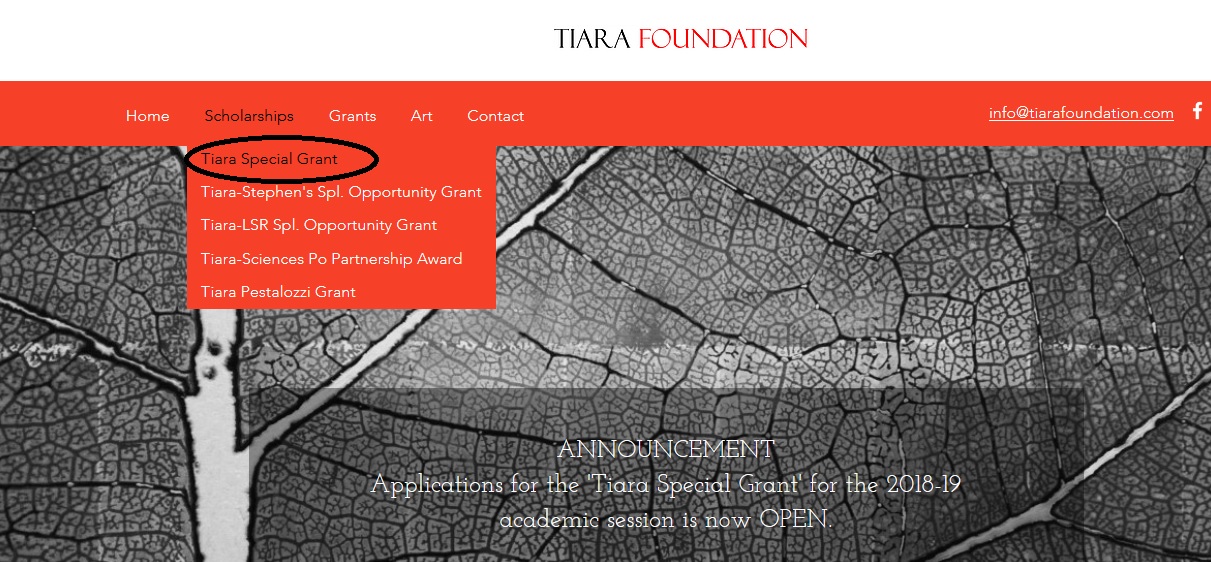 Eligibility Criteria
** Consistent academic record with a first class in the Sciences and in Economics and at least 55% in Humanities.
** You should be an Indian citizen, resident in India.
** Not more than 25 years of age.
** You must have an acceptance letter from a reputed University overseas for a Graduate Studies Programme with full financial support which can be in the form of committed Teaching / Research Assistantships and/Waiver of Tuition.
** You need to be proficient in English and at least one Indian language.
** Excellence in non-trivial extra-curricular activities
Documents Required
Please download the application form/checklist and send it to tiaraeducation [AT] gmail.com along with scanned copies of documents required.

You need to submit the following with your application
1. A brief single page resume.
2. Two (2) recommendations from members of faculty.
3. Transcripts of marks.
4. A short (one page) statement of purpose written in your own words.
5. Evidence of full financial support.
6. A passport sized photograph.
7. Evidence of excellence in non-trivial extra-curricular activities.
8. An offer letter from the University where you have got admission for Post Graduate study in the academic year 2018-19.
Download Application Form Here :
https://www.scholarships.net.in/uploads/pdf2018/24336-TSG.doc
Application Procedure
Step 1 : Email Application Form along with the above documents by 15 July 2018. Candidates bound for colleges in U.K. can submit their applications by 31 July 2018.

Step 2 : Documents submitted will be verified with the concerned authority or board.
Step 3 : Credentials will be evaluated and based on that the applicants will be shortlisted and notified.
Step 4 : The final short listed candidates will be be invited for a personal interview with the Scholarship Committee.
Step 5 : The final short listed candidates will be reimbursed 3 Tier AC Train fares if travelling from out of New Delhi on submission of a copy of the ticket.
Step 6 : The Scholarship Committee will notify successful candidates.
Step 7 : The Scholarship amount will be wired to the candidates' newly opened accounts abroad once they have joined their respective Universities.
Scholarship Award Amount : US$ 3500 for U.S. and £ 2200 for U.K. colleges.
Please Note :
1. Only students with an offer from a reputed University with full scholarship, will be considered for this Special Grant.
2. All relevant documents must be in low resolution but in legible PDF and attached with the application