andhrabrahmin.ap.gov.in 2019-20 Veda Vyasa Scheme For Vedic Education : Andhra Pradesh Brahmin
Organization : Andhra Pradesh Brahmin Welfare Corporation (ABC) Limited
Scholarship Name : Veda Vyasa Scheme For Vedic Education 2019-20
Applicable For : Students Pursuing Smartham/ Vedam in Enlisted Vedic Schools
Applicable State : Andhra Pradesh
Registration Last Date : 20-03-2020
Website : http://www.andhrabrahmin.ap.gov.in/schemes/schemes.aspx
You can now ask your question on this scholarship.
Ask here
(OR) Go to the bottom of this page for comments.
Andhra Brahmin Veda Vyasa Scheme
Andhra Pradesh Brahmin Welfare Corporation (ABC) is introducing "Veda Vyasa Scheme for Vedic Education", in order to encourage Vedic Education, in Andhra Pradesh.
Under this scheme, selected applicants shall be provided monthly financial assistance, through the prescribed process.
Objective :
To encourage Vedic Education in Brahmin Community of Andhra Pradesh.
Scope :
This scheme is applicable for students of Brahmin community who are pursuing full time Vedic Education (Yajur Veda, Rig Veda, Sama Veda or Smartham)
Eligibility
** The student and his/her parents should belong to Brahmin community and parents should reside in Andhra Pradesh.
** Should be pursuing a full time Vedic course (Yajur Veda, Rig Veda, Sama Veda or Smartham) in any Private Veda Patasala registered with Tirumala Tirupati Devasthanams (TTD) or Endowments Department of Andhra Pradesh.
** However, if the lodging and boarding expenses are fully paid by TTD / Endowments Department, those students will not be eligible under this scheme for any financial assistance.
Scheme Guidelines :
https://www.scholarships.net.in/uploads/pdf2019/24049-GL.pdf
Financial Assistance
Detailed Course wise Financial Assistance and eligibility criteria is provided below:

Application Procedure
Eligible Vedic students shall fill their applications online (www.andhrabrahmin.ap.gov.in) only in the prescribed format.
Steps:
Step-1 : Go to the below link
Apply Online :
http://push147.sps.ap.gov.in/abwc/schemes/ved_reg.aspx
Step-2 : Click on the 'Registration' link.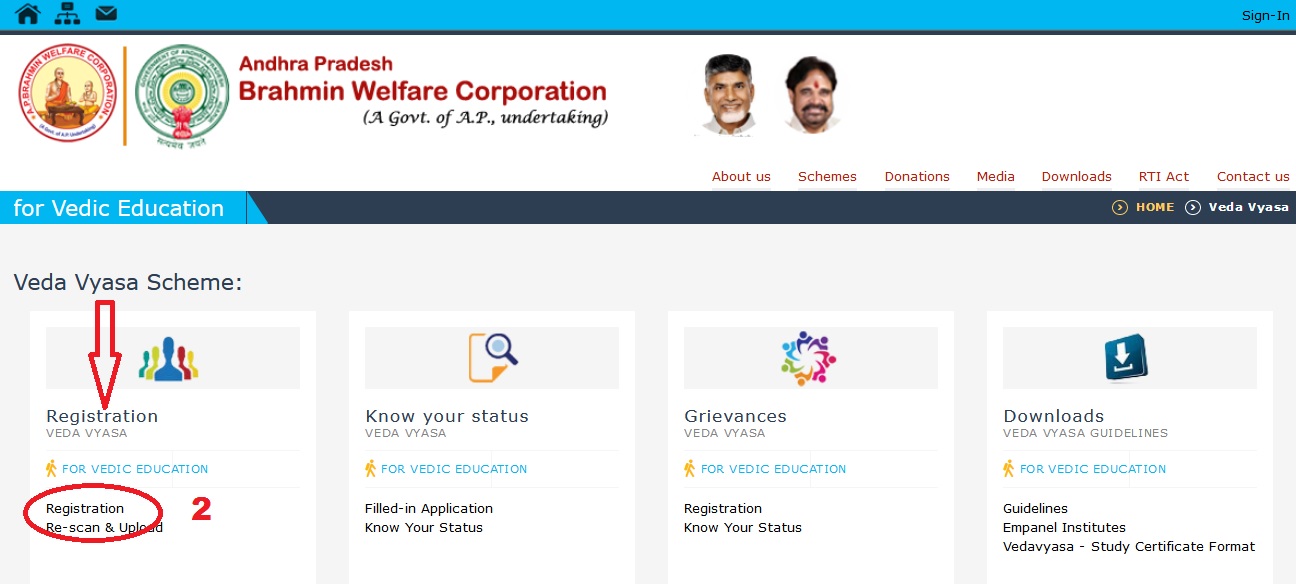 Step-3 : Fill the online form with required details.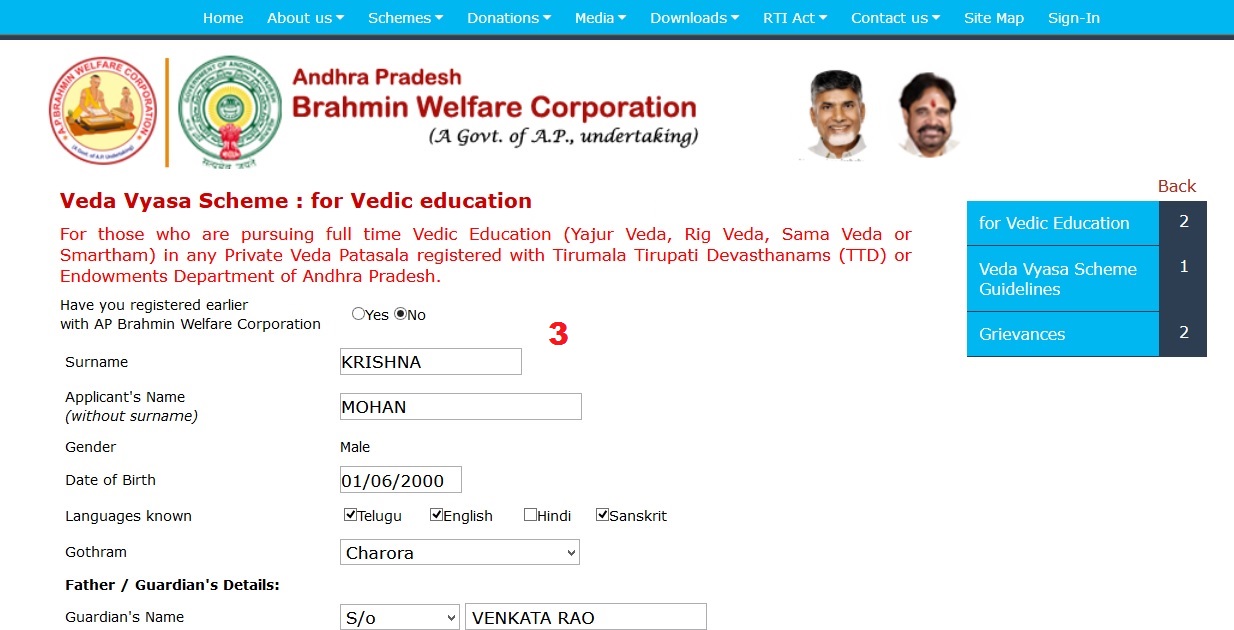 Step-4 : Upload the scanned copy of documents and submit the button.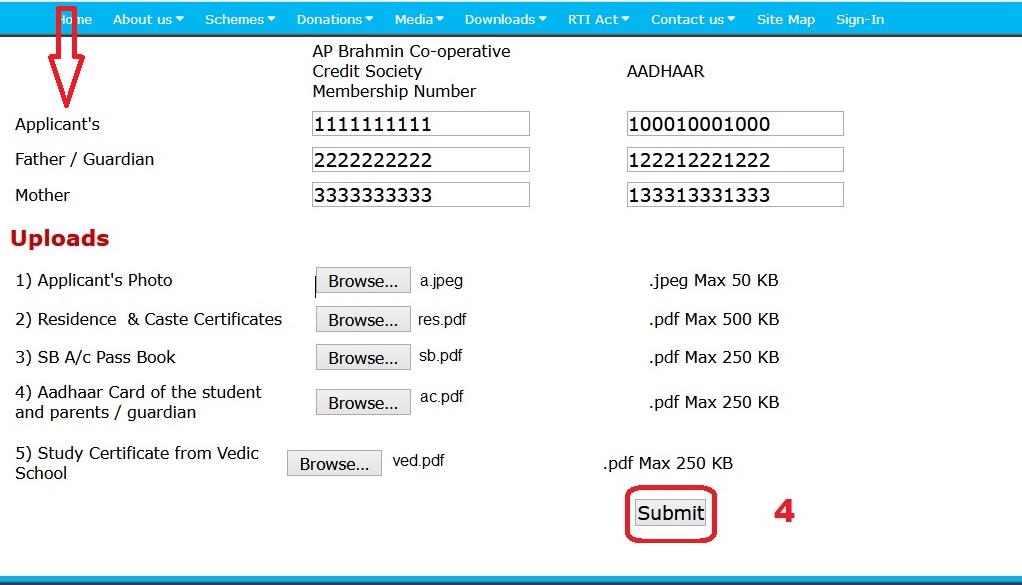 Documents Required
Applicant should upload the scanned copies (in pdf of maximum 250 kb size each) of the following documents
** Aadhar Cards of student and parent / guardian in one pdf file.
** Caste certificate issued by the competent authority in the name of the student, in one pdf file.
** Bank Account Pass book in the name of the student (should be in Andhra bank or SBI)
** Passport size photograph (in jpeg format) of the student
Study Certificate from Vedic School providing the details indicated below:
** Full Name of the Vedic School, where the student is studying, indicating the Regn. No. with TTD / Endowments Dept.
** Full name of the student
** Full name of the parent of the student
** Name of the Course, which the student is pursuing presently
** Month & Year of the start date of the course
** Month & year of the end date of the course
Selection Procedure
** Short-listing and finalisation of applicants shall be done by the State Level Selection Committee (SLSC) of ABC.
** The financial assistance as specified above will be credited online to the SB Accounts of selected students, starting from subsequent month of registration.
** Attendance / Confirmation of continuation of student in the course shall be certified by the Vedic School, once in every three months, i.e., January, April, July and October of every year.
** State Level Selection Committee is authorised to make exceptions in the eligibility / selection process, and their decision will be final.
Contact/Helpdesk
In case of any difficulty contact Toll Free No. 1800 108 3579