jac.jharkhand.gov.in CSS 2018 Renewal Central Sector Scholarship Scheme : Academic Council
Organization : Jharkhand Academic Council
Scholarship Name : CSS Central Sector Scholarship Renewal 2018
Applicable For : College & University Students
Applicable State : Jharkhand
Website : http://jac.jharkhand.gov.in/
You can now ask your question on this scholarship.
Ask here
(OR) Go to the bottom of this page for comments.
JAC Jharkhand CSS Renewal
Renewal Of Scholarship Under The Central Sector Scheme Of Scholarship For College And University Students.
Related : JAC Jharkhand NMMS/NTSE Result 2018 : www.scholarships.net.in/23876.html
The objective of the scheme is to provide financial assistance to the meritorious students, to meet a part of their day-to-day expenses while pursuing higher studies.

Eligibility Criteria
** Students who are above 80th percentile of successful candidates in the relevant stream from a particular Board of Examination in Class XII
** Pursuing regular course
** Having family income of less than Rs.6 lakh per annum
** Not receiving any other scholarship
How to Apply?
Just follow the below steps to Apply for Central Sector Scholarship Renewal 2018.
Step 1 : Go to the official website of Jharkhand Academic Council through the URL provided above.
Step 2 : Then scroll the pages down and download the Central Sector Scholarship renewal form under Recent Announcements section or you can directly download it from below mentioned link.

Step 3 : Please read checklist carefully before filling up the form. Each column should be carefully filled.
CSS Renewal Form :
https://www.scholarships.net.in/uploads/pdf2018/23908-Form.pdf
Step 4 : Fill the following details to complete the Application Form.
1. a. Name of the Candidate (In block letters) – Mention your Name As per Class XII Certificate.
b. Nationality – Mention your Nationality
2 Date of Birth – Date of Birth is to be written in the DD/MM/YYYY format As per Class X Certificate.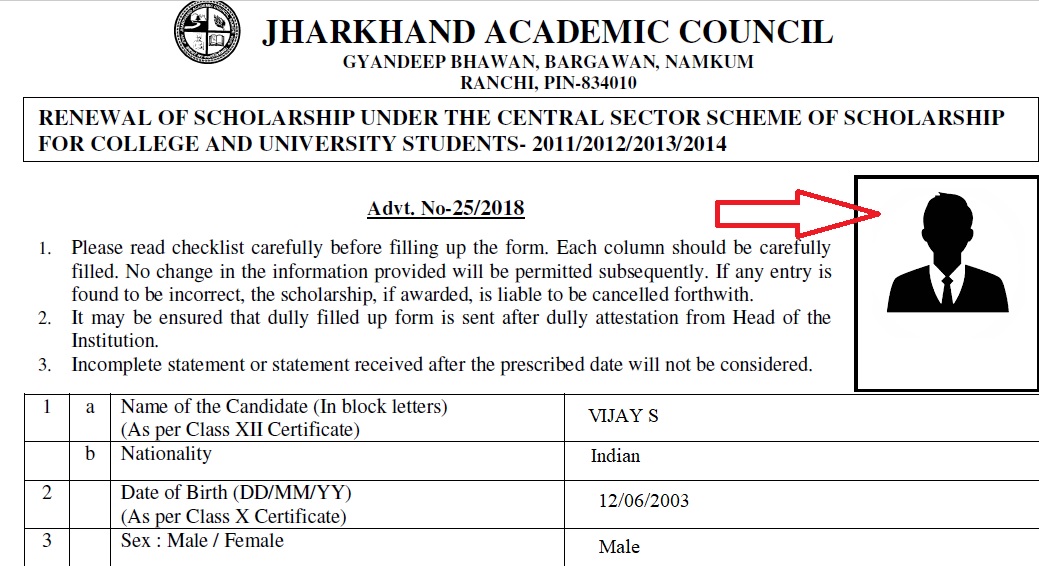 3 Sex : Male / Female
4 a. Category : SC/ST/OBC/General – (If Yes, Pl, attach proof thereof)
b. Are you suffering from any of the disabilities – (PH/HH/OH) YES/NO (If yes, Pl, attach proof thereof)
5 Details of Class XII Examination Passed by the Candidate :
a Name of the Examination passed
b Code & Roll Number (of Intermediate exam'20——-
d Name of the Board which conducted the examination of the candidate (with headquarters.)
e State in which School (from where done XII) was located
f Total aggregate marks obtained in the examination (in First five subjects)
h Percentage of marks obtained in aggregate
6. Fill the Details of Father/Guardian/husband (as the case may be)
7. Mention your Mother Name & Nationality
8. Details for Communication (Present Address for Postal Communication)
9. Fill your Annual Income of Father and Mother
10. Tick Is the candidate in receipt of any other scholarship from state Government or other institution or person? Yes / No
If Yes, particulars should be given including the monthly amount and date from which the scholarship is being drawn.
11. a. Mention your Name and Address of the Institution where admitted for Graduate course
b. Website address of the present Institute (if available)
c. Name of the Course Joined
12. Please tick anyone below as applicable
** My father is directly recruited Class I/Group & Officer.
** My Mother is directly recruited Class I/Group A Officer.
** My father is directly recruited Class II/Group A Officer.
** My Mother is directly recruited Class II/Group & Officer
** My father was promoted to Class I/Gp 'A' officer at age of 40.
** My Mother was promoted to Class I/Gp 'A' officer at age of 40
** One of my parents died/suffers permanent incapacitation
** My father/mother retired from a Group A/Group B post.
** I do not fall in definition of creamy layer as per DOPT OM No. 36033/5/2004-Eatt (Res) Dated 14.10.2004
13. Fill the Particulars of Savings Bank Account
a. Bank account number
b. Name of the Bank and Branch
c. Bank Code Number
d. MICR Code
e. IFSC Code ( photo copy of pass book first page to be attached with the applications
14. Enter your Aadhaar number and Photocopy of Aadhaar card to be attached with the applications.
15. Finally provide your Signature, Place and Date.

Note :
1. No change in the information provided will be permitted subsequently. If any entry is found to be incorrect, the scholarship, if awarded, is liable to be cancelled forthwith.
2. It may be ensured that dully filled up form is sent after dully attestation from Head of the Institution.
3. Incomplete statement or statement received after the prescribed date will not be considered
Rate Of Scholarship
The rate of scholarship is Rs. 10000/- per annum at Graduation level for first three years of College and University courses and Rs. 20000/- per annum at Post-Graduation level. Students pursuing professional courses are paid Rs. 20,000/- per annum in the 4th and 5th year.
Contact Us :
Jharkhand Academic Council, Ranchi
Gyandeep Campus,
Bargawan, Namkum
Ranchi – 834010
Toll Free Number Enquiry – 18003456523