Cybage Khushboo 2018-19 Scholarship Program : cybagekhushboo.org
You can ask questions or answer questions about this scholarship.
Please go to the bottom of this page.
Organisation : Khushboo Charitable Trust, Cybage Software Pvt. Ltd.
Scholarship Name : CybageKhushboo Scholarship Program 2018-19
Applicable For : Class 10, Class 10+2, or Diploma Completed Students
Application Last Date : June 20, 2018.
Apply Here : http://www.cybagekhushboo.org/login
Cybage Khushboo Scholarship Program
CybageKhushboo has been constantly providing financial assistance to economically backward students to pursue their higher education.
CybageKhushboo grants scholarships to students who want to pursue professional courses in Engineering (B.E. and Diploma), BCA, BBA, Architecture, Medicine and related courses such as Pharmacy, Dentistry, Homeopathy, and Physiotherapy.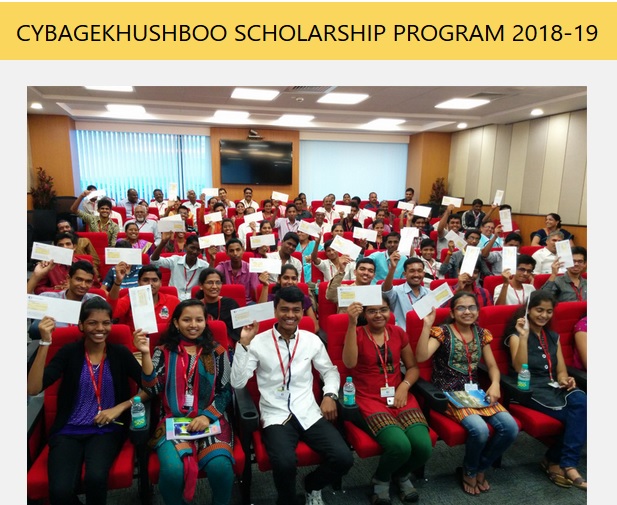 Eligibility Criteria
1. You have scored more than 60% marks in Class 10, Class 10+2, or Diploma final examination.
2. The total income of your family is less than Rs. 3 lakh per annum.
3. You have secured admission or are seeking admission in a government or private institution on the basis of merit and not through capitation.
How to Apply?
It is compulsory for all students to fill the complete form and submit the form online. The Application Form can be easily filled using the following steps.
Step I : Go to the official website of Khushboo Charitable Trust through the URL http://www.cybagekhushboo.org/
Step II : Then scroll the page down and Click 'Get Scholarship' button.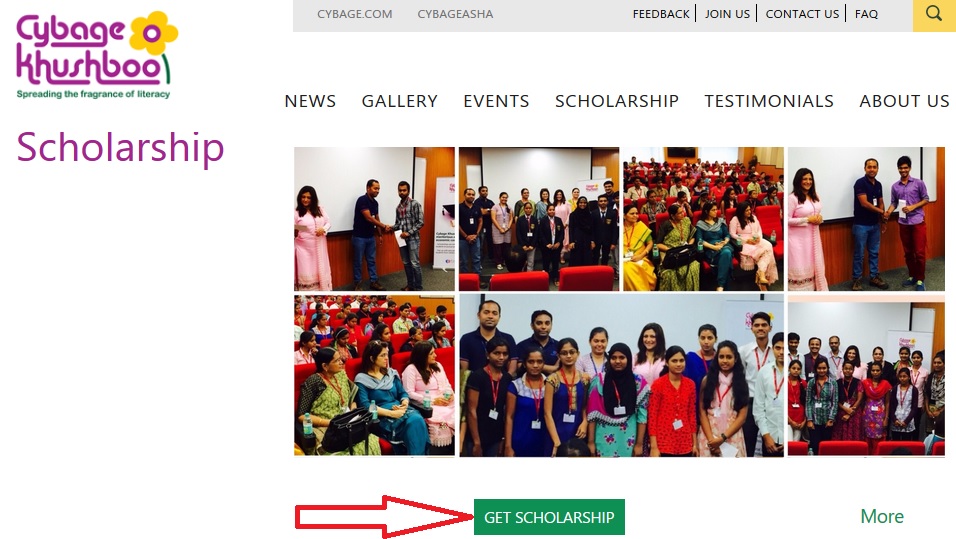 Step III : The Sign Up For Scholarship form opens. Fill the following details for Sign Up
1. Enter your First Name [Ajay]
2. Enter your Last Name [Kumar]
3. Enter your Email Address [ajay123@gmail.com]
4. Enter the Password
5. Enter your Self Mobile No. [ajay123@gmail.com]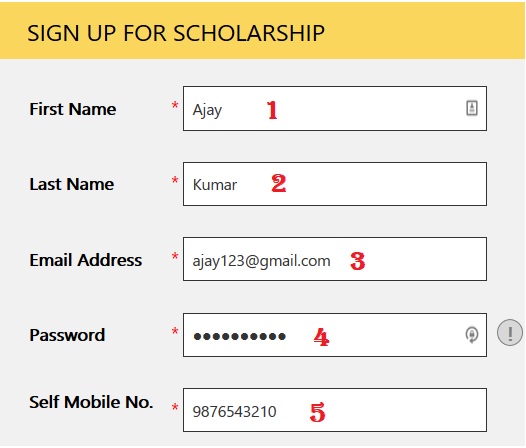 6. Enter your Date Of Birth [21/04/1995]
7. Enter the Captcha Code
8. Tick the check box 'I have read the Student Registration Guide' and Click Sign Up button
Login
Registered User Click the Login button in the Sign Up page and enter your Email Address, Password for Login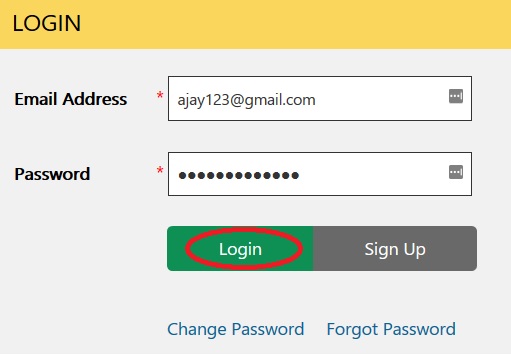 After successful Login student fill the following details to complete your Application Process
** Personal Details
** Educational Details
** Financial Details
** Family Details
** Upload Your Documents
Finally you will get a confirmation message as shown below,

Forgot Password
If you don't remember your password, then enter your Email Address to reset your password.
Documents Required
** One passport-size photograph
** Photocopies of the statements of marks (10th, 11th, 12th, Diploma, F.E. etc.)
** Photocopy of CET/NEET/etc. mark sheet
** Photocopy of school-leaving certificate/Bonafied certificate/10th certificate
** Photocopy of Aadhar Card
** Photocopy of caste certificate/Non-creamy layer
** Photocopy of the documents, which show the income of your family
** Passbook copies of parents
** Photocopy of bank passbook of student.
Selection Process
Process to approve the scholarship to the applicant
** Scrutinizing the forms
** Documents verification
** Applicant's interview
** Home visit
** Assessment of fees
Points to Remember
** The scholarship will be renewed on a yearly basis only.
** The applicant needs to submit mark sheet and fee structure to get the scholarship for next year.
** The scholarship will be discontinued in case the student fails in any subject during the academic year.
** The form should be clearly and completely filled, if the candidate is filling it manually.
Guidelines Here :
https://www.scholarships.net.in/uploads/pdf2018/23809-Guide.pdf
** All the information/questions are mandatory to fill.
** Trust will not consider the form, which is not filled properly.
** In case of failure to submit any documents as requested, the trust will not consider the applicant's form.
Contact Us :
For any query, write an email to us at csr_team [AT] cybage.com/khushboo [AT] cybage.com or contact 7722091231