gokdom.kar.nic.in 2018-19 National Overseas Scholarship : Karnataka Directorate of Minorities
You can ask questions or answer questions about this scholarship.
Please go to the bottom of this page.
Organisation : Karnataka Directorate of Minorities
Scholarship Name : National Overseas Scholarship For Minorities 2018-19
Applicable For : Minority Community Students
Applicable State : Karnataka
Application Last Date : 16-07-2018 (Date Extended)
Website : https://gokdom.kar.nic.in/index_en.asp
GOKDOM National Overseas Scholarship
The state Government providing financial assistance to Minority students of Karnataka State for pursuing higher studies abroad in Master Degree. Ph.D and Post Doctoral Courses etc., in prestigious Foreign Universities.
Update : GOKDOM NOS 2019-20 Batch I Sanction List : www.scholarships.net.in/39310.html
Eligibility
1. For Post Doctoral : Candidates should have scored 60% and above marks or equivalent grade in relevant Master Degree/Ph.d.
2. For Ph.d : Candidates should have scored 60% and above marks or equivalent grade in relevant Master Degree.

3. For Master Degree : Candidates should have scored 60% and above marks or equivalent grade in relevant Bachelor Degree.
4. The student must be a domicile of Karnataka.
5. The student must be below 38 years
Financial Assistance & Income limit
A total Scholarship of Rs.10.00 lakh per annum and a maximum of Rs.20.00 lakh (for 2 years) for the entire course will be sanctioned to the candidates whose total income of the parents should not exceed Rs.6.00 lakhs per annum & between Rs. 6.00 lakhs per annum to Rs 15.00 Lakhs per annum they are eligible for 50% of the Scholarship subject to a maximum of Rs. 5.00 lakhs per annum.
How to Fill Application Form?
Please follow the below steps to apply for the National Overseas Scholarship For Minority Community Students.
Step 1 : Go to the official website of Karnataka Directorate of Minorities provided above.
Step 2 : Then click 'Application for National Overseas Scholarship' link under the 'Latest News' section.
Step 3 : Application Form will be displayed in a PDF Format. Read the instructions carefully and fill the Application Form. You can also directly download the Application Form from below mentioned 'NOS Application 2018-19' PDF.
Step 4 : After that, Fill your Personal Details, Particulars Of Academic / Educational Qualification, Details Of Overseas University and Employment History.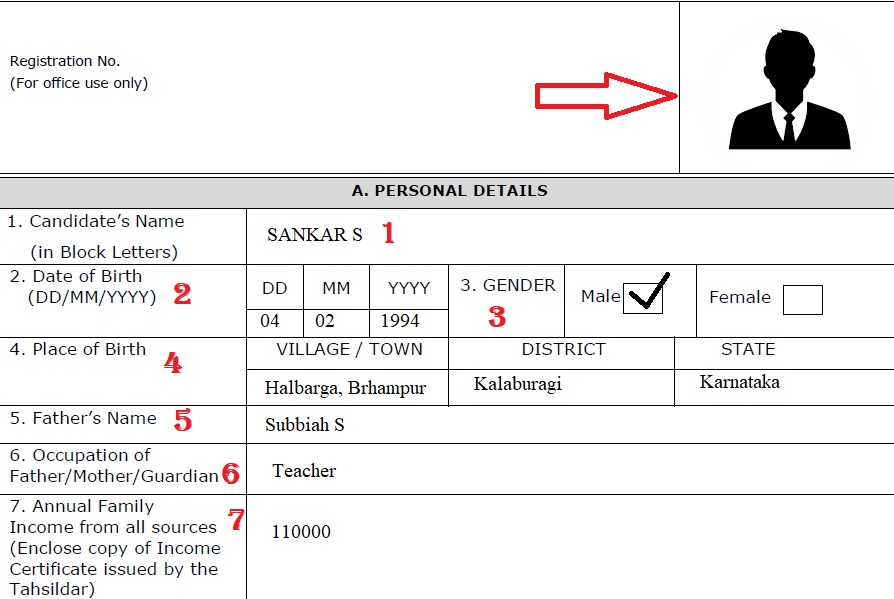 Step 5 : Accept the declaration, Provide your Signature in the Application Form and Sent the Application Form to the following address on or before the last date.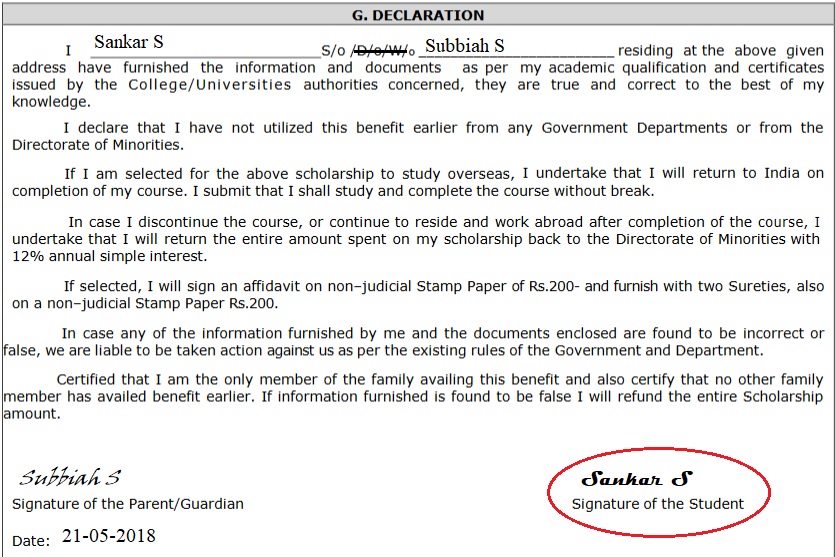 Filled in applications must be sent to
Directorate of Minorities,
20th Floor, V.V.Towers, Vidhana Veedhi Road,
Bangalore – 560001,
NOS Application Form 2018-19 :
https://www.scholarships.net.in/uploads/pdf2018/23535-NOS.pdf
Kindly write "NATIONAL OVERSEAS SCHOLARSHIP FOR MINORITIES 2018-19" on the Envelope before sending it to the Directorate of Minorities, Bangalore-01.
Checklist Of Enclosures
1. Copy of Income and Caste Certificate Issued by the Tahsildar for the current year.
2. Copy of Income Tax Returns (Latest), If your Income Tax Payee.
3. Attested Copy of Degree Certificate (Convocation Certificate).
4. Attested Copies of SSLC Mark Card, I & II PUC Marks Card, All marks cards of entire degree course / Previous examination, all semesters.
5. Attested copy of currently valid Indian passport.
6. Attested copy of visa (if available).
7. Change of University if any by the candidate after counselling by High power Committee will not be considered / entertained and only in Genuine cases with the permission and approval by the Government.
8. Copy of Admission/ offer letter from university/College where admission has been obtained, if offer Letter is not submitted along with application, it will be rejected at the scrutiny level and no further Review will be entertained.
9. Copy of details of course fees and fees break-up of course to which you are selected.
10. Scholarship/Financial Aid/Grant/Award of Financial Support received from any agency/ University must be enclosed. (if any)
11. Personnel statement of the candidate presenting his/ her case for scholarship (Not more than 2 pages).
12. 1st recommendation / reference letter – academic.
13. 2nd recommendation / reference letter – in case of currently employed applicants, it has to be from a professional, preferably his/ her superiors, else it can be academic (Not more than 2 pages on A4 size).
14. Proof of involvement in Extra-curricular/ Social/ Community development activities. (If any)
15. Printout of ranking/ rating of course/ college from global university rankings (if any)
16. Applicants Cancelled Cheque Leaf along with Bank Pass Book Xerox copy first page showing name of the Bank, Account Number of Candidate, IFS Code and Bank Branch Address
Mandatory Conditions :
The candidates shall obtain the required admission letter from the Foreign University prior to the application made to the Directorate of Minorities, Bangalore-01.
Mode Of Selection
The candidates will be selected in pursuance of the guidelines followed by an interview by the selection Committee of short listed candidates. Not more than one child of the same parent/Guardian will be eligible and to this effect a self certification will be required from the candidate.
For Further information and conditions, the candidates are advised to visit the official website of Directorate of Minorities, Bangalore.