Vidyadhan Kerala Plus 2 Scholarship Program 2018 : Sarojini Damodaran Foundation
Organisation : Sarojini Damodaran Foundation
Scholarship Name : Vidyadhan Kerala Plus 2 Scholarship Program 2018
Applicable For : Students completed their 10th/SSLC in 2018
Applicable State : Kerala
Application Deadline : 10th June 2018
Website : https://www.vidyadhan.org/apply
You can now ask your question on this scholarship.
Ask here
(OR) Go to the bottom of this page for comments.
Vidyadhan Kerala Plus 2 Scholarship
Applications are invited for Vidyadhan Kerala Plus 2 Scholarship Program for year 2018.
Related : ASISC Kerala Scholarship Examination 2018-19 : www.scholarships.net.in/23095.html

Scholarship Amounts
Selected students will get a scholarship amount of Rs 5000/- per year for two years- for plus 1 and plus 2 studies. If the student continues meritorious performance , scholarship amount with due increase will continue for higher studies.
Who Can Apply?
Students applying for Vidyadhan Kerala plus 1 scholarship should have A+ or A in all subjects in the March 2018 Kerala S S L C examination. Annual family income should be less than 2Lakhs.
Selection Process
** SDF will shortlist the applicants based on the academic performance and the information provided in the application form.
** The shortlisted candidates will be invited for a short test/interview. students are requested to check their mobile phone for a sms from vidyadhan between June 25th to 28th.
** Exact locations for the test and interview will be informed to the shortlisted students individually by email which follows the sms.
** SDF will reimburse the out of district travel expense of the student and a parent for eligible cases.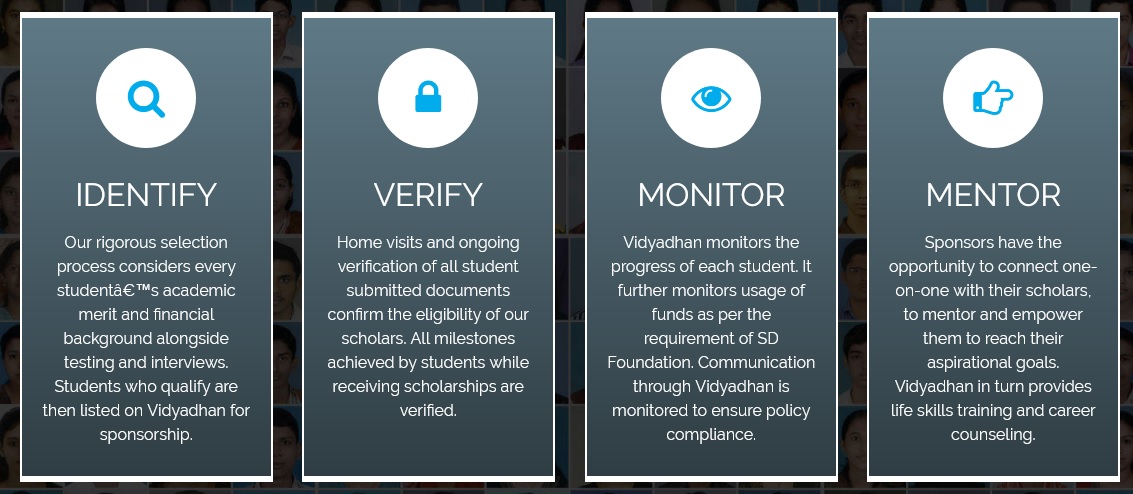 How To Apply?
You need to have a Vidyadhan Account to apply online.
Step-1: Go to the link "https://www.vidyadhan.org/apply" to apply for scholarship.
Step-2 : While registering a new account you will be asked for details like:
First Name: Please mention your first name as per your educational records.
Last Name: Please mention your last name as per your educational records.
Email ID: Please mention your email address and do not forget to regularly check this email account for our intimation. For future login, use the email id.
Vidyadhan Password: Please choose a complex password for the user name you have created above. The Password should have at least 8 characters.

Step-3: Click on "Apply Now " button. An email will be sent to your email account with account activation link.
Step-4: Please open your email in a new window and open the account activation email. Click on the activation link provided in that email. This will open the home page with a message that Account is activated and a login form to proceed further.
Step-5: Please login with the email id and the vidyadhan password that you have entered in Step 2 above while registering a new account.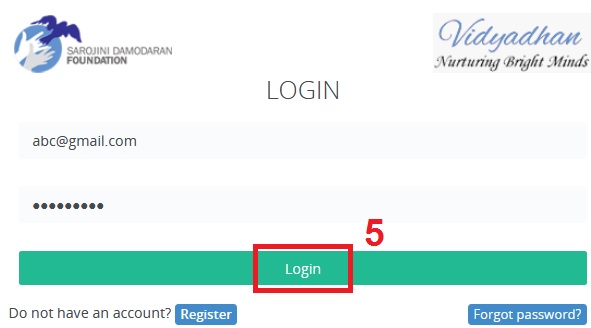 Step-6: After you login you can see a link "Help" on the main menu. You can click on that link to read help and instructions for creating an application, updating and tracking it.
Step-7: Please select the appropriate scholarship program from the list available programs and click on the 'Apply Now' button to create your application.
Step-8: After creating the application you can edit it and make changes by clicking on Edit Application on top of the application.
Step-9: After you complete the application and submit, you will get a message "submission successful". However please note that the application will be considered complete only after you upload the mandatory documents and photograph.
Step-10: Please check your email regularly for communication and updates from SDF.
Required Documents
Scanned copies of the following are required
** 10th Marksheet (If original marksheet is not available , you can upload provisional /online marksheet from the SSLC/CBSE/ICSC website)
** Photograph
Important Dates
10th June 2018: Application last date
2nd July to 9th July 2018: Interview/Tests will be scheduled during this time frame. Exact date and location will be intimated to each of the shortlisted candidates.
View Scholarship Notification Here :
https://www.scholarships.net.in/uploads/pdf2018/23475-Ker.pdf
Contact Details
For any clarifications send an email to vidyadhan.kerala@sdfoundationindia.com or call Radhakrishnan, Phone: 9446469046.