Kerala LSS/USS Scholarship Examination Result 2018 : bpekerala.in
Organization : Kerala Pareekshabhavan Office of the Commissioner for Government Examinations
Announcement : LSS/USS Scholarship Examination Result 2018
Applicable State : Kerala
Check Result Here : http://bpekerala.in/lss_uss_2018/result_view.php
You can now ask your question on this scholarship.
Ask here
(OR) Go to the bottom of this page for comments.
Kerala LSS/USS Exam Result
The Kerala LSS/USS Scholarship 2018 Results are out. Candidates please follow the below steps to download your result.
Update : Kerala Pareekshabhavan LSS/USS Scholarship Examination 2019 : www.scholarships.net.in/33854.html
How to Check Result?
Step 1 : Go to the official website of Office Of the Commissioner For Government Examinations through the URL http://bpekerala.in/lss_uss_2018/
Step 2 : Then click the 'LSS/USS Results' link in the home page.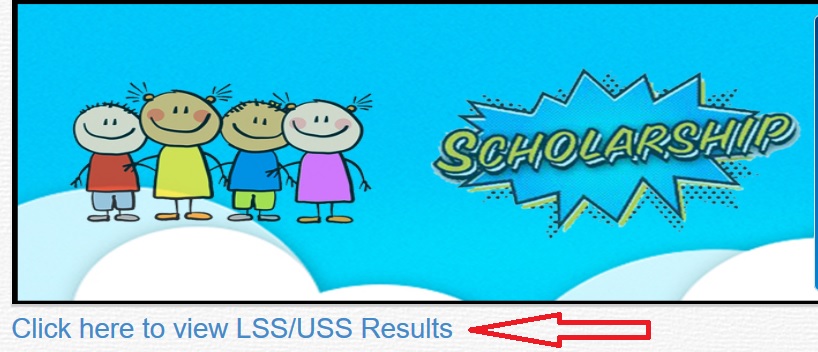 Step 3 : Select your Examination Type and Enter your Register Number.

Step 4 : Finally click on the View Result button
Step 5 : The result will be displayed as shown below.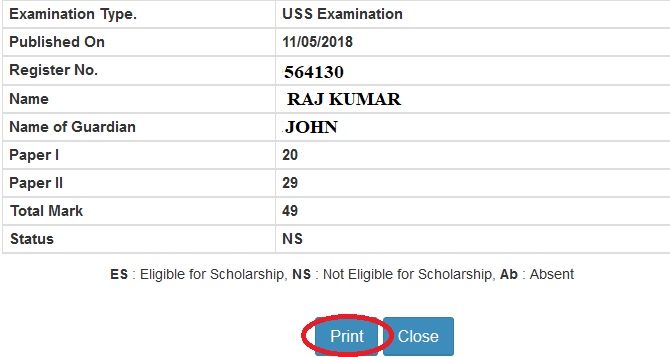 Step 6 : If you want to take a print out of your Result please click the 'Print' button.
Application Form for Issue of Duplicate Certificate :
https://www.scholarships.net.in/uploads/pdf2018/23451-Form.pdf
Result Information
Department Name – Kerala Pareeksha Bhavan
Exam Name – LSS & USS Examination
Mode of Exam – Offline
Exam Type – Written Examination
Kind of Declaration – Result/Cutoff/Merit List
Date of Result – 11th May 2018
Exam Pattern
Paper 1 :
Language 1 – 40 Marks
Language 2 – 40 Marks
General Knowledge – 40 Marks
Paper 2 :
Science – 40 Marks
Mathematics – 40 Marks
Kerala LSS/USS Scholarship :
The government of Kerala started a scholarship program with an intention to encourage each student of state for further studies. A huge number of students take part in this test to grab a scholarship amount for their better future.
USS Answer Key
Paper-1
101-M(Malayalam) :
| | | | | |
| --- | --- | --- | --- | --- |
| QN.NO | Set A | Set B | Set C | Set D |
| 1 | B | D | D | C |
| 2 | D | C | C | D |
| 3 | A | A | A | A |
| 4 | B | A | C | B |
| 5 | C | D | D | D |
| 6 | C | C | D | D |
| 7 | D | B | A | C |
| 8 | A | D | B | B |
| 9 | D | B | B | A |
| 10 | C | B | B | D |
| 11 | D | D | D | B |
| 12 | B | C | C | C |
| 13 | C | C | C | C |
| 14 | A | A | A | B |
| 15 | B | B | B | A |
101-T(Tamil) :
| | | | | |
| --- | --- | --- | --- | --- |
| QN.NO | Set A | Set B | Set C | Set D |
| 1 | C | B | C | D |
| 2 | B | D | A | B |
| 3 | B | B | B | B |
| 4 | A | A | D | C |
| 5 | A | B | B | B |
| 6 | D | A | B | C |
| 7 | B | A | A | A |
| 8 | A | C | A | A |
| 9 | C | C | C | A |
| 10 | B | C | C | B |
| 11 | B | B | B | C |
| 12 | C | B | B | B |
101-K(Kannada) :
| | | | | |
| --- | --- | --- | --- | --- |
| QN.NO | Set A | Set B | Set C | Set D |
| 1 | A | C | D | B |
| 2 | C | B | D | C |
| 3 | B | B | B | B |
| 4 | B | C | B | A |
| 5 | D | C | C | C |
| 6 | B | D | C | D |
| 7 | C | B | C | D |
| 8 | C | D | B | B |
| 9 | D | A | A | C |
| 10 | B | D | D | A |
| 11 | A | A | A | D |
| 12 | D | B | B | B |
| 13 | C | C | C | C |
| 14 | D | D | D | B |
| 15 | B | B | B | D |
Paper-2
201-E(English) :
| | | | | |
| --- | --- | --- | --- | --- |
| QN.NO | Set A | Set B | Set C | Set D |
| 1 | C | C | D | D |
| 2 | D | D | C | D |
| 3 | C | C | C | C |
| 4 | D | D | D | C |
| 5 | C | B | A | B |
| 6 | C | C | B | C |
| 7 | B | A | C | B |
| 8 | A | A | A | C |
| 9 | B | C | C | A |
| 10 | A | B | B | A |
| 11 | B | A | A | A |
| 12 | A | B | B | B |
| 13 | A | A | A | D |
| 14 | D | A | D | A |
| 15 | A | D | A | A |
202-Basic Science :
| | | | | |
| --- | --- | --- | --- | --- |
| QN.NO | Set A | Set B | Set C | Set D |
| 16 | B | C | D | D |
| 17 | B | C | C | C |
| 18 | D | C | B | A |
| 19 | A | B | A | D |
| 20 | C | B | C | B |
| 21 | C | C | C | D |
| 22 | D | D | C | A |
| 23 | B | A | D | B |
| 24 | D | B | B | C |
| 25 | D | C | D | D |
| 26 | A | B | C | C |
| 27 | C | B | B | B |