AICTE NDF National Doctoral Fellowship Scheme 2018-19 : aicte-ndf.psgtech.ac.in
Organisation : All India Council For Technical Education (AICTE)
Scholarship Name : National Doctoral Fellowship Scheme 2018-19
Applicable For : For Young Postgraduate Students from AICTE
Application Deadline : June 10, 2018
Website : http://aicte-ndf.psgtech.ac.in/
You can now ask your question on this scholarship.
Ask here
(OR) Go to the bottom of this page for comments.
AICTE NDF Scheme
National Doctoral Fellowship Scheme Admission to Ph.D. Programmes for the Academic year 2018-2019. For Young Postgraduate Students from AICTE approved Degree level Engineering/Technology/Pharmaceutical Institutions.
Update : AICTE NDF 2018-19 Provisional Merit List for Engineering & Pharmacy : www.scholarships.net.in/24168.html
Eligibility
** The fellowship/contingency will be granted to research scholars admitted in research institutes of AICTE.
** The candidate must have secured cumulative grade point average of 7.5 on the scale of 10 or equivalent at both B.E/B.Tech/B.Pharm and M.E/M.Tech/M.Pharm.
** In addition to that candidate should have qualified GATE / GPAT score during last five years. For SC/ST/PH candidates CGPA requirement will be 7.0 on the scale of 10 or equivalent or general candidate must have secured 75% marks or above & 70% marks for candidates of reserved categories.
** The candidate should be less than 30 years of age as on 31st August of year of application, however age relaxation of 5 years would be applicable to candidates belonging to SC/ST, women and physically challenged category.
Important Dates
** Portal opening date – May 07, 2018
** Online Application Open on – May 12, 2018
** Application Deadline – June 10, 2018
** Display of final list of students eligible for interview – June 14, 2018
** Interviews at selected academic institutions – June 18, 2018 – July 10, 2018
** Display of selected candidates & their allotted institutes – July 15, 2018
** Reporting at institute by candidates – July 31, 2018
Apply Online
Just follow the below steps to apply for National Doctoral Fellowship Scheme 2018-19.
Step 1 : Go to the official website of AICTE through the URL https://www.aicte-india.org/
Step 2 : Then Click on the National Doctoral Fellowship Scheme under the 'Announcement' tab.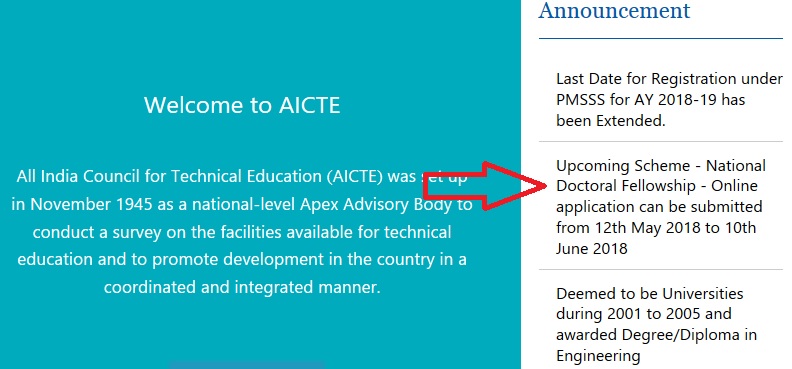 Step 3 : It will redirect to the Online Application portal. Click Apply Online link in the top of the page.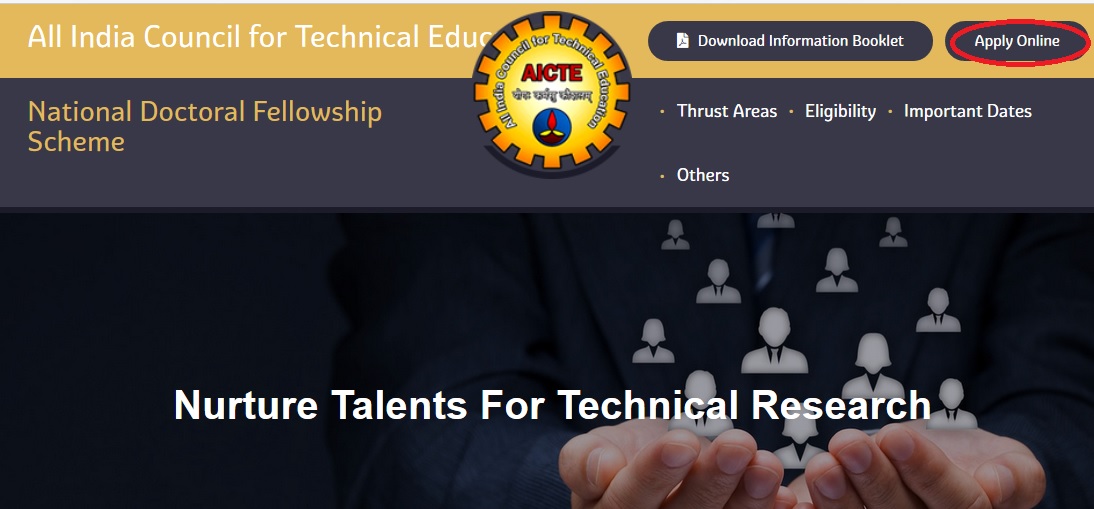 Step 4 : Already registered users Log in to access your online application with the help of Application Number.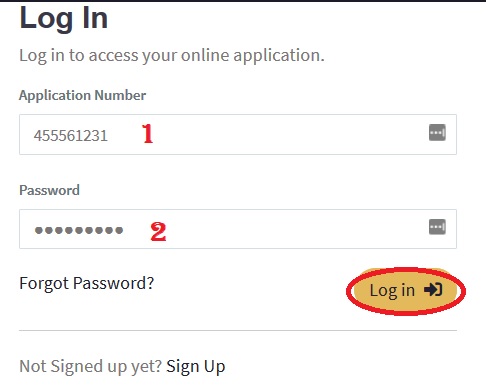 Step 5 : New user click the Sign Up link in the Login page and Fill the Registration Form by entering your Name, Email Address then click Next button.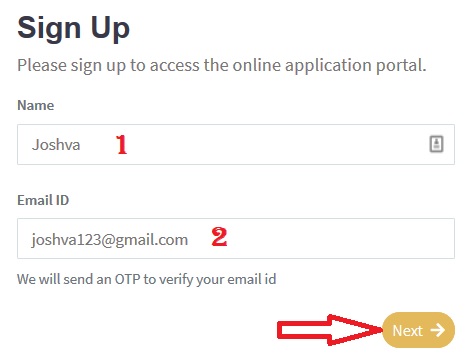 Step 6 : An OTP has been sent to your email id. Please enter it to verify your email id and click Verify button.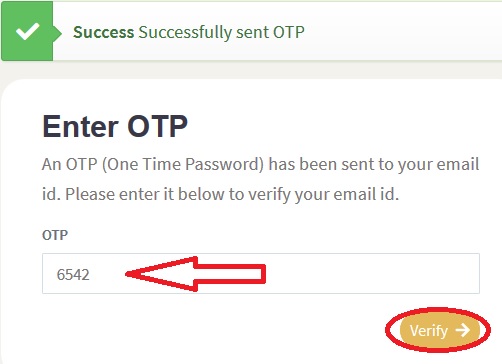 Step 7 : After that, enter the remaining details of the Registration Form and click Submit button.
Application Fee :
The candidate should also pay an application fee through on-line for Rs. 500/- in respect of General/OBC category students and for Rs. 250/- in respect of reserved category students (SC/ST/PH).
Thrust Areas
** Nuclear Engineering and Allied Technologies
** Robotics and Mechatronics
** Energy Efficiency, Renewable and sustainable Energy
** Electric and Hybrid Mobility
** Smart Cities, Housing and Transportation
** IoT, I2oT and Embedded Systems
** Nano Science and Technology
** Big Data, Machine Learning and AI
** Drug modelling and development
** Biomedical and Rehabilitation
** Smart Technologies for Agriculture and Food Industry
** Water purification, conservation and management
Other Information
Duration of the Scheme :
The duration of the scheme shall be for a period of 3 Years. However, extendable by 6 months in special cases with the recommendation of Institute and approval of National Nodal Centre.
Reservation Policy :
Reservation for fellowship shall be as per Central Reservation Policy i.e. 15% to SC candidates, 7.5% to ST candidates and 27% to OBC candidates (NCL only), and will be observed at National level.
Disbursement of the Funds :
The candidate will be provided the fellowship of Rs. 28,000/- per month + House rent allowance wherever the hostel accommodation/Institute accommodation is not available as per the rates of Ph.D. Scholarship. Contingency grant will be admissible at the rate of Rs.15,000/- per annum.
Processing Methodology :
Candidates will be identified by the National Nodal Centre of AICTE as per the functions and duties of National Nodal Centre.
FAQs
1. How is my work experience counted in terms of eligibility for applying for PhD Admissions under NDF scheme?
Work experience is not a criterion for selection under NDF scheme.
2. Is it possible to change the order of preference after the Interview?
It is not possible at all to change the order of preference after the interview. Once the candidate has submitted his application on-line, it is not possible to change the preference.
3. Whether admission under NDF Ph. D. scheme is allowed in IITs and NITs?
No, this scheme is only for minor QIP centers where a candidate can get admitted. IITs and NITs are excluded for admission to PhD under this scheme.
4. Is it necessary to attend interview at all the institutes as well as the departments from which I receive interview call letter?
There is no rule that you must attend interview at all the institute you opted for.
However, it is advised that you attend all of them since a recommendation from one department does not automatically ensure that you will be selected in that institute. Moreover, as per norm the recommendation from a department is always confidential.