sw.kar.nic.in 2018 Postmatric SWD Hostel Registration : Karnataka Social Welfare
Organisation : Karnataka Social Welfare Department
Scholarship Name : Postmatric SWD Hostel Registration 2018
Applicable For : Schedule Caste SC Students Studying Above SSLC
Applicable State : Karnataka
Website : http://sw.kar.nic.in/WebPages/SWD_Hostel.aspx
You can now ask your question on this scholarship.
Ask here
(OR) Go to the bottom of this page for comments.
SWD Hostel Registration
Social Welfare Department, Government of Karnataka Provides Hostel Facility to the students belonging to Schedule Caste.
Related : Karnataka Social Welfare Helpdesk For Scholarship : www.scholarships.net.in/12106.html
Who Can Apply?
** Students belonging to Schedule Caste in Karnataka can apply
** Students who are currently studying above SSLC / 10th class.
** Students residing in Karnataka.
** Whose Family Income is below 2.5 Lakhs for Postmatric.
How To Apply?
1) Registration:
Using your Aadhaar Card Number Register with us providing all required Information.
Steps For Registration
Follow the steps mentioned below to register online to avail Hostel Facility.
Steps:
Step-1 : Logon to SWD Hostel Admission official website through below URL
Step-2 : Then go to the 'Registration' link.

Step-3 : Click on the 'Register' link under 'Postmatric' heading.
Step-4 : Then enter your Aadhaar Number and Name as per printed in your Aadhaar card. Select your Gender and then solve the simple addition problem provided in the register page just for verification.
Step-5:  After that, read the declaration and check the box and then submit the 'Proceed' button and do the further process to complete the registration.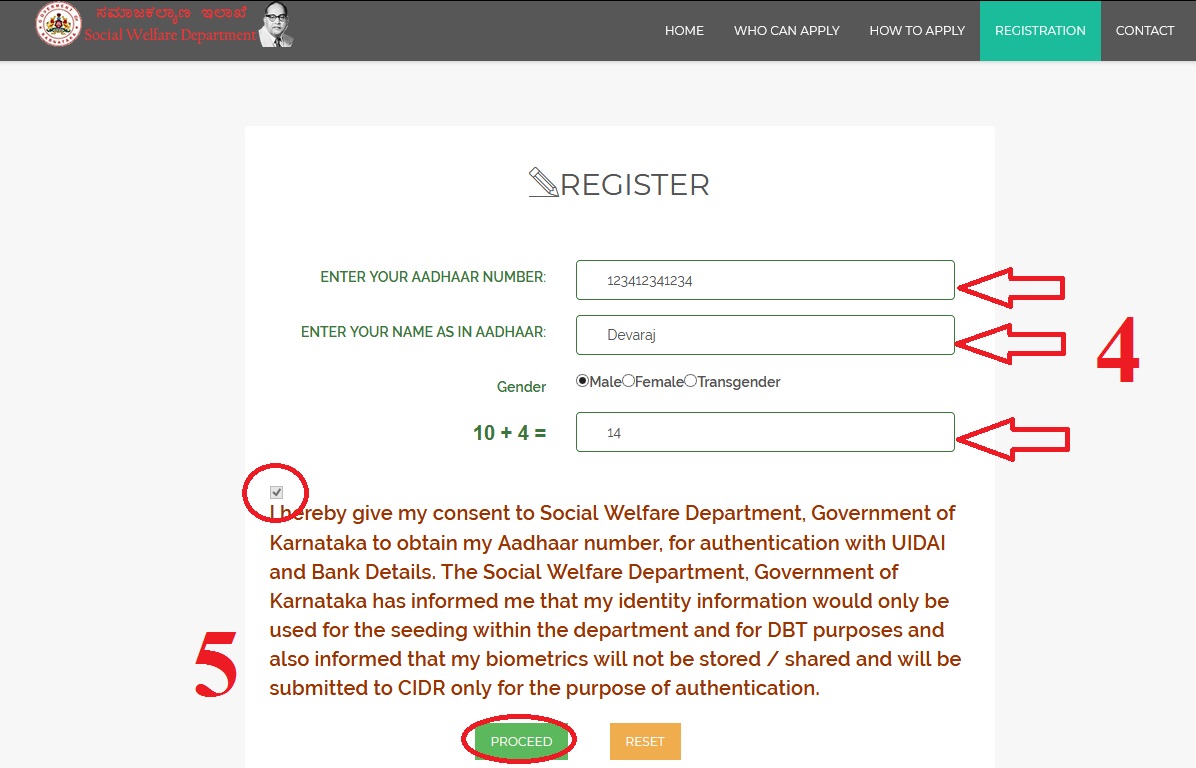 2) Confirmation:
After Registration, get the acknowledgement signed from your Institution Head and provide to Taluk SWD Office.
3) Verification:
Department will Verify your documents and information provided by you and proceed it to further process.
4) Allotment:
If you are an eligible student you will Get Hostel Alloted to you based on verification and confirmation will be sent to you.
Required Information
Aadhaar Number:
Provide your Aadhaar Number and Name as in your Aadhar card.
Caste Certificate Number:
15 digits RD number of your caste certificate.
Income Certificate Number:
15 digits RD number of your income certificate.
Last Passed Marks Card:
Upload scanned image of Recently passed marks card. Size of document should not exceed 1mb.
Profile Photo:
Upload scanned image of your passport size photo. Size should not exceed 1mb.
Mobile Number:
Provide your currently active mobile number for further communications with you.
Re-Print Acknowledgement
To reprint your acknowledgement, just follow the simple steps below.
Steps:
Step-1 : Go to the below link
http://admissions.kar.nic.in/hosteladmission/reprintack.aspx
Step-2 : Then Select the Current Financial Year and enter your Aadhaar Number and Date of Birth.
Step-3 : Click on the 'Re-Print' button to print your acknowledgement.

Contact Details
Commissionerate of Social Welfare Department,
5th Floor, MS Building,
Dr. Ambedakar Veedhi,
Bangalore 560001
Helpline : 9480843005 (10 AM to 5.30 PM)