Dakshana NDST, JDST 2018 Result : Navodaya & Joint Selection Test
Organisation : Dakshana Foundation
Announcement : NDST, JDST 2018 Result
Scholarship Name : Navodaya & Joint Dakshana Selection Tests 2018
Exam Held On : December 17, 2017
Website : https://dakshana.org/news-events/
You can now ask your question on this scholarship.
Ask here
(OR) Go to the bottom of this page for comments.
Dakshana NDST Result
The Result of Navodaya Dakshana Selection Test NDST 2018 are out
Update : Dakshana JDST 2019 Result : www.scholarships.net.in/36545.html
Steps :
Step 1 : To find out your result, click on the link https://dakshana.org/result.php
Step 2 : Enter your Dakshana roll no and Click Submit button

Note :
Results of Medical and additional Engineering girl scholars will be declared as soon as we receive a confirmation of accommodation from NVS.
JDST Result
The results of the Joint Dakshana Selection Test (JDST) held on December 17, 2017 are out. Shortlisted students will receive a confirmation email for personal interview. Kindly check your email or contact your school for confirmation.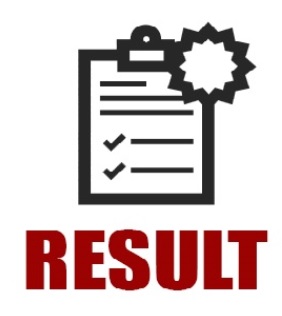 Please avoid making phone calls for enquiry. Write to us at jdst [AT] dakshana.org, in case of any queries.
How to Fill Acceptance Form?
** Go to the link https://tinyurl.com/interview2019
** Read the instructions carefully, then click Next button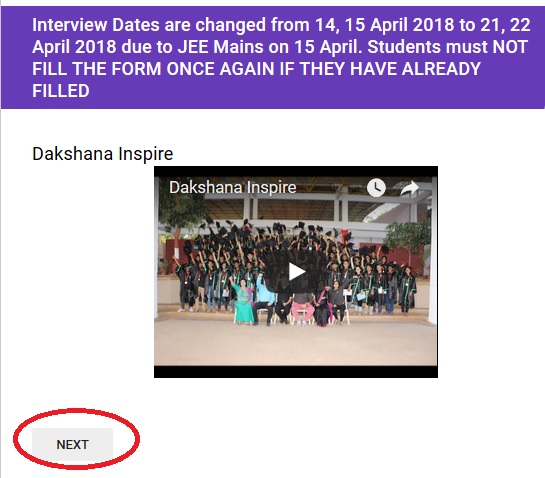 Step 1 : Enter your Dakshana Roll Number *[20107041234]
Step 2 : Enter your Full Name *[Arav]
Step 3 : Enter your Email ID *[arav@gmail.com]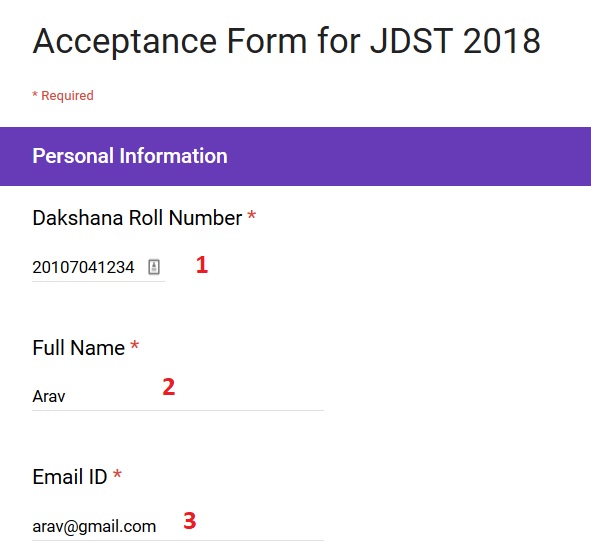 Step 4 : Answer Are you from JNV? *Yes/No
Step 5 : Click "Yes, Thanks. I am willing to join the Dakshana Scholarship program at Dakshana Valley, Pune and prepare for JEE/NEET 2018"
Step 6 : Click Next button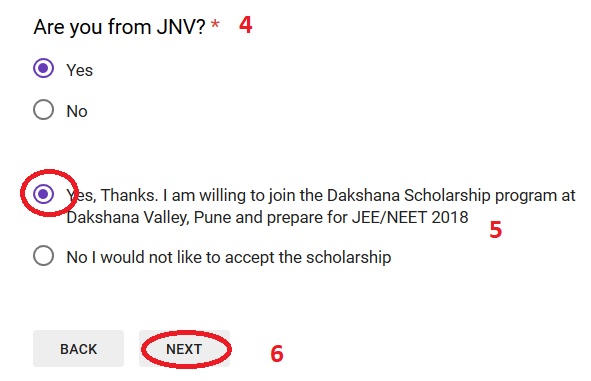 Step 7 : Select yes to convenient for attend the assigned Interview location and Click Next button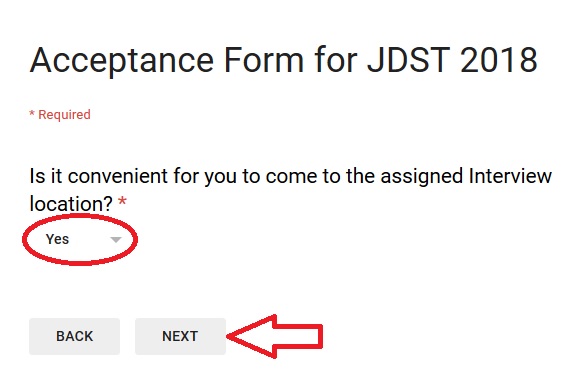 Step 8 : Select your Assigned Interview Location [Hyderabad]
Step 9 : Select your Interview Date [21 April 2018]
Step 10 : Select your Time Slot [10AM to 11AM]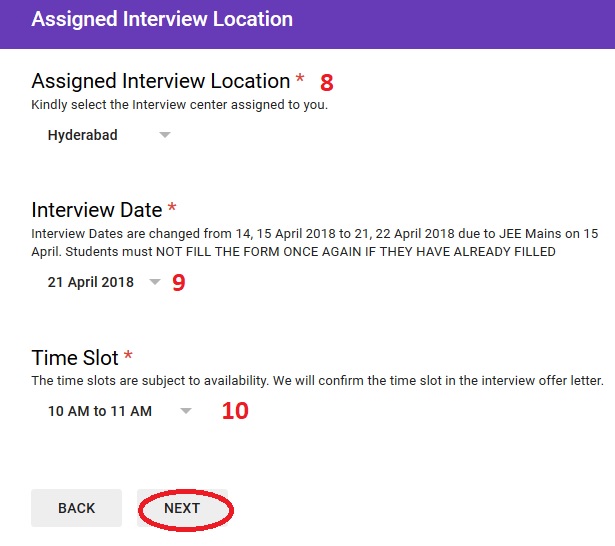 Finally you will receive a confirmation message and click on Submit button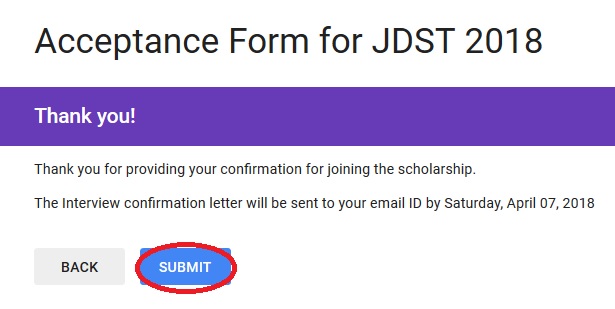 ** You will receive an Interview confirmation letter by Saturday, April 07, 2018 to your registered Email Id.
** The letter will contain details of time slot and place of interview.
Notification Here : https://www.scholarships.net.in/uploads/pdf2018/18881-JDST.pdf
Note :
1. Interview Dates are changed from 14, 15 April 2018 to 21, 22 April 2018 due to JEE Mains on 15 April.
2. Students must Not Fill The Form Once Again If They Have Already Filled
Personal Interview Procedure
** This year Personal Interviews will be held for all selected scholars (Boys and Girls)
** Interviews will be held at selected cities in India in April 2018.

** Students have been assigned their interview centres in the email sent to them individually.
** Please note that this is a shortlist and NOT the FINAL selection list. Final selection list will be released, after interviews, latest by 2nd week of May 2018.
JDST 2018 Interview Centers
Individual email with interview details is being sent to all the candidates. In case you do not receive the email please check your date and time slot below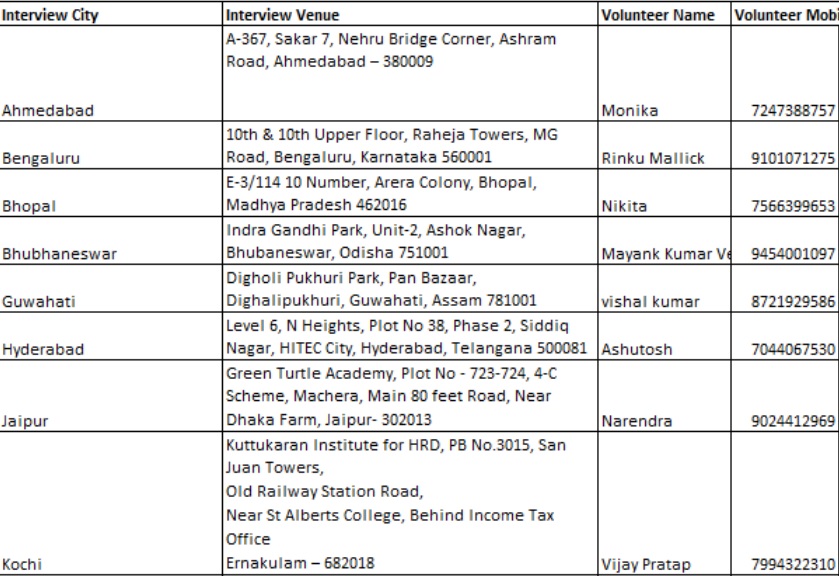 It is compulsory for a parent or guardian to accompany the student for the interview.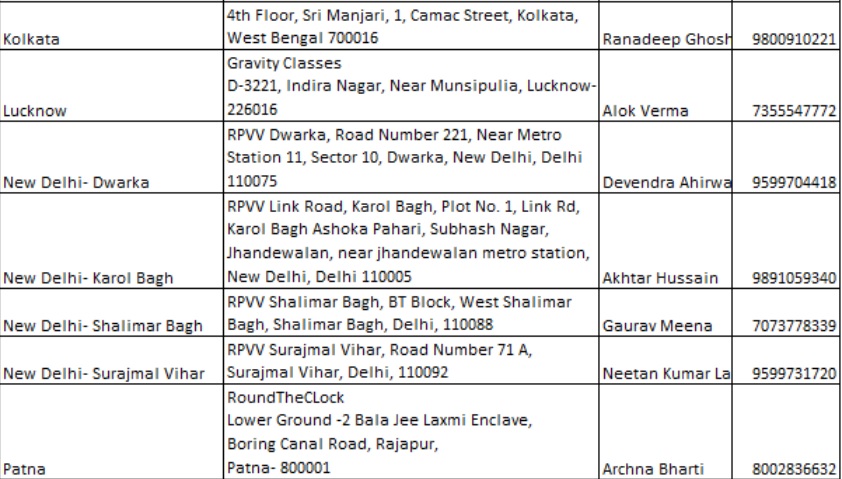 Shimla Address will be updated on 19 April 2018.

Documents Required
Documents to bring for Personal Interview :
1. Admit Card for JDST 2017
2. Aadhar Card/ School Identity card
3. Original and 1 Copy of caste certificate (If caste is OBC, SC, ST)
4. Original and 1 Copy of Disability certificate ( If applicable)
5. Original Income Certificate/ Salary Slip (with company seal)/ Form 16 ( As on March 2017)
6. Family Photograph (Post card size)
Interview Cities :
Ahmedabad, Bengaluru, Bhopal, Bhubaneswar, Guwahati, Hyderabad, Jaipur, Kochi, Kolkata, Lucknow, New Delhi, Patna, Pune, Raipur, Ranchi, Shimla
About Dakshana Scholarship Program :
Dakshana has been awarding one-year residential scholarships to students aspiring to study Engineering & Medicine. The scholars spend a year after Class 12, at the Dakshana campus to prepare for JEE/NEET. NDST and JDST 2018 (for 2018 intake) are scheduled to be held on Sunday, December 17, 2017.